To understand the future, you must examine the past. In the case of Greece, four years ago will do – when malaria broke out in the Peloponnese. No one had seen a malaria outbreak for 40 years. Every doctor  thought it was a common virus. But then it was discovered that – due to economic pressures – the Greek authorities had not sprayed the mosquito fields as early as they usually did. The story, alas, gets worse.
Some years earlier, Afghan and Pakistani refugees had arrived in that most beautiful part of Greece. Being refugees, they were "undocumented migrants" and as such had no medical care. They picked oranges and they carried the malaria parasite which was passed on to those among whom they worked.
Thus Greeks fell sick from malaria. This is what happens when your country experiences an economic crisis.
Take another example. Médecins Sans Frontières is known for its humanitarian work among war wounded, torture victims and refugees. In the awful words of humanitarian-speak, they must "prioritise" those they help.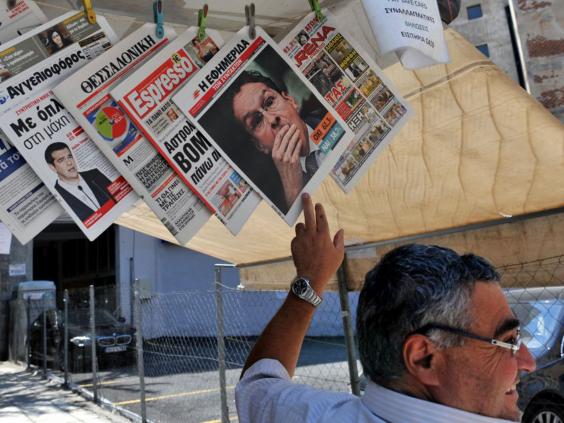 So what to do in Athens, when their office was confronted not just with the poor and the refugees from Middle Eastern wars, but also homeless men and women, Greek drug users and pensioners who had no money? There was an increase in HIV – 1,500 per cent in Athens – and so MSF had to take account of healthcare and social welfare cuts.
An organisation we all regard as a refugee agency started propping up an EU country because of its economic collapse. Put simply, MSF started to care for Greeks because the EU did not care enough about them.
The young Greek government, which thinks it has just won a brave referendum to free itself from the bondage of bankers, did change the rhetoric of the EU. It became more humane. It changed the laws on migrants. The uninsured could enter hospital free. They could have access to healthcare. And with 25 per cent of Greeks unemployed, 65 per cent of them young, you can begin to understand why more than 61 per cent of the voting population of the country chose to vote No.
In pictures: Greek referendum
In pictures: Greek referendum
1/28 Greece EU Referendum

People celebrate in Athens after the first exit-polls of the Greek referendum

Getty Images

2/28 Greece EU Referendum

A "No" supporter flashes a victory sign before a Greek flag atop the parliament in Athens, Greece July 5, 2015.Greeks voted overwhelmingly "No" on Sunday in a historic bailout referendum, partial results showed, defying warnings from across Europe that rejecting new austerity terms for fresh financial aid would set their country on a path out of the euro.

REUTERS/Yannis Behrakis

3/28 Greece EU Referendum

Supporters of the No vote react after the first results of the referendum at Syntagma square in Athens

AP

4/28 Greece EU Referendum

Supporters of the No vote wave Greek flags after the referendum's exit polls at Syntagma square in Athens

AP

5/28 Greece EU Referendum

Greece's finance minister Yanis Varoufakis casts his vote in the country's referendum

EPA

6/28 Greece EU Referendum

A ballot box is emptied by a voting official at the closing of polling stations in Athens, Greece July 5, 2015. Greece voted on Sunday on whether to accept more austerity in exchange for international aid, in a high-stakes referendum likely to determine whether it leaves the euro-currency area after seven years of economic pain.

REUTERS/Marko Djurica

7/28 Greece EU Referendum

A photographer photographs a man waiting to vote in the referendum at a school in the suburbs of Athens

Getty

8/28 Greece EU Referendum

Greek voters are being asked to choose between backing their creditor's austerity measures or rejecting them

Getty

9/28 Greece EU Referendum

Tourists walk past posters with slogans that read "OXI" (NO) and "NAI" (YES) ahead of the referendum in Athens

AFP

10/28 Greece EU Referendum

Opposition parties to Syriza, including the centre-right New Democracy, are campaigning for a 'Yes' vote in the referendum

Reuters

11/28 Greece EU Referendum

Protesters on both sides of the argument ('No' pictured here) have rallied in Athens

AP

12/28 Greece EU Referendum

Greek Prime Minister Alexis Tsipras has been branded reckless and a feckless liar by EU leaders

Reuters

13/28 Greece EU Referendum

According to polls which surveyed some 1000 people across the country, 41.5 percent of Greeks would support the new bailout measures to avoid an exit from the Eurozone

AP

14/28 Greece EU Referendum

Despite Tsipras's assurances, many Greek people are not certain whether Sunday's referendum is a vote on whether Greece will remain in the euro or not

Reuters

15/28 Greece EU Referendum

The Greek and EU flags flutter in front of the ancient Acropolis hill in Athens. The Greek people have been called upon to show "calm and national unity"

Getty

16/28 Greece EU Referendum

Greek Prime Minister Alexis Tsipras addresses a crowd of 25,000 'No' supporters in Athens' Syntagma Square

YANNIS BEHRAKIS/Reuters

17/28 Greece EU Referendum

Greece's Prime Minister Alexis Tsipras gave a televised address to the nation ahead of the vote. He has called on voters to reject creditors' proposals for more austerity in return for rescue loans

AP

18/28 Greece EU Referendum

Protesters march holding a torn European Union flag during a demonstration for the 'NO' campaign in Thessaloniki

Getty Images

19/28 Greece EU Referendum

Greek Finance minister Yanis Varoufakis has pledged to resign if his country votes "yes" to the bailout plan

Reuters

20/28 Greece EU Referendum

Pensioner wait to get their pensions outside a National Bank of Greece branch in central Athens. Banks only opened for pensioners to allow them to get their pensions, with a limit of 120 euros.

AFP/Getty Images

21/28 Greece EU Referendum

Protesters attend an anti-austerity pro-government rally in front of the parliament building

Getty

22/28 Greece EU Referendum

The possibility of Greece leaving the Eurozone is increasing by the day. Merchandise already exists to accompany the event

EPA

23/28 Greece EU Referendum

An elderly man waits to receive his pension outside the closed National Bank of Greece headquarters in Athens

AP

24/28 Greece EU Referendum

People stand in a queue to use an ATM outside a closed bank in Athens

AP

25/28 Greece EU Referendum

A banner supporting the NO vote in the upcoming referendum hangs from the offices of the Greek Finance Ministry

Getty Images

26/28 Greece EU Referendum

Greeks will be asked whether they accept the austerity terms demanded by the country's creditors

Getty

27/28 Greece EU Referendum

Eurozone finance ministers expressed disappointment at the Greek decision to hold a referendum on the bailout terms

Getty

28/28 Greece EU Referendum

Alexis Tsipras, the Greek Prime Minister, said bailout conditions had 'asphyxiated' his country

EPA
The crisis has had a huge impact on the health of the nation – suicide rates have increased by 40 per cent – and so I went to see a Greek doctor to ask him what should be done about Greece. "Of course," he said, "there was a lot of clientelism here. There was a steady growth of jobs in the public sector. But now this country is at zero. What are we supposed to do? We are part of the European family. If my son goes off the path, what I am I supposed to do? I have to talk with him.
"We joined the European Union – we became part of a family. When a member of your family makes a mistake, what do you do? You have to work with him. We need your solidarity."
And of course, I answered that if his son had accrued massive debts, he, my doctor friend, had to take responsibility for his son. What if he spent too much of his family's money? And if he owed me money, was I not entitled to come to the father and ask for my money back? Was he really taking responsibility for his son? Or was I being vengeful in asking him to repay? There was more talk about the family as an institution. His implication was that the EU was a family, not a collection of banks; and that the family cares for all its children equally, and that erring children could not be reformed by punishment.
Which, let us speak frankly, is what the EU is trying to do now. Indeed, when I as a journalist ask Greeks why they don't repay the money they have borrowed I am, in a sense, seeking to take revenge. I have noticed, driving on the country's highways, how often EU road signs tell me that a motorway extension has been constructed with millions of euros, yet the people in the car with me do not seem to have benefited from all these euros, except for a few miles taken off their travel schedule.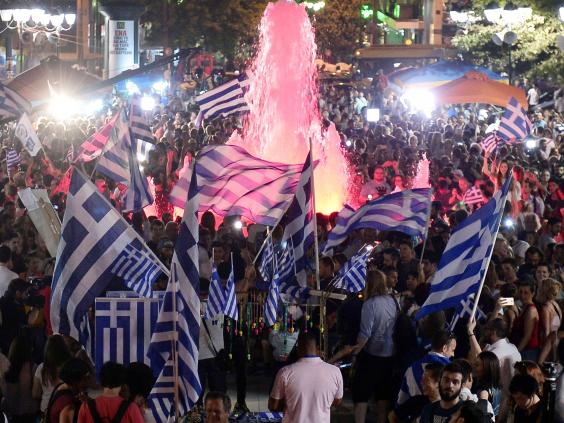 I met a poor man selling newspapers who had travelled 400 miles on Sunday to his wife's village in order to vote No. That was what his vote was worth to him. And what the EU was worth.
What we should watch, of course, is how Greece lives in the coming  months. If it needs humanitarian aid from those who help refugees, for example, what does it tell us about Greece? Or about the EU? Or about us?
It is a cliché to say this, but clichés sometimes have to suffice. If Greece becomes a beggar state, we can tell ourselves that it deserves it. An example for the Podemos party in Spain. Don't step out of line. Endure "austerity", our polite word for poverty. But is that why the EU was created? As a bankers' union to enrich the wealthy and impoverish the poor? It was supposed to ensure that there will never again be war in Europe?
So what are we going to inflict upon the Greeks?
Reuse content