Unvaccinated babies, hospitals begging for insulin and mothers unable to feed their children. Such problems are emerging in the European Union as a result of wealthier northern states attempting to reform the economy of its tiny, southerly member, Greece.
In Athens, as in most of the country, living standards are plunging and unemployment has quadrupled after five years of austerity to over 26 per cent. Those without a job have no health insurance and therefore no right to healthcare. But one northern European is setting out to do something about it. Erwin Schrümpf, a 51-year-old from Salzburg in Austria, has founded a charity Griechenlandhilfe (Greece aid), which is sending tons of medicine and food to Greece every month. The former businessman was spurred into action after watching a documentary about the desperate state of Greek healthcare.
His charity managed to persuade pharmaceutical companies to donate medicines that are urgently needed first to the Elpis hospital in Athens which was one of the few centres treating people without health insurance, and now to 20 clinics and institutions around the country. "I could not stand by and watch such poverty and need in a country of the European Union, whose leaders with their fine speeches always stress the idea of solidarity among its member states," he said."
Mr Schrümpf has gathered 60 volunteers in Austria, Germany, Switzerland and Greece and found hundreds of people who donate money to keep Griechenlandhilfe going.
The Nikaia Rentis health centre in the working-class backstreets of Athen's Piraeus port is one of the centres to receive Griechenlandhilfe donations. Maria Moschos is a volunteer working with the clinic. She said she stepped in after witnessing a "collapse" in Greek society. "Yesterday a young mother came in and asked for help: 'I don't know what to do; my children haven't eaten for three days.' And this is Europe in 2015. This is why people are so angry. I can't imagine what it's going to be like in two years' time."
Michael Tsentides, 41, is a nurse at the health centre who distributes some of the medicines and supplies donated. "Without the donations and the work of the volunteers lots of people – mostly elderly – would be left to fend for themselves. And they would probably die alone in pain and distress," he said.
The resident GP, Macianthi Pamidou, is phlegmatic. This week she spoke to the parents of a young man injured in a car accident. Hospital doctors stopped the bleeding, but no one will pay for the surgery needed to fix his broken legs, because it's not life saving.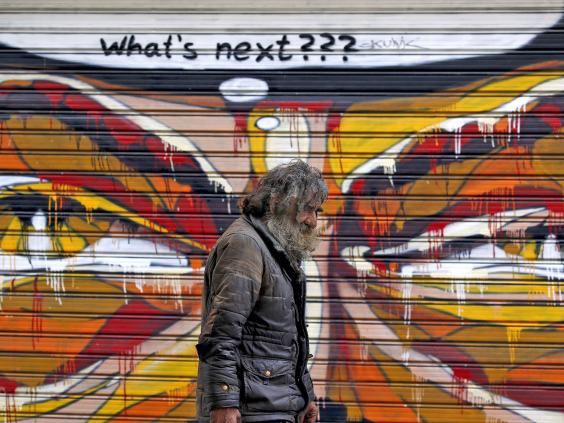 City hospitals approach her with requests for spare insulin. She sees children, 11 years old, who've never been vaccinated. Infant mortality in Greece has increased by 42 per cent in the past five years. "There isn't usually money for vaccines; sometimes I've paid for them with my own money. We cannot allow children to go unvaccinated; it's like going back in time," she said. Dr Pamidou earns €1,500 (£1,o59) a month for working in the clinic from 8.30am to 3.30pm every day. She tries to make her salary up with private work in the evenings.
It's not just the unemployed who benefit from the donated drugs. Dr Pamidou's prescribing limit is €49 per patient per month. She's been censured and threatened by city authorities for – inevitably – exceeding it. At 2.30pm a five-year-old girl, Marsiana, enters the clinic with her young aunt, Markela Giakoupmopoulou. The centre has recruited a volunteer speech therapist, Irene Gonzales, who's helping the child. "Without this help, my niece wouldn't be able to fit in or do well at school," she said. "This sense of community, of helping each other, is very Greek and one of the few positive messages to emerge from this disaster," said Ms Moschos.
In pictures: Greek referendum
In pictures: Greek referendum
1/28 Greece EU Referendum

People celebrate in Athens after the first exit-polls of the Greek referendum

Getty Images

2/28 Greece EU Referendum

A "No" supporter flashes a victory sign before a Greek flag atop the parliament in Athens, Greece July 5, 2015.Greeks voted overwhelmingly "No" on Sunday in a historic bailout referendum, partial results showed, defying warnings from across Europe that rejecting new austerity terms for fresh financial aid would set their country on a path out of the euro.

REUTERS/Yannis Behrakis

3/28 Greece EU Referendum

Supporters of the No vote react after the first results of the referendum at Syntagma square in Athens

AP

4/28 Greece EU Referendum

Supporters of the No vote wave Greek flags after the referendum's exit polls at Syntagma square in Athens

AP

5/28 Greece EU Referendum

Greece's finance minister Yanis Varoufakis casts his vote in the country's referendum

EPA

6/28 Greece EU Referendum

A ballot box is emptied by a voting official at the closing of polling stations in Athens, Greece July 5, 2015. Greece voted on Sunday on whether to accept more austerity in exchange for international aid, in a high-stakes referendum likely to determine whether it leaves the euro-currency area after seven years of economic pain.

REUTERS/Marko Djurica

7/28 Greece EU Referendum

A photographer photographs a man waiting to vote in the referendum at a school in the suburbs of Athens

Getty

8/28 Greece EU Referendum

Greek voters are being asked to choose between backing their creditor's austerity measures or rejecting them

Getty

9/28 Greece EU Referendum

Tourists walk past posters with slogans that read "OXI" (NO) and "NAI" (YES) ahead of the referendum in Athens

AFP

10/28 Greece EU Referendum

Opposition parties to Syriza, including the centre-right New Democracy, are campaigning for a 'Yes' vote in the referendum

Reuters

11/28 Greece EU Referendum

Protesters on both sides of the argument ('No' pictured here) have rallied in Athens

AP

12/28 Greece EU Referendum

Greek Prime Minister Alexis Tsipras has been branded reckless and a feckless liar by EU leaders

Reuters

13/28 Greece EU Referendum

According to polls which surveyed some 1000 people across the country, 41.5 percent of Greeks would support the new bailout measures to avoid an exit from the Eurozone

AP

14/28 Greece EU Referendum

Despite Tsipras's assurances, many Greek people are not certain whether Sunday's referendum is a vote on whether Greece will remain in the euro or not

Reuters

15/28 Greece EU Referendum

The Greek and EU flags flutter in front of the ancient Acropolis hill in Athens. The Greek people have been called upon to show "calm and national unity"

Getty

16/28 Greece EU Referendum

Greek Prime Minister Alexis Tsipras addresses a crowd of 25,000 'No' supporters in Athens' Syntagma Square

YANNIS BEHRAKIS/Reuters

17/28 Greece EU Referendum

Greece's Prime Minister Alexis Tsipras gave a televised address to the nation ahead of the vote. He has called on voters to reject creditors' proposals for more austerity in return for rescue loans

AP

18/28 Greece EU Referendum

Protesters march holding a torn European Union flag during a demonstration for the 'NO' campaign in Thessaloniki

Getty Images

19/28 Greece EU Referendum

Greek Finance minister Yanis Varoufakis has pledged to resign if his country votes "yes" to the bailout plan

Reuters

20/28 Greece EU Referendum

Pensioner wait to get their pensions outside a National Bank of Greece branch in central Athens. Banks only opened for pensioners to allow them to get their pensions, with a limit of 120 euros.

AFP/Getty Images

21/28 Greece EU Referendum

Protesters attend an anti-austerity pro-government rally in front of the parliament building

Getty

22/28 Greece EU Referendum

The possibility of Greece leaving the Eurozone is increasing by the day. Merchandise already exists to accompany the event

EPA

23/28 Greece EU Referendum

An elderly man waits to receive his pension outside the closed National Bank of Greece headquarters in Athens

AP

24/28 Greece EU Referendum

People stand in a queue to use an ATM outside a closed bank in Athens

AP

25/28 Greece EU Referendum

A banner supporting the NO vote in the upcoming referendum hangs from the offices of the Greek Finance Ministry

Getty Images

26/28 Greece EU Referendum

Greeks will be asked whether they accept the austerity terms demanded by the country's creditors

Getty

27/28 Greece EU Referendum

Eurozone finance ministers expressed disappointment at the Greek decision to hold a referendum on the bailout terms

Getty

28/28 Greece EU Referendum

Alexis Tsipras, the Greek Prime Minister, said bailout conditions had 'asphyxiated' his country

EPA
Officially, Greichenlandhilfe does not comment on politics. But, with the likelihood that more hardship is on the way for a working – or unemployed – class already on its knees, Ms Moschos is unable to disguise her anger.
"I don't think you're talking about human beings when you're talking about those people who want to push more austerity on us. What has happened in Greece is heartbreaking."
Reuse content