Greek and European politicians are still wrestling over what the consequences of Sunday's referendum on an EU bailout package will be for the country, as millions of voters were left with 24 hours to decide whether to say Yes or No to a question that is almost impossible to understand.
As campaigns on either side of the divide held their final rallies in Athens, the head of the eurozone finance ministers accused the Greek Prime Minister, Alexis Tsipras, of "deceiving his population" by claiming that a No vote in the referendum will help put the country back on track.
Clashes between youths and police broke out in the Greek capital as Jeroen Dijsselbloem rejected the idea promoted by Mr Tsipras's party that a No vote would address the issue of debt relief and force Brussels back to the negotiating table. "We are not talking to the government any more," Mr Dijsselbloem said.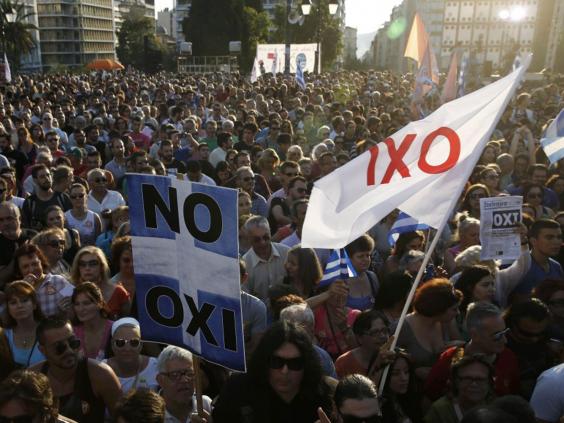 "They have chosen an extremely risky route – now we're waiting for the result of the referendum."
His colleague Jean-Claude Juncker, President of the European Commission, said the Greek negotiating position would be "dramatically weakened by a No vote" and added: "Even if there were a Yes vote, we would still have to face difficult negotiations."
Mr Tsipras still maintains Sunday's referendum is not a vote on whether Greece will remain in the 19-nation eurozone and said he believed Greece would keep the euro as its currency regardless of the outcome. He urged voters to ignore the "sirens of scaremongering" elsewhere in Europe, declaring: "I urge you to say no to ultimatums, blackmail and the campaign of fear."
In pictures: Solidarity protest for Greece in London
In pictures: Solidarity protest for Greece in London
1/7 London

Campaigners hold a solidarity protest for Greece in Trafalgar Square

2/7 London

Campaigners hold a solidarity protest for Greece in Trafalgar Square

3/7 London

Campaigners hold a solidarity protest for Greece in Trafalgar Square

4/7 London

Campaigners hold a solidarity protest for Greece in Trafalgar Square

5/7 London

Supporters blow horns, chant slogans and hold various signs to show support for Greece's new anti-austerity government

6/7 London

Christos Giovanopoulos from the Greek group 'Solidarity For All' speaks against the 'regime of austerity and social barbarism' and how Greece has a chance to escape a country in crisis, now under Alexis Tsipras and the Syriza party

7/7 London

A sign reads 'Merkel Crete is here' as the Greece Solidarity Campaign, Syriza London and other organisations gathered for a mass rally in support of the people of Greece in Trafalgar Square
The leader of Greece's main opposition party says a No vote would drastically weaken the country's negotiating position with its creditors. 
Antonis Samaras said that all of Europe would perceive a No vote as a rejection of the euro itself and would result in Greek banks staying closed for even longer, despite the government's vow they will reopen Tuesday.
Mr Samaras also rejected Mr Tsipras's claim that a deal with creditors could be hammered out within 48 hours of the referendum.
The fast-tracked vote announced last week which has polarised Greek society was given last-minute legal authority on Friday by the country's highest court. 
The Council of State, Greece's highest administrative court, rejected an appeal which asked  for Greece's referendum to be ruled unconstitutional. After the court ruling, its president Nikos Sakellariou said, "the referendum will proceed normally".
According to the latest polls published in the Greek media there is nothing between the Yes and No camps. Those who support the bailout package, 41.5 per cent, believe a Yes vote will keep them inside the eurozone and keep them within Europe. Those who reject the Brussels package, estimated to be 40.2 per cent, still believe their place in the eurozone may be salvaged.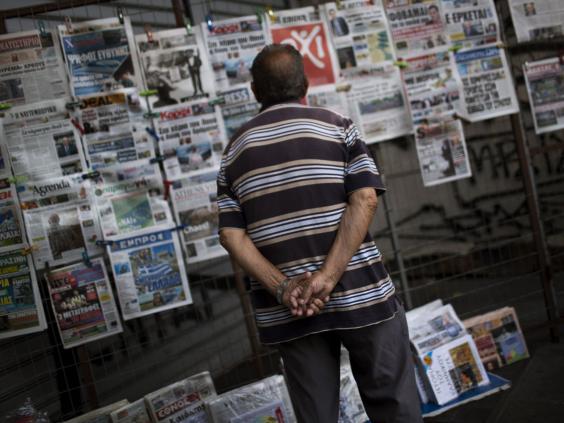 The complexity of the question written on the referendum ballot paper matches the complexity of the outcome.
The chair of the National Bank of Greece, Louka Katseli, warned that banks only have enough money left till Monday morning, after which it would be down to the European Central Bank to decide what happens next.
The Greek Prime Minister addressed the nation again on television earlier, using a recently released IMF report which calls for a debt "haircut" to argue his cause. "The report is a vindication," he said. "This report was missing from the institutions' proposal [and] vindicates our choice to not accept a deal which bypasses this crucial debt issue."
A former friend and political rival, Andreas Papadopoulos, who first met the Greek leader in 2000, explained Mr Tsipras's insistence on holding a referendum.
"He's trapped in his ideology, incompetence and complete lack of plan. That's why the government is shifting from one plan to another," he said.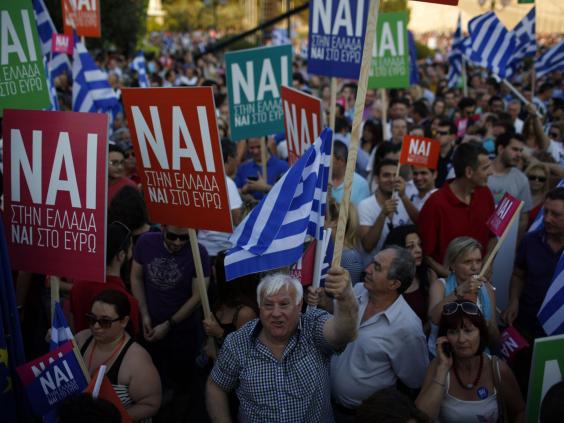 "He's smart and has morals but he has never lived abroad so he doesn't understand how other countries work and has no examples. He's caught in the microcosm of Greece."
His colleagues however have another vision of the young leader. "He's not gambling it all; he's a realist who refuses to implement policies that will mathematically reduce the quality of life of pensioners and Greeks overall," said Costas Zachariades, a Syriza official who has known Mr Tsipras since 2000, when he joined the left-wing youth movement of Syriza's predecessor.
Anxiety over the capital controls imposed over the past week has played a key role in bolstering support for the Yes campaign. Greece's Finance Minister Yanis Varoufakis and the Deputy Prime Minister, Yannis Dragasakis, met senior managers of six Greek lending institutions on Friday. Concerns over a raid on bank deposits grew in Greece, fuelled by memories of the 2013 levy on savings imposed on banks in neighbouring Cyprus.
Mr Tsipras sought to allay those fears. "Our absolute priority is in every case to ensure the citizens' deposits in the banks and achieve a result in these negotiations as soon as possible," he said.
There is huge uncertainty over what will happen directly after the referendum result becomes known, expected to be late Sunday evening.  A No vote would leave the Tsipras administration in government but will make a deal more elusive since European officials have reportedly lost all trust in his administration.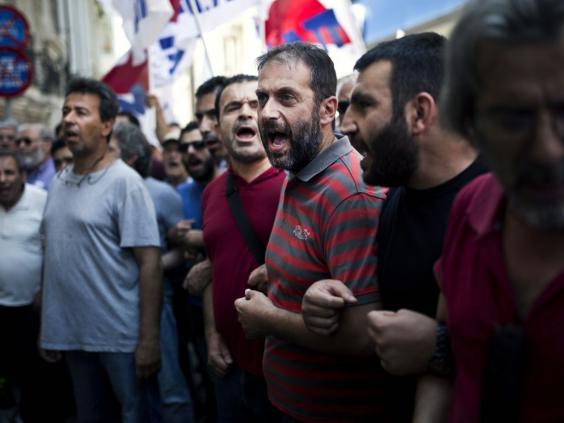 If Greeks  vote Yes, however, Mr Varoufakis has said he would resign. However, although Mr Tsipras has hinted that he too may go, Syriza officials consider that highly unlikely unless the defeat is crushing.
"I will respect the people's verdict and won't do anything to prevent the signing of a non-sustainable, appalling deal promoted by the institutions," Mr Varoufakis said in an interview with local Agora newspaper.
If Mr Tsipras steps down the Greek President, Prokopis Pavlopoulos, will successively ask the country's two main opposition leaders, conservative Mr Samaras first, followed by far-right Nikos Michaloliakos, to attempt to form a national unity government. If both leaders fail to do so, then the President may call on three leaders in a last-ditch effort to form a government. If the leaders disagree, a caretaker government would be appointed until new elections are called, most likely in September.
Reuse content