Europe's Greek default crisis seemed to be heading for resolution after EU leaders gave a guardedly positive welcome to last-minute concessions by Athens, finally easing fears the country could crash out of the single currency and spark a new financial panic at the end of the month.
Jeroen Dijsselbloem, the head of the Eurogroup of finance ministers, suggested that a "final agreement" releasing the cash Athens needs to avoid default on 30 June is now expected to be concluded at a summit of European leaders on 25 June.
Mr Dijsselbloem said the document Greece belatedly submitted to creditors early yesterday, which included an offer to raise some sales taxes and eliminate early retirement, seemed "broad and comprehensive" – effectively pulling both Greece and the eurozone back from the brink.
However, Mr Dijsselbloem stressed that teams of Brussels analysts would need to comb through the document thoroughly over the next two days to make sure that the plan adds up "in fiscal terms", raising the possibility the deal could yet fall apart.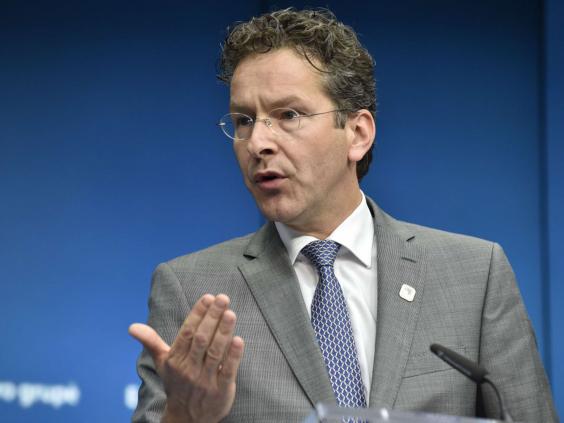 And there were reports that other finance ministers, including Germany's hard-line Wolfgang Schäuble, were still pushing for capital controls to be imposed on Greece.
But Mr Dijsselbloem's positive outlook was echoed by the President of the European Commission, Jean-Claude Juncker. "This won't be easy, but my goal still is that by the end of the week we'll find an agreement," he told reporters, following a meeting with the Greek Prime Minister, Alexis Tsipras. France's President, François Hollande, said last night that the Greek government had "shouldered its responsibilities".
The positive news sent financial markets soaring. The Greek stock exchange shot up by 9 per cent while the price of Greek government debt also rallied strongly, easing down the country's cost of borrowing.
Athens is due to repay €1.6bn to the International Monetary Fund on 30 June – but the country has run out of cash and without a €7.2bn bailout payment from its creditors before the end of the month it would become the first eurozone country in the history of the currency bloc to default on its sovereign liabilities. Many believe a default would be followed by an immediate financial crisis and the inevitable return of the drachma.
Stock exchanges across Europe were also lifted with the FTSE 100 leading shares benchmark ending the day higher. American stocks were also swept along in the eurozone relief rally with the S&P 500 Index sent close to a record high.
If a deal is done on 25 June attention will rapidly shift to national parliaments, which would need to approve the deal to release the cash. The biggest obstacles would probably be the German, Dutch and Finnish legislatures, where many parliamentarians have been vociferously opposed to any further cash to help Greece. But Mr Tsipras could also face difficulties securing the approval of his own MPs in Greece, given that his Syriza party was elected five months ago on a clear anti-austerity platform.
In pictures: Solidarity protest for Greece in London
In pictures: Solidarity protest for Greece in London
1/7 London

Campaigners hold a solidarity protest for Greece in Trafalgar Square

2/7 London

Campaigners hold a solidarity protest for Greece in Trafalgar Square

3/7 London

Campaigners hold a solidarity protest for Greece in Trafalgar Square

4/7 London

Campaigners hold a solidarity protest for Greece in Trafalgar Square

5/7 London

Supporters blow horns, chant slogans and hold various signs to show support for Greece's new anti-austerity government

6/7 London

Christos Giovanopoulos from the Greek group 'Solidarity For All' speaks against the 'regime of austerity and social barbarism' and how Greece has a chance to escape a country in crisis, now under Alexis Tsipras and the Syriza party

7/7 London

A sign reads 'Merkel Crete is here' as the Greece Solidarity Campaign, Syriza London and other organisations gathered for a mass rally in support of the people of Greece in Trafalgar Square
The details of the Greece's concessions were not made public but the country's Economy Minister, Giorgos Stathakis, told the BBC they included an increase in the VAT rate for selected items, although not for electricity. Other tax-raising proposals are a fresh tax on business and the wealthy. There was also an agreement to find savings from the pensions system, which Greek officials said would be made by increasing employers' contributions and raising the retirement age for those born after 1993 to 67.
There was also an acceptance that there will be no immediate debt forgiveness for Athens, despite Mr Tsipras previously insisting on this. And Greece is apparently offering to run a 1 per cent of GDP surplus this year, followed by 2 per cent in 2016 and 3 per cent in 2017.
Mr Stathakis stressed to the BBC that Greece had not crossed any of its negotiation "red lines", although he expected some opposition from the left wing of Syriza.
He added that under the agreement Greece would be able to reintroduce collective bargaining by trade unions.
Athens had accidentally sent a wrong draft of the document to Brussels on 21 June but Mr Dijsselbloem confirmed that the earlier document had not been substantially different from the final version that arrived the following day.
The Greek banking system has been haemorrhaging deposits in recent weeks as the prospect of a sovereign default has edged closer, forcing the country's lenders to rely on emergency liquidity support from the European Central Bank.
Despite yesterday's positive news the ECB needed to raise the ceiling on support to Greece's financial system by a further €2bn and it is due to hold another meeting on funding on 23 June.
Mr Schäuble and his Irish counterpart, Michael Noonan, reportedly lobbied in yesterday's Eurogroup meeting of eurozone finance ministers for this cap to be fixed unless Athens also imposes capital controls.
Yanis Varoufakis, the Greek Finance Minister, is said to have responded by arguing that it would be difficult to make capital controls effective in Greece.
Speaking after the Eurozone leaders meeting, Angela Merkel, the German Chancellor, said "time is short" to reach a deal with Greece and that "intensive work" was still needed.
But she added that all the leaders had "strongly backed" the efforts to come to a deal that will see Greece remain in the euro.
Mr Juncker added: "I want ordinary Greeks to know we are offering 35bn euros [about £25bn] to help the economy."
But, on the issue of debt relief sought by Greece, he said: "This is not the time to discuss that issue."
Christine Lagarde, managing director of the International Monetary Fund told reporters: "We have a huge amount of work to do on Greece."
The Lithuanian President, Dalia Grybauskaitė, was clearly unhappy.
"The Greek government still wants to party but the bills have to be paid by somebody else," she wrote on Twitter.
And she said: "(Today's) meeting was good on promises but not on outcomes."