European finance ministers failed to agree on a Greek bailout deal late Saturday after more than nine-hours of negotiations.
With Athens on the brink of bankruptcy, finance ministers meeting in Brussels raised serious question marks over fresh Greek plans to persuade its international creditors it can be trusted to bring in promised reforms they believe are necessary to avoid financial collapse. Talks will resume on Sunday morning.
A positive assessment of new Greek proposals from the European Commission, European Central Bank and International Monetary Fund late on Friday, along with public words of support from France, a key ally of Athens, raised expectations that the Eurogroup would approve the bailout.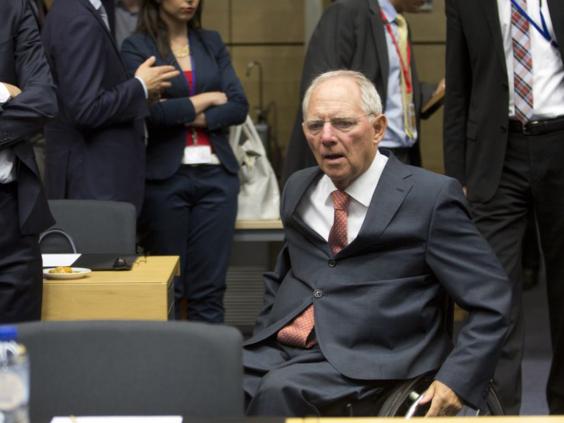 However the German finance minister, Wolfgang Schäuble, rapidly dispelled notions that any deal would be straightforward, warning as he entered the emergency meeting that discussions would be "extraordinarily difficult". Germany is Greece's biggest creditor.
Mr Schäuble, who has taken a hard line on Greece, said the Greek government needed to do a lot more than just say it wanted to reform to get the three-year bailout it seeks. "We will definitely not be able to rely on promises," he said before the Brussels talks.
Mr Schäuble put the blame for the current crisis firmly on the Syriza-led government. The "hopeful" situation regarding Greece at the end of last year has been "destroyed by the last months", he said. "We are talking about financing gaps that go beyond anything that we've talked about in the past. The philosophy of all assistance programmes was that you had to implement it step by step in order to get further assistance – and that won't be weakened, rather it will be intensified."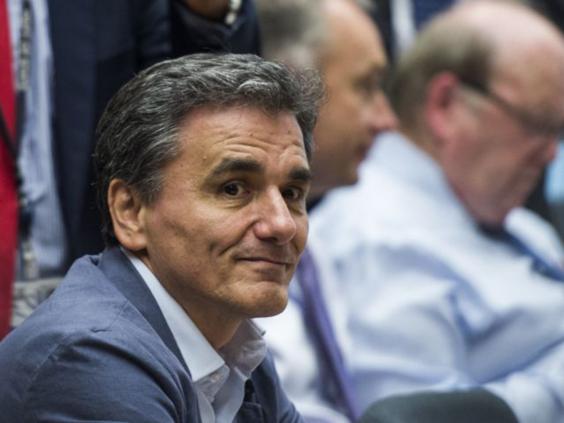 The German newspaper Frankfurter Allgemeine Sonntagszeitung said Mr Schäuble had proposed two alternatives for Greece: a five-year "time out" from the euro, or the transfer of €50bn (£36bn) of Greek assets to a fund that would pay down its debt. Greek officials sitting in on the talks denied that the proposals were on the table.
Greek government negotiators headed into the talks after both the parliament in Athens and international creditors gave its proposals enough backing to set up a weekend of crucial negotiations to stave off financial collapse.
In pictures: Greek referendum
In pictures: Greek referendum
1/28 Greece EU Referendum

People celebrate in Athens after the first exit-polls of the Greek referendum

Getty Images

2/28 Greece EU Referendum

A "No" supporter flashes a victory sign before a Greek flag atop the parliament in Athens, Greece July 5, 2015.Greeks voted overwhelmingly "No" on Sunday in a historic bailout referendum, partial results showed, defying warnings from across Europe that rejecting new austerity terms for fresh financial aid would set their country on a path out of the euro.

REUTERS/Yannis Behrakis

3/28 Greece EU Referendum

Supporters of the No vote react after the first results of the referendum at Syntagma square in Athens

AP

4/28 Greece EU Referendum

Supporters of the No vote wave Greek flags after the referendum's exit polls at Syntagma square in Athens

AP

5/28 Greece EU Referendum

Greece's finance minister Yanis Varoufakis casts his vote in the country's referendum

EPA

6/28 Greece EU Referendum

A ballot box is emptied by a voting official at the closing of polling stations in Athens, Greece July 5, 2015. Greece voted on Sunday on whether to accept more austerity in exchange for international aid, in a high-stakes referendum likely to determine whether it leaves the euro-currency area after seven years of economic pain.

REUTERS/Marko Djurica

7/28 Greece EU Referendum

A photographer photographs a man waiting to vote in the referendum at a school in the suburbs of Athens

Getty

8/28 Greece EU Referendum

Greek voters are being asked to choose between backing their creditor's austerity measures or rejecting them

Getty

9/28 Greece EU Referendum

Tourists walk past posters with slogans that read "OXI" (NO) and "NAI" (YES) ahead of the referendum in Athens

AFP

10/28 Greece EU Referendum

Opposition parties to Syriza, including the centre-right New Democracy, are campaigning for a 'Yes' vote in the referendum

Reuters

11/28 Greece EU Referendum

Protesters on both sides of the argument ('No' pictured here) have rallied in Athens

AP

12/28 Greece EU Referendum

Greek Prime Minister Alexis Tsipras has been branded reckless and a feckless liar by EU leaders

Reuters

13/28 Greece EU Referendum

According to polls which surveyed some 1000 people across the country, 41.5 percent of Greeks would support the new bailout measures to avoid an exit from the Eurozone

AP

14/28 Greece EU Referendum

Despite Tsipras's assurances, many Greek people are not certain whether Sunday's referendum is a vote on whether Greece will remain in the euro or not

Reuters

15/28 Greece EU Referendum

The Greek and EU flags flutter in front of the ancient Acropolis hill in Athens. The Greek people have been called upon to show "calm and national unity"

Getty

16/28 Greece EU Referendum

Greek Prime Minister Alexis Tsipras addresses a crowd of 25,000 'No' supporters in Athens' Syntagma Square

YANNIS BEHRAKIS/Reuters

17/28 Greece EU Referendum

Greece's Prime Minister Alexis Tsipras gave a televised address to the nation ahead of the vote. He has called on voters to reject creditors' proposals for more austerity in return for rescue loans

AP

18/28 Greece EU Referendum

Protesters march holding a torn European Union flag during a demonstration for the 'NO' campaign in Thessaloniki

Getty Images

19/28 Greece EU Referendum

Greek Finance minister Yanis Varoufakis has pledged to resign if his country votes "yes" to the bailout plan

Reuters

20/28 Greece EU Referendum

Pensioner wait to get their pensions outside a National Bank of Greece branch in central Athens. Banks only opened for pensioners to allow them to get their pensions, with a limit of 120 euros.

AFP/Getty Images

21/28 Greece EU Referendum

Protesters attend an anti-austerity pro-government rally in front of the parliament building

Getty

22/28 Greece EU Referendum

The possibility of Greece leaving the Eurozone is increasing by the day. Merchandise already exists to accompany the event

EPA

23/28 Greece EU Referendum

An elderly man waits to receive his pension outside the closed National Bank of Greece headquarters in Athens

AP

24/28 Greece EU Referendum

People stand in a queue to use an ATM outside a closed bank in Athens

AP

25/28 Greece EU Referendum

A banner supporting the NO vote in the upcoming referendum hangs from the offices of the Greek Finance Ministry

Getty Images

26/28 Greece EU Referendum

Greeks will be asked whether they accept the austerity terms demanded by the country's creditors

Getty

27/28 Greece EU Referendum

Eurozone finance ministers expressed disappointment at the Greek decision to hold a referendum on the bailout terms

Getty

28/28 Greece EU Referendum

Alexis Tsipras, the Greek Prime Minister, said bailout conditions had 'asphyxiated' his country

EPA
EU officials said that if the Eurogroup meeting reached an agreement in Greece's favour, Sunday's summit of all 28 EU leaders would be cancelled. 
Failure to agree is likely to see Greece, low on cash despite the fact its banks have been shut for two weeks and its citizens limited to daily cash withdrawals of €60, crash out of the euro finance system. Experts say the consequences of that for Greece and the rest of the world are unpredictable.
If approved, Greece would get a three-year loan package worth nearly €54bn, as well as some form of debt relief.
Early on Saturday the Greek parliament passed the bailout package with 251 votes in favour and 32 against. Afterwards Prime Minister Alexis Tsipras said his government had a "strong mandate to complete the negotiation" and achieve a positive outcome.
However, the Dutch finance minister, Jeroen Dijsselbloem, chairing the meeting, said: "There are many concerns both on the content of the proposals and the more difficult issue of trust," he said. "Can the Greek government do what they are promising?"
Even France, a mediator for Greece, acknowledged that the Eurogroup needed a lot of convincing. French finance minister Michel Sapin said Greece's European partners needed to hear the nitty-gritty: "How are you going to do it? At what moment are you doing to do it? At what tempo are you going to do it."
Further concessions will be difficult for the Greek government, which faces strong dissent from within its own ranks. Last Sunday's national referendum saw 61 per cent of Greeks vote against such reforms.
Meanwhile the ECB is set to make a profit of up to £16bn on its loans to Greece, according to a new analysis by the Jubilee Debt Campaign, which condemned the bank for "unjust trading" and accused it of acting "like a vulture fund".
Normally, the ECB charges just 0.05 per cent interest on loans. However Jubilee calculated the average yield on Greek debt was 10 per cent as the bank had bought the debt at less than the face value because of fears that Athens would default.
Tim Jones, an economist at Jubilee, which has successfully campaigned for debt relief, said: "The European Central Bank has acted exactly like a vulture fund, buying up debts cheaply during the crisis, refusing to take part in a necessary restructuring of the debt, and demanding to be repaid at a large profit."
Reuse content