From the rugged green coves of Khalkidhiki, to the carefully manicured lawns of Athens's south suburbs, a quiet, relentless change is under way. The smart houses and elegant villas of Greece's upper classes are changing hands, not from one generation to the next as their owners intended, but into the hands of foreigner investors.
As wealthy Greeks contemplate a tightening of their budgets, or even fleeing Greece's economic mire altogether, many overseas customers are forming a queue to buy their properties as holiday homes in some of the most beautiful parts of the Mediterranean. Rich Russians are leading the way, according to local estate agents.
"Lots of foreigner clients are looking because now is absolutely the best time to buy," Svetlana Kuklina from the Greece.ru estate agency told The Independent on Sunday: "Prices cannot go much lower. We're talking about very, very big savings. Some villas that were valued at €2m are now going for €1m [£720,000]."
But she said that many of the "old Greek families" selling their properties were mostly doing so under duress. "Very often these homes have been in their families for generations and they're sad they have to sell them. They had been hoping to pass them on to their children," she said. "Sometimes it's because they're not using them, but most of them can't afford the property taxes, which are very big."
In pictures: Greek referendum
In pictures: Greek referendum
1/28 Greece EU Referendum

People celebrate in Athens after the first exit-polls of the Greek referendum

Getty Images

2/28 Greece EU Referendum

A "No" supporter flashes a victory sign before a Greek flag atop the parliament in Athens, Greece July 5, 2015.Greeks voted overwhelmingly "No" on Sunday in a historic bailout referendum, partial results showed, defying warnings from across Europe that rejecting new austerity terms for fresh financial aid would set their country on a path out of the euro.

REUTERS/Yannis Behrakis

3/28 Greece EU Referendum

Supporters of the No vote react after the first results of the referendum at Syntagma square in Athens

AP

4/28 Greece EU Referendum

Supporters of the No vote wave Greek flags after the referendum's exit polls at Syntagma square in Athens

AP

5/28 Greece EU Referendum

Greece's finance minister Yanis Varoufakis casts his vote in the country's referendum

EPA

6/28 Greece EU Referendum

A ballot box is emptied by a voting official at the closing of polling stations in Athens, Greece July 5, 2015. Greece voted on Sunday on whether to accept more austerity in exchange for international aid, in a high-stakes referendum likely to determine whether it leaves the euro-currency area after seven years of economic pain.

REUTERS/Marko Djurica

7/28 Greece EU Referendum

A photographer photographs a man waiting to vote in the referendum at a school in the suburbs of Athens

Getty

8/28 Greece EU Referendum

Greek voters are being asked to choose between backing their creditor's austerity measures or rejecting them

Getty

9/28 Greece EU Referendum

Tourists walk past posters with slogans that read "OXI" (NO) and "NAI" (YES) ahead of the referendum in Athens

AFP

10/28 Greece EU Referendum

Opposition parties to Syriza, including the centre-right New Democracy, are campaigning for a 'Yes' vote in the referendum

Reuters

11/28 Greece EU Referendum

Protesters on both sides of the argument ('No' pictured here) have rallied in Athens

AP

12/28 Greece EU Referendum

Greek Prime Minister Alexis Tsipras has been branded reckless and a feckless liar by EU leaders

Reuters

13/28 Greece EU Referendum

According to polls which surveyed some 1000 people across the country, 41.5 percent of Greeks would support the new bailout measures to avoid an exit from the Eurozone

AP

14/28 Greece EU Referendum

Despite Tsipras's assurances, many Greek people are not certain whether Sunday's referendum is a vote on whether Greece will remain in the euro or not

Reuters

15/28 Greece EU Referendum

The Greek and EU flags flutter in front of the ancient Acropolis hill in Athens. The Greek people have been called upon to show "calm and national unity"

Getty

16/28 Greece EU Referendum

Greek Prime Minister Alexis Tsipras addresses a crowd of 25,000 'No' supporters in Athens' Syntagma Square

YANNIS BEHRAKIS/Reuters

17/28 Greece EU Referendum

Greece's Prime Minister Alexis Tsipras gave a televised address to the nation ahead of the vote. He has called on voters to reject creditors' proposals for more austerity in return for rescue loans

AP

18/28 Greece EU Referendum

Protesters march holding a torn European Union flag during a demonstration for the 'NO' campaign in Thessaloniki

Getty Images

19/28 Greece EU Referendum

Greek Finance minister Yanis Varoufakis has pledged to resign if his country votes "yes" to the bailout plan

Reuters

20/28 Greece EU Referendum

Pensioner wait to get their pensions outside a National Bank of Greece branch in central Athens. Banks only opened for pensioners to allow them to get their pensions, with a limit of 120 euros.

AFP/Getty Images

21/28 Greece EU Referendum

Protesters attend an anti-austerity pro-government rally in front of the parliament building

Getty

22/28 Greece EU Referendum

The possibility of Greece leaving the Eurozone is increasing by the day. Merchandise already exists to accompany the event

EPA

23/28 Greece EU Referendum

An elderly man waits to receive his pension outside the closed National Bank of Greece headquarters in Athens

AP

24/28 Greece EU Referendum

People stand in a queue to use an ATM outside a closed bank in Athens

AP

25/28 Greece EU Referendum

A banner supporting the NO vote in the upcoming referendum hangs from the offices of the Greek Finance Ministry

Getty Images

26/28 Greece EU Referendum

Greeks will be asked whether they accept the austerity terms demanded by the country's creditors

Getty

27/28 Greece EU Referendum

Eurozone finance ministers expressed disappointment at the Greek decision to hold a referendum on the bailout terms

Getty

28/28 Greece EU Referendum

Alexis Tsipras, the Greek Prime Minister, said bailout conditions had 'asphyxiated' his country

EPA
A survey of Greek and Russian estate agents conducted by Bild magazine showed that property prices have dropped by 50 per cent since the crash in 2009.
"If a villa on the Greek island of Syros cost €1.6m a few years ago, it is now selling for just €800,000," Isabelle Razi, the founder of the Greek estate agent IRM Aegean Estate, told local media.
She added that the demand for expensive properties has nearly doubled since last year, with the suburbs of Athens, the region of Khalkidhiki in Macedonia and the island of Crete among the most popular areas.
Chinese investors as well as Russians lead the demand, she said, but interest is growing among investors from Bulgaria and Serbia.
"The Russians and other foreigners moving in know what they want," added Ms Kuklina. "A sea view is the most important thing. In this part of Greece, Khalkidhiki, it's very green and that appeals to them, as well."
She said the average Russian buyer was spending €250,000 to €500,000 on a "nice home" close to the sea.
Rich buyers from emerging economies seeking holiday homes and property investments have targeted other Mediterranean countries suffering economic hardship, notably Italy, where once again it is Russians in the vanguard.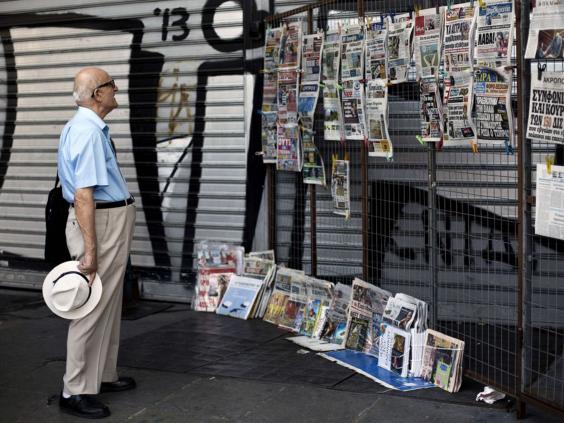 That trend has its roots in Russia's own economic turmoil. With the rouble crashing as Russia suffers falling energy prices, and biting sanctions over its Ukraine policy, many wealthy Russians are seeking to invest their money in bricks and mortar overseas.
And Italy's upper classes appear to be actively seeking their custom. Across the country, 70 privately owned castles and palaces, many of which have been in old Italian families for generations, are on the market, amid stories of Italian nobility selling off paintings to pay the bills.
According to the Florence-based Lionard Luxury Real Estate, Italy's nobles are setting their sights on super-rich foreign buyers, with 80 per cent of interest coming from Russian clients.
One of the latest landmarks to fall into foreign hands is the Castello di Tavolese, a five-storey castle dating back to 1200 situated on 62 hectares of land, which belonged to the family of 13th-century aristocrat Farinata degli Uberti. It was sold for between €10m and €20m.
Reuse content