An astonishing U-turn by Greece's far-left Prime Minister Alexis Tsipras, who has proposed more austerity, looks set to at least delay his country's exit from the euro, but has exasperated left-wing supporters and threatens to tear his party apart.
Mr Tsipras's decision to turn his back on voters who obeyed his call less than two weeks ago to vote No to more spending cuts or tax rises could bring an end to his government.
One Syriza MP, the party secretary Dimitris Vitsas, told Greek television that Mr Tsipras's party would remain united, particularly if creditors sweetened the pill with a promise to discuss debt relief in the autumn. But as senior figures reacted angrily to the proposals, this sounded like wishful thinking.
Environment Minister Panagiotis Lafazanis has already indicated he will not back the deal; one report said he had even offered his resignation.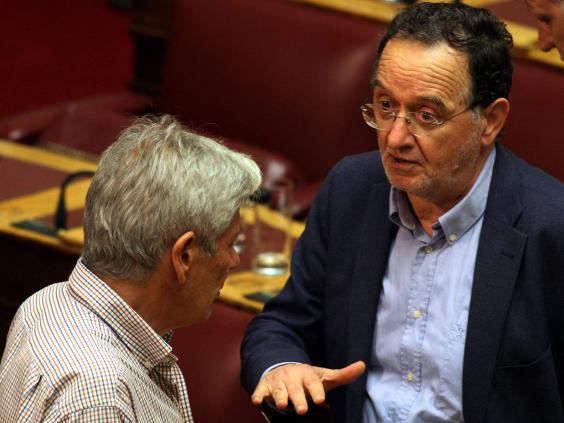 "You cannot go to sleep with the No in the referendum and wake up with the Yes a week later," founding Syriza member, Vassilis Primikiris, said.
Mr Tspiras said: "We got a mandate to bring a better deal than the ultimatum that the Eurogroup gave us, but were certainly not given a mandate to take Greece out of the eurozone. We are all in this together." For the collection of far-left theorists and neo-Marxists on the margins of his party, this is unthinkable.
The dream that Mr Tsipras would play Robin Hood to the Troika's wicked King John is dead, killed off like so many far-left political programmes before it, by realpolitik and the fear – or realisation – that going it alone risked marginalising the country ever further.
Pundits and opposition figures in Greece say that Mr Tsipras was swayed by senior Greek and eurozone officials who warned of the civil disorder and a humanitarian crisis that might follow Greece's exit from the single currency.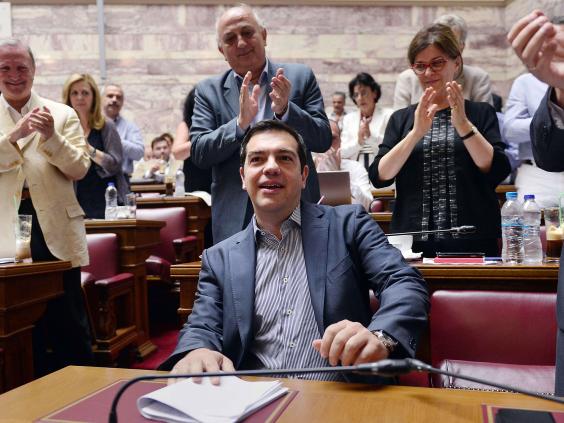 "Handling the change from an international currency back to the drachma would take a very, very skilled and competent team: that's something Tsipras doesn't have," said Antigone Lyberaki, an economist and MP in the centrist To Potami party. "The Greek economy would go from chaotic to dead."
Mr Tsipras's Syriza, which promised so much, is now being asked by its supporters and the millions who voted No to more austerity how it was able to give in to creditors.
Staff at Syriza headquarters appeared divided on whether the Prime Minister had betrayed party ideals, and there was confusion about if or when a touted rally would take place. No one would comment.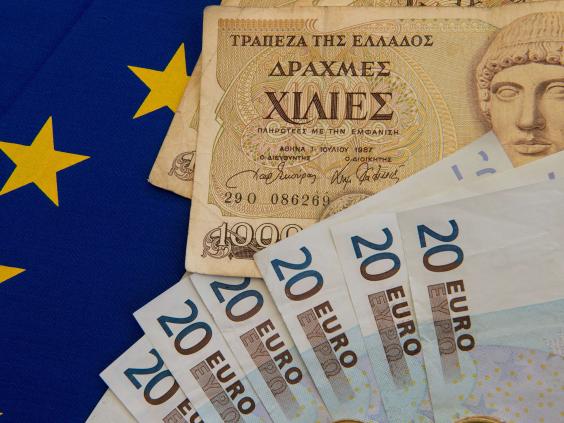 Ordinary Greeks were more vocal. At a mobile phone shop nearby in the Psiri district of Athens, 28-year-old Aris Pardamanis, was one of many who had followed Mr Tsipras's advice and voted No. He was now feeling confused and disappointed. He said: "There's a joke on social media that says he told us to vote No, but now he's done the opposite."
From the moment Mr Tsipras launched his Thessaloniki Programme in September 2014, his party was burdened with a set of fanciful promises it couldn't hope to keep. A rise in the minimum wage, the rehiring of public sector workers, the write-off of debt owed to private banks and free electricity for around a quarter of the population, were never do-able.
In pictures: Greek referendum
In pictures: Greek referendum
1/28 Greece EU Referendum

People celebrate in Athens after the first exit-polls of the Greek referendum

Getty Images

2/28 Greece EU Referendum

A "No" supporter flashes a victory sign before a Greek flag atop the parliament in Athens, Greece July 5, 2015.Greeks voted overwhelmingly "No" on Sunday in a historic bailout referendum, partial results showed, defying warnings from across Europe that rejecting new austerity terms for fresh financial aid would set their country on a path out of the euro.

REUTERS/Yannis Behrakis

3/28 Greece EU Referendum

Supporters of the No vote react after the first results of the referendum at Syntagma square in Athens

AP

4/28 Greece EU Referendum

Supporters of the No vote wave Greek flags after the referendum's exit polls at Syntagma square in Athens

AP

5/28 Greece EU Referendum

Greece's finance minister Yanis Varoufakis casts his vote in the country's referendum

EPA

6/28 Greece EU Referendum

A ballot box is emptied by a voting official at the closing of polling stations in Athens, Greece July 5, 2015. Greece voted on Sunday on whether to accept more austerity in exchange for international aid, in a high-stakes referendum likely to determine whether it leaves the euro-currency area after seven years of economic pain.

REUTERS/Marko Djurica

7/28 Greece EU Referendum

A photographer photographs a man waiting to vote in the referendum at a school in the suburbs of Athens

Getty

8/28 Greece EU Referendum

Greek voters are being asked to choose between backing their creditor's austerity measures or rejecting them

Getty

9/28 Greece EU Referendum

Tourists walk past posters with slogans that read "OXI" (NO) and "NAI" (YES) ahead of the referendum in Athens

AFP

10/28 Greece EU Referendum

Opposition parties to Syriza, including the centre-right New Democracy, are campaigning for a 'Yes' vote in the referendum

Reuters

11/28 Greece EU Referendum

Protesters on both sides of the argument ('No' pictured here) have rallied in Athens

AP

12/28 Greece EU Referendum

Greek Prime Minister Alexis Tsipras has been branded reckless and a feckless liar by EU leaders

Reuters

13/28 Greece EU Referendum

According to polls which surveyed some 1000 people across the country, 41.5 percent of Greeks would support the new bailout measures to avoid an exit from the Eurozone

AP

14/28 Greece EU Referendum

Despite Tsipras's assurances, many Greek people are not certain whether Sunday's referendum is a vote on whether Greece will remain in the euro or not

Reuters

15/28 Greece EU Referendum

The Greek and EU flags flutter in front of the ancient Acropolis hill in Athens. The Greek people have been called upon to show "calm and national unity"

Getty

16/28 Greece EU Referendum

Greek Prime Minister Alexis Tsipras addresses a crowd of 25,000 'No' supporters in Athens' Syntagma Square

YANNIS BEHRAKIS/Reuters

17/28 Greece EU Referendum

Greece's Prime Minister Alexis Tsipras gave a televised address to the nation ahead of the vote. He has called on voters to reject creditors' proposals for more austerity in return for rescue loans

AP

18/28 Greece EU Referendum

Protesters march holding a torn European Union flag during a demonstration for the 'NO' campaign in Thessaloniki

Getty Images

19/28 Greece EU Referendum

Greek Finance minister Yanis Varoufakis has pledged to resign if his country votes "yes" to the bailout plan

Reuters

20/28 Greece EU Referendum

Pensioner wait to get their pensions outside a National Bank of Greece branch in central Athens. Banks only opened for pensioners to allow them to get their pensions, with a limit of 120 euros.

AFP/Getty Images

21/28 Greece EU Referendum

Protesters attend an anti-austerity pro-government rally in front of the parliament building

Getty

22/28 Greece EU Referendum

The possibility of Greece leaving the Eurozone is increasing by the day. Merchandise already exists to accompany the event

EPA

23/28 Greece EU Referendum

An elderly man waits to receive his pension outside the closed National Bank of Greece headquarters in Athens

AP

24/28 Greece EU Referendum

People stand in a queue to use an ATM outside a closed bank in Athens

AP

25/28 Greece EU Referendum

A banner supporting the NO vote in the upcoming referendum hangs from the offices of the Greek Finance Ministry

Getty Images

26/28 Greece EU Referendum

Greeks will be asked whether they accept the austerity terms demanded by the country's creditors

Getty

27/28 Greece EU Referendum

Eurozone finance ministers expressed disappointment at the Greek decision to hold a referendum on the bailout terms

Getty

28/28 Greece EU Referendum

Alexis Tsipras, the Greek Prime Minister, said bailout conditions had 'asphyxiated' his country

EPA
The talk was of sissacthathia, a Greek word meaning release from obligations or burdens. It sounded so inviting. And to the surprise of many – including party members – Syriza found itself in power four months later and having to implement those pledges.
Mr Tsipras even cosied up to Vladimir Putin. For some on the hard left of the party, ditching the euro, and Europe, for Russia appealed. ECB chief Mario Draghi derided the notion this week: "Russia hasn't got any money either," he said.
"Much or most of Syriza is not hard left. But they are guilty of cynicism. Appealing to the electorate with populist policies that had no sense," said Ms Lyberaki. Mr Tsipras is not on the hard left, she said, but rather has been playing political games.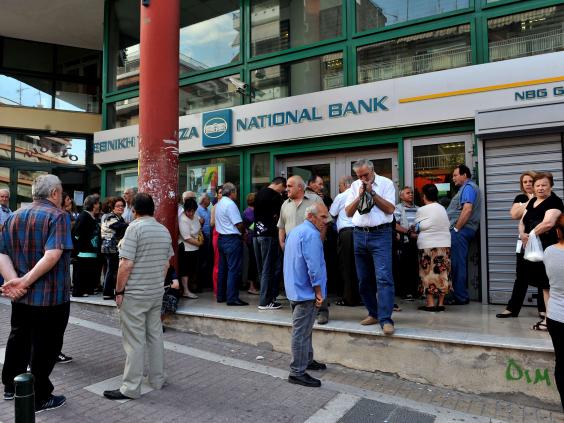 Syriza's cynical predecessors in the mainstream parties are probably just as much to blame for the recent negative growth. Nonetheless, Mr Tsipras's sabre rattling has just cost 40,000 more jobs in construction, thanks to the introduction of capital controls. And the recent double-talk, brinkmanship and broken promises are largely seen as having backfired, angering Northern and Eastern European hawks in the eurozone just when he needs them to give Greece a little breathing space.
"So maybe in the end the referendum vote was pointless," said Mr Pardamanis in Psiri. "We were always going to have to accept a deal. But for so many Greek people, there will still be no jobs and no hope."
Reuse content