Greek riot police have ended a near five-month protest by sacked employees at the now defunct ERT state broadcaster by forcibly removing people who were occupying the offices.
Four people were briefly detained during the operation and approximately 50 people were evicted, according to police in the Athens suburb of Agia Paraskevi.
Among the detainees was radio journalist Nikos Tsimbidas, who was broadcasting live as police entered the studio.
"Believe me, it's a shocking experience to be on the mic with two platoons of riot police surrounding the live broadcasting booth," he said on air. "We are being removed, I've just been informed that it appears orders have been given for me to stop talking."
Simos Kedikoglou, a Government spokesperson said the evacuation was to "restore the rule of law".
"The broadcasting complex had been illegally occupied, and that resulted in daily financial losses for the Greek state," Mr Kedikoglou said. "The (police) intervention was carried out in the presence of a prosecutor."
The building will now be handed over to ERT's successor DT, who are currently broadcasting from a studio in another part of Athens.
The main opposition Syriza radical left coalition protested the "illegal" police operation, with several Syriza lawmakers joining protesters outside the building.
"The government ... has created a black page in the history of state television and democracy in our country," a party statement said.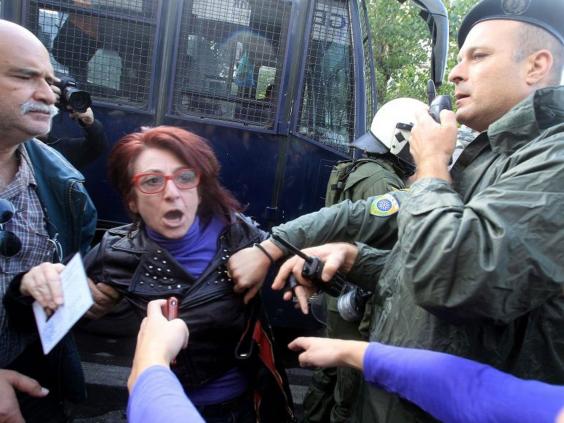 Police used tear gas to drive back a crowd of 200 protesters outside the building.
The government closed ERT on 11 June, axing all 2,656 jobs as part of its cost-cutting drive. Protesters continued to produce unauthorized broadcasts online, including airing news reports and documentaries.
These ended today, although regional former ERT branches are still broadcasting their own unauthorized programs.
Despite initial vows to fight the broadcaster's closure, the bulk of ERT's journalists and many other staff were eventually rehired by DT.
Reuse content