Greeks are rushing to withdraw money from cash machines following their prime minister's announcement of a referendum on whether the country should accept bailout terms proposed its creditors.
Greece's Alpha Bank has stopped all online transactions over the weekend, according to its website.
The referendum announcement by Alexis Tsipras, the Greek prime minister, marks the latest twist in months of negotiations between Greece and its creditors.
The vote is scheduled for 5 July. In it Greeks will be asked whether the country should accept a debt financing deal hammered out in often fraught negotiations with European lenders in recent weeks.
But late on Saturday Eurozone finance ministers appeared set to reject a Greek request to extend the bailout deadline until after the referendum, meaning Greece could be forced to default.
Greek negotiators have spent five months thrashing out a deal with the their country's three main creditors - the EU, the European Central Bank and the International Monetary Fund (IMF),collectively known as the Troika.
Greek gov't spox Sakellaridis says ECB's Draghi showed understanding for Tsipras's choice during phone call. Dep PM Dragasakis to meet him

— Nick Malkoutzis (@NickMalkoutzis) June 26, 2015
Greece's creditors had appeared unfazed by the Greek announcement on Saturday morning, but later Jeroen Dijsselbloem, the president of the Eurogroup of finance ministers, said he was "disappointed" by the Greek plan to put the austerity demands to a popular vote.
Earlier Sigmar Gabriel, the German vice-chancellor, said that the referendum should not be dismissed out of hand, but that it was vital that voters had a clear deal on which to vote.
In an interview with Deutschlandfunk radio, Mr Gabriel said such a referendum would only make sense if voters in Greece got the chance to cast their ballots on the European Union's offer for aid linked to reforms.
"We'd be well advised not to dismiss this suggestion from Herr Tsipras out of hand and say 'that's just a trick'," Mr Gabriel was quoted as saying.
"But rather if the questions are clearly framed ... then that could make sense."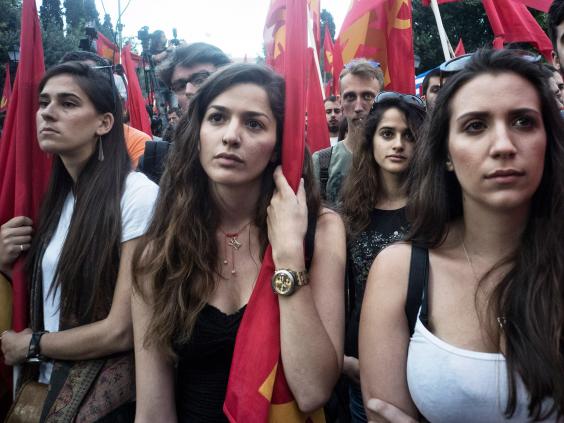 The Troika wants a deal on austerity measures before it unfreezes €240bn (£5.1bn) in bailout money that would resolve the country's most immediate financial woes.
Athens is due to repay just over £1bn to the IMF on 30 June.
Without continuation of loans from the Troika, the Greek government will default on its existing debts and Greece will almost certainly be forced out of the euro.
Mr Tsipras was elected in January on an anti-austerity platform but has found himself unable to resist austerity measures demanded by the Troika.
Konstantinos Chrysogonos, a Syriza MEP, told BBC 2's Newsnight: "It's obvious that the deal that creditors are proposing to the Greek government is beyond the popular mandate this government has."
(Additional reporting by agencies)
Reuse content