Hundreds of far-right demonstrators rallied yesterday in Calais to demand the port city be "saved" from homeless migrants, as tensions continued to escalate.
The 'Save Calais' demonstration clashed with left-wing supporters as around 300 French riot police were called in to maintain peace, putting more pressure on Calais' authorities already struggling to cope with increasing numbers of migrants.
Last week mayor Natacha Bouchart threatened to close the port – an illegal act – in a bid to pressure Britain into offering additional help.
Calais' centre-right mayor Bouchart, who complained the influx of migrants were ruining the town's image and draining resources from local residents, also said the migrants view Britain as "El Dorado".
A video captured last week appeared to show around 100 migrants breaking through security measures in an attempt to board a ferry bound for Britain.
An estimated 1,300 homeless migrants, mostly from the Horn of Africa, Sudan and Afghanistan and many of whom speak limited English, live in Calais in the hope of traveling to Britain.
This morning Shadow Home Secretary Yvette Cooper commented: "This situation is turning into a crisis and the Government needs to do more".
In an effort to contain the migrants, the 9ft-high steel fences used at the recent Nato summit are being sent to Calais to help French authorities.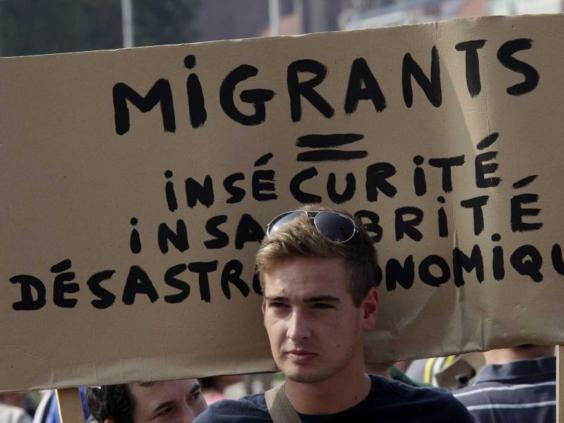 Immigration minister James Brokenshire said the fence, labelled the 'iron ring', would remind migrants that Britain is "no soft touch".
But last week Michael Howard claimed Bouchart was "directing her frustration and her anger at the wrong target".
Speaking on the Today programme, Lord Howard said that while he did have "some sympathy" with Calais, France should be 'taking more seriously its obligation to process asylum seekers'.
In pictures: Calais immigration crisis
In pictures: Calais immigration crisis
1/10 France

Anti-fascist activists confronted police in Calais. Hundreds of extreme-right activists demonstrated to "save" Calais from homeless migrants inundating the French port city in hopes of crossing the English Channel to Britain

2/10 France

A man hold a banner which reads "Migrants equal insecurity, unhealthiness and economic disaster" in Calais

AP

3/10 France

French police and demonstrators eye one another in Calais

AP

4/10 France

Migrants protesting in Calais, France demanding human rights protection, they have alleged police brutality against them, with some claiming to have suffered broken hands and legs

5/10 France

Migrants protesting in Calais

6/10 France

A 16-year-old Eritrean girl named Rita shows Reuters a fist-sized bruise on her upper arm where she said police had hit her with a baton as she sits outside her makeshift shelter somewhere in the woods, known locally as the "jungle", close to a chemical factory in Calais

7/10 France

Migrants sit on the stairs of a building in Calais

8/10 France

Migrants from Erythree and Sudan eat during a daily food distribution near the city hall in Calais

9/10 France

Migrants from Africa are chased by French policemen as they attempt to board lorries heading to Britain on the road to the ferry terminal in Calais

10/10 France

Migrants storm Calais port
The tensions come at a time of rising extremism within France.
A recent poll, published in the Financial Times, showed Marine Le Pen, leader of France's far-right National Front, would beat struggling incumbent president Hollande were France to go to the polling station.
The next French election is in 2017.
Reuse content