For five days after Hurricane Katrina struck, the body of Vera Smith lay where it fell, alone on the roadside, partly covered by a tarpaulin.
Eventually – with the authorities apparently having neither the resources or inclination to remove the corpse  – a local man buried her under a makeshift grave. He said prayers, fashioned a cross and placed a plastic sheet over the soil on to which someone painted the words: "Here Lies Vera. God Help Us".
Ten years after the storm that killed 1,833 people and whose destruction topped $100bn, the death of 66-year Vera Smith and the utter break-down of authority symbolised by her abandonment, continue to haunt the city. There are some in New Orleans – many of whose residents have an intense relationship with the dead – who literally believe they have felt her spirit.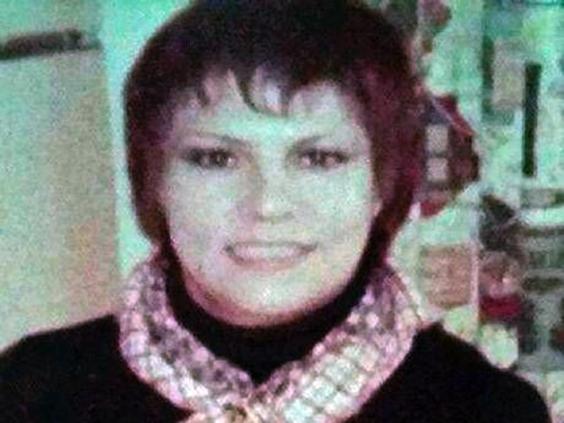 Visiting the junction of Magazine Street and Jackson Avenue in the Garden District today, it is hard to imagine the scenes that played out ten years ago in the chaotic aftermath of the storm, when Ms Smith had gone to a local shop to try and find supplies for her and her partner, Max Keene.
Across the US and around the world, people watched stunned and outraged as the media carried images of the seemingly countless corpses left stranded by the storm. They lay rotting on the roadside, floating in floodwater, hanging from wires.
The US government appeared both hapless and heartless, failing to come to the aid of some of its most most vulnerable people, a large percentage of whom were black. Television viewers could not believe that what they were watching was happening in their country, rather than somewhere in the distant developing world.
President Barack Obama, who will this week visit the city to mark the anniversary, said there had been a "shameful breakdown in government."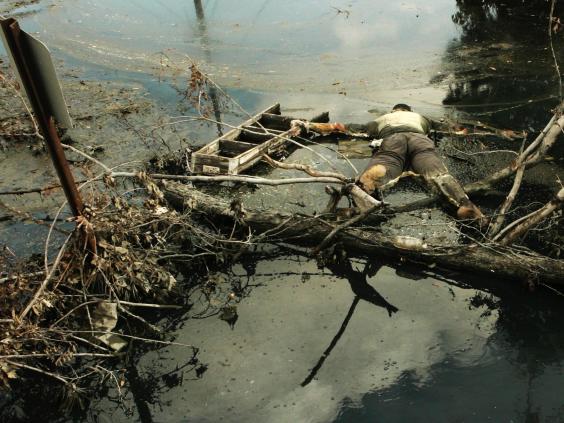 Ms Smith did not die in the actual storm but was killed in the lawless aftermath, apparently the victim of a hit and run accident, the perpetrator of which was never found. Her frail partner – who passed away the following year - did the little he could to provide some dignity to her body. After five days of intense heat, someone decided more serious was required.
That person was John Lee, an engineer and businessman who has a home in the Garden District. Over a bottle of root beer in Stein's Deli, located on Magazine Street, Mr Lee said he had gone to the local police station and asked them to remove her body.
Mr Lee said they not only declined to do so, but also refused him permission to move it. Eventually, they said he could bury it but could not move it. As a result, he dug the grave on the actual pavement.
Mr Lee has written a book of his experiences, Our Sleepless Nights: Surviving Katrina and Burying Miss Vera. In it he details the break-down of authority and the looming fear that permeated – some of it exacerbated  by inaccurate reports about looting – in the ten days after Katrina.
But his book is also testimony to the acts of quiet heroism that took place, the coming together of people, often strangers, to try and help one another.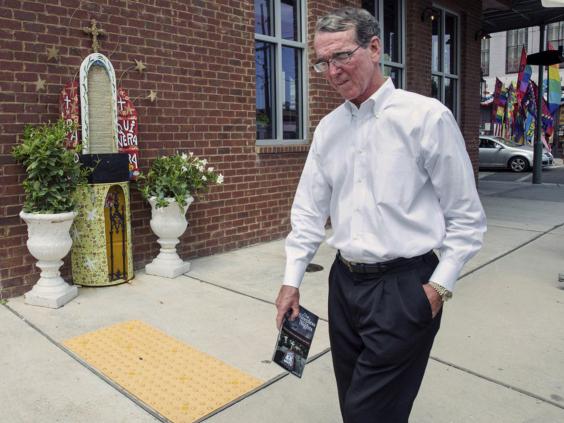 "I think of her often," Mr Lee said of Ms Smith, whom he used to see around the neighbourhood. "I do have faith. I do wish she is at rest."
He said he remembered the prayers that he and two black women – people he had met that day – spoke as they buried her. "We were praying for her soul."
Ms Smith, whose full name was Elvira Briones Smith, was born in Mexico and grew in Texas before she moved to New Orleans. She was married four time has two adult daughters.
For 20 years or more she lived with CN Keene, better known as Max. She liked clothes and shoes, shopping and drinking, and was a regular at the local Catholic church, St Mary's Assumption. They had met when she was working as a waitress in a bar and he was working off-shore for an oil company.
"She was married, her old man left her. I had a different girlfriend then, she left me. It was the right time. We just got together. Every now and then it happens that way," Mr Keene told The Independent ten years ago.
"We used to lie in bed. I'd drink bourbon, she'd read books."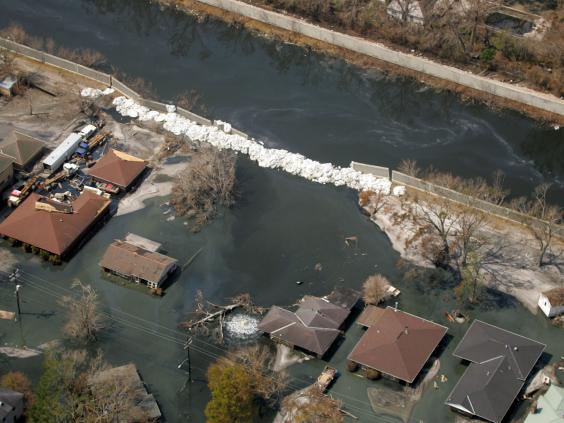 Ms Smith's family learned of her death from the front page of a Texas newspaper. Three months after Katrina, Ms Smith's body was eventually collected, taken to a mortuary and her ashes returned to her family in Santa Rosa. In November 2005, they were interred in a family plot.
Ms Smith's daughter, Cindy Briones, said her mother had returned to visit the family every year for Thanksgiving Day. She said she was also delighted to be among her relatives and spend weeks in advance of her visit buying special gifts for each of them.
Speaking from Santa Rosa, she said she was grateful to Mr Lee and the others who had built the makeshift grave, but said it had been important for the family to have her returned to Texas.
She said she and her sister remained traumatised by what happened to their mother and the their emotions had been stretched every year on the anniversary of her death.
"I still have flash-backs. I have seen her body on the internet, pictures of before it was buried," she said.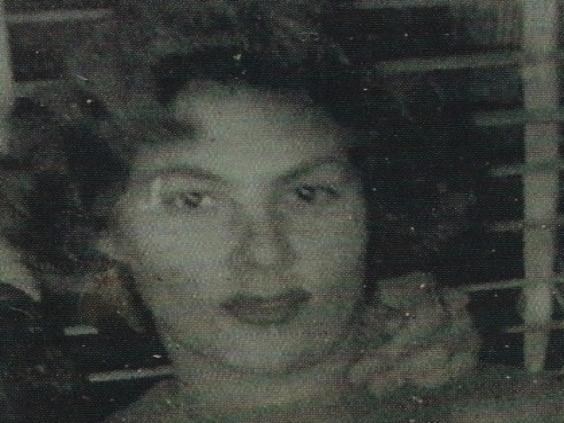 In some limited respects, Ms Smith's family was fortunate in that they were able to locate and recover her body. Even today, some of those killed by the storm remain unidentified and unclaimed.
Asked what officials had used to identify the remains, the office of Jeffrey Rouse, the coroner for New Orleans, said their work made use of dental records, DNA testing, plane manifests, unique scars and tattoos, follow-ups on missing persons cases, jewellery, unusual hair, finger-prints, medical implants and government identification.
In the City Park neighbourhood, a memorial to Katrina, designed in the shape that the Category Five storm assumed as it made landfall, was erected in the memory of those who died.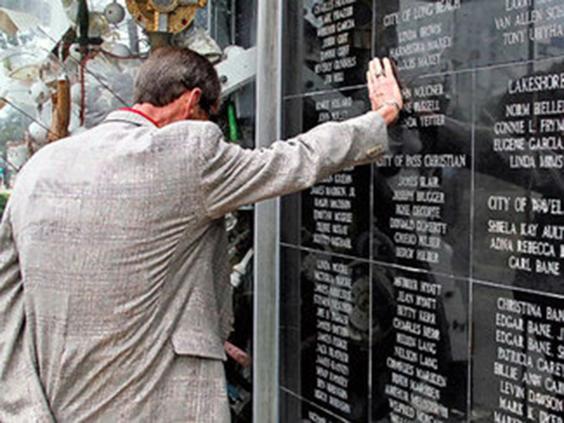 Despite the effort of the coroner's office, the remains of 30 people were not identified while a total of 43 were never claimed.
"The memorial received the remains of the unidentified or unclaimed," read the words on a black granite stone.
Jayson Orlando, who works at the nearby Sacred Grinds coffee shop, said New Orleans was less care-free since Katrina hit. "Even cities feel trauma," he said. "It's not just people."
Since 2005, several memorials have also been erected in the memory of Ms Smith. The one that currently stands attached to a wall was built by an artist, Simon Hardeveld, who is originally French, and metal worker Scott Evert.
Mr Hardeveld, whose memorial features a working fountain and bright colours, said he had been asked to make it two years ago by the owner of an adjoining burger restaurant, built on the site where Ms Smith's grave had stood.
He had contacted him amid reports that the restaurant was haunted. The reports were taken so seriously that a local television channel dispatched a film crew. "This is New Orleans. People believe these things," he said with a shrug.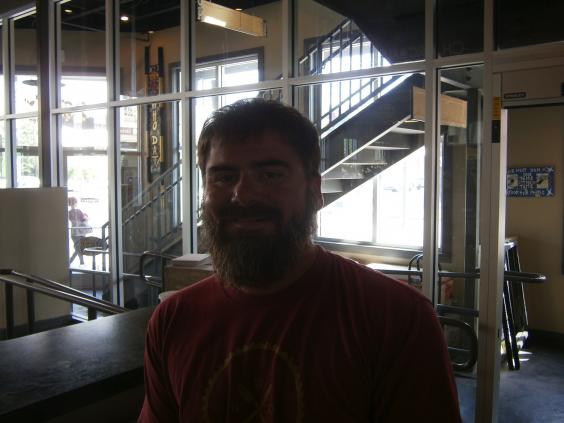 Blaine Presenbach, 36, the owner of the Charcoal restaurant, said some of his workers had joked after the "ghost of Vera" when a piece of equipment broke down. But he said nobody had really believed it.
Rather, he had commissioned the memorial out of respect for Ms Smith and what had befallen her at that location. "We don't want to forget it," he said.
Mr Evert, the man who did the metal work for the memorial, heard the stories too and was unsure what to think. And then he set about the task of shaping the memorial.
"It was weird. I don't really believe this sort of thing," he said. "But the job became really tedious and difficult."
He said that each point in the job, something went wrong. Each star – something that would normally attach simply – fell off. "It seemed to me she did not like what I was doing," he said.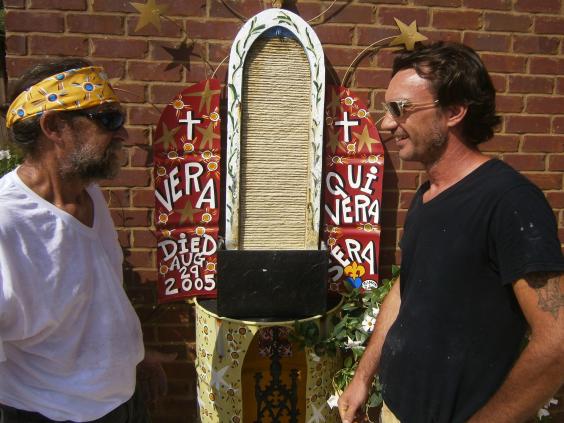 Mr Evert said he too felt the trauma of having lived through the storm, having used a boat to help rescue stranded people and remembering the terrible scenes. Even now it upset him to recall what happened to his city, to people such as Ms Smith.
He likened the memorial built by himself  to small shrines he had seen when he visited Thailand, a place where a spirit might sit.
"The point we wanted to make was that we wanted to remember Vera," he added.
"It was just to say 'this was someone who lived here and something terrible happened to her and people think she was worth remembering'."
Reuse content