Amanda Knox, the American woman accused of the murder of UK student Meredith Kercher in 2007, has declared her innocence in an email to an Italian court.
The 26-year-old wrote in the five-page document: "I didn't kill. I didn't rape. I didn't rob. I didn't plot. I didn't instigate. I didn't kill Meredith."
She explained her absence from court by saying she is too "afraid" that the prosecution's "smoke" will "blind" the court, but said she was following the case closely ''given that my life is at stake".
Ms Knox and her former boyfriend, Italian Raffaele Sollecito, were both convicted of Ms Kercher's murder in 2009.
They both served four years in prison before they were acquitted following an appeal in 2011. Italy's highest court overturned their acquittals in March 2013, but the pair insists they are innocent.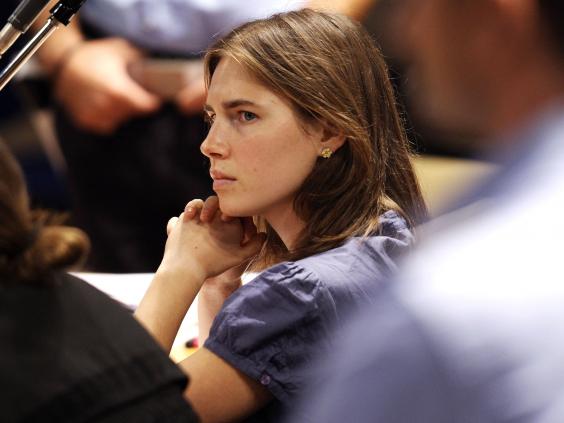 Judge Alessandro Nencini, who is presiding over the case, said the email was not a "normal procedure in Italy".
He said it highlighted Knox's absence, and indicated the email did not have the same legal standing as a declaration made in person. 
''Who wants to speak at a trial, comes to the trial," Judge Nencini said, adding that he had to take the word of her lawyers that Ms Knox penned the email. ''I never saw her. I don't know her," he added.
The case is currently being heard in the city of Florence, but Ms Knox has remained in the US because she did not need to be present for the hearing. 
Ms Kercher, 21, was found dead in a flat she shared with Ms Knox in Perugia when they were both exchange students. Her body was found under a blanket in her room, she had been repeatedly stabbed and sexually assaulted.
Prosecutors originally said Kercher was killed in a drug-fueled erotic game gone awry, but are now focused on disagreements between the roommates over cleanliness.
Defence lawyer Carlo Dalla Vedova said that the changing scenarios and the lack of a motive weakens the case against Ms Knox. Vedova claims therefore that there is not sufficient evidence to convict her.
Rudy Guede from Ivory Coast, was convicted in a separate trial and sentenced to 16 years for the killing.
The trial continues in early 2014. Judge Nencini said the court would deliberate on 15 January.