A big party has started in Dublin as the polls near their close in the world's first-ever referendum on same-sex marriage.
Ireland will not find out whether gay couples have won the right to marry until Saturday afternoon but many in the capital started the party early. Bars and clubs across the city were hosting post-vote parties to celebrate the historic poll.
The Bernard Shaw bar in the centre of the capital was holding a "Vote Yes & Party" night. "We're opening our party arms to all of you who vote Yes for marriage equality across this country of ours" its website declared. "You go down to the polling station and vote YES, then come boogie with us!"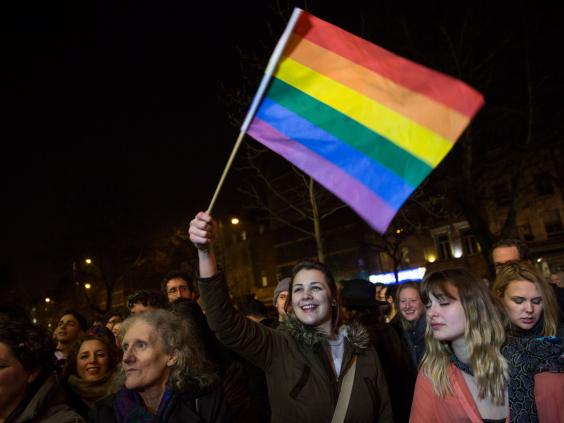 Meanwhile, in a mystery location, Celebration on Equality Street was expected to see revellers take to the streets in a secret quarter of the city whose location was sent to ticket holders. Kieran Doyle, 40, and his partner Ciaran Keating, 33, were emotional as they came out of the Francis Street polling station this morning. Mr Doyle, a psychiatric nurse, said: "We had a civil partnership two years ago but we'd like to turn it into a marriage. I'm one of nine children and all of my siblings are married. I want to be able to say I'm married too."
Here's who's urging you to vote Yes in the Irish gay marriage referendum
Here's who's urging you to vote Yes in the Irish gay marriage referendum
1/16 Michael Sheen

Actor Sheen called the referendum a "chance to make history and inspire those fighting for equality everywhere."

2/16 Alan Davies

The TV host supported Stephen Fry's speech for gay marriage in Ireland.

Getty images

3/16 Jimmy Carr

TV presenter Carr said: "Come on! For the craic!"

Getty Images

4/16 Stephen Fry

"I want the same happiness that I have found to be afforded to those in Ireland too. Give people a chance to marry, and have their love celebrated."

Rex

5/16 Jason Byrne

The comic said: "Vote YES people. So blokes can marry their best friends."

Ray Burmiston

6/16 Aisling Bea

Comedian Bea made a video supporting gay marriage "in the hope that people will back our battle for equality and for civil rights".

Karla Gowlett

7/16 Robbie Keane

The footballer said: "Most of us will have friends or family who, up to now, have been denied the right to marry their loved ones or have been made to feel excluded because of their sexuality. To me, this feels wrong. I am a very proud Irishman and it is important to me that our country does, and is seen to, treat all of its citizens on equal footing."

GETTY IMAGES

8/16 Mary McAleese

Former Irish president said: "This referendum is about them and them alone. The only children affected by this referendum will be Ireland's gay children. It is their future which is at stake. It is in our hands."

Getty Images

9/16 Marian Keyes

The author said: "I'm voting yes because it's the right, fair and decent thing to do. We have the chance as a nation to do something that will make a difference for the good – I can't see a down side to a Yes vote."

Rex Features

10/16 Graham Norton

He tweeted: "Come on Ireland! The world is watching and waiting. Here's hoping that love and common sense win the day rather than fear and misinformation."

11/16 Sarah Silverman

The comedian tweeted in favour, asking followers how they'd feel if they had to ask four million people for permission to wed.

12/16 Noah Taylor

South African comedian has joked that everybody has the same right to be unhappily married.

EPA

13/16 Jack Dee

The comedian said: "I would say yes to equality"

BBC

14/16 Russell Kane

The comedian supports gay marriage.

Rex Features

15/16 Sean Lock

Appearing in a pro-Yes video, he urged Ireland to back the bill.

16/16 Mrs Brown

Brendan O'Carroll - in character as Mrs Brown - said people should "grow up" and vote Yes.

BBC
The pair were planning to spend the weekend partying, regardless of the result. "We've made plans to go The George [Dublin's most famous gay bar] in the afternoon and a friend is having a house party in the evening. They'll be a lot of people with big hangovers."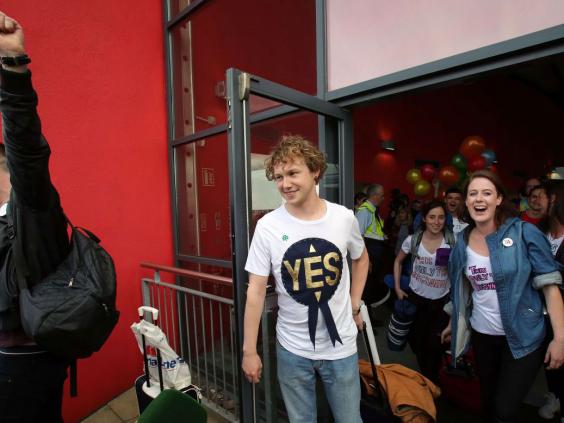 With no exit poll expected, Dubliners who voted Yes were going out with no idea of the result. For many, the night was about having a chance to reward months of campaigning. Club Lafayette was hosting an election special Crush lesbian night. Its organisers posted: "You have canvassed in the rain, broken world records, queued to register, made videos, took pics, ran fundraisers… And we are damn proud of you! Come and have a chill and dance with us , you deserve it!"
If the referendum passes the party will only get bigger. Special club nights combining a celebration and Eurovision screenings are planned at several gay bars tonight.
Support for the Yes vote is strongest in Dublin. Writer Hugh Travers, 33, and his film producer wife, Claire McCaughley, 33, were voting in central Dublin. Mr Travers said: "We voted Yes. It's generally about equality but also for friends we know that are gay. We got married last summer and there were friends celebrating with us that at the moment don't have the same right to marry."
Ms McCaughley said: "We were 11 when homosexuality was legalised. In secondary school you didn't know a gay person even though there were probably 1,000 pupils, because people didn't feel able to say it."
Reuse content