Simon Butler is a British hero, fighting the 1,000-year war against the French. Alternatively, he is a pig-headed man who has got himself into an unnecessary confrontation with the French state which could land him in jail.
For the London Mayor Boris Johnson, for the UK Independence Party and for the Eurosceptic British press, there can be only one choice: Mr Butler, 51, who has been offering ski holidays and skiing lessons in the French Alps for nearly 30 years, is a victim of French protectionism and Gallic disregard for EU law.
This week, he was given a 200-day jail sentence or a €30,000 (£24,000) fine for working as a ski instructor in Megève without a "professional card" or licence. Six of his British employees were also found guilty and given suspended fines of between €1,000 and €4,000.
Mr Butler, who has been arrested nine times in the past 20 years for breaking the law, has appealed. He plans to fight the case all the way to the European Court of Justice in Luxembourg.
For other British ski instructors in France – there are at least 300 of them, operating in perfect harmony with French rules – Mr Butler is a renegade, a trouble-maker and an embarrassment.
"I have known him for more than 30 years and he is the most stubborn man I have ever met," said another French-based, British ski-instructor, who preferred not to be named. "This whole business is unnecessary and unfortunate. It is giving British ski instructors a bad name in France and damaging France's reputation in Britain."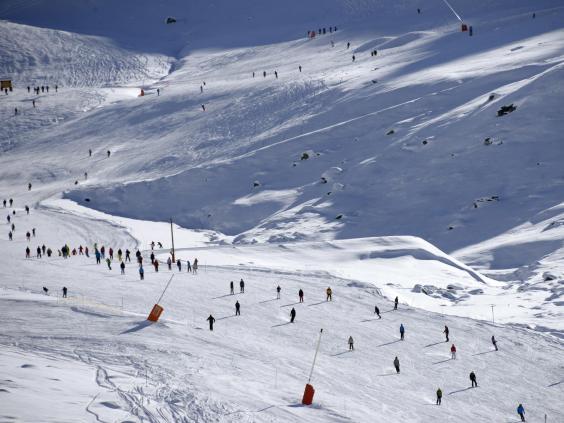 Eurosceptic British politicians are putting on their ski helmets and slaloming into the fray. Mr Johnson, wrote in his Daily Telegraph column in February that France's treatment of Mr Butler was "a complete, naked, shameless and unrepentant breach … of the principles of the European single market".
Ukip was represented at the court hearing in Bonneville this week. Mr Butler has addressed Ukip meetings, explaining why he should be protected by European free-movement laws which Ukip does not believe in.
So is Simon Butler off piste? Or does he have a right to be piste off? The facts are complex and opaque.
Mr Butler, who runs a ski travel business in Ripley, Surrey, and two hotels in Megève, is perfectly qualified to teach skiing under the French rules but he has no professional card. The reasons for this are arcane and hotly disputed.  French  officials say he is running an illegal ski school from his hotels in which he employs other British instructors who do not qualify under the French rules.
The French say it is all about safety. Mr Butler says it is all about protecting the near-monopoly of France's official ski school network and the French union of ski instructors (which is actually a single entity, like a pair of skis). Other British ski instructors say there is no conspiracy to exclude rosbif interlopers. "Twenty years ago, yes, OK, there was a real problem. But not any more," one successful British instructor said. "If you play by the French rules, it is fine. If you don't, it's not fine – just as it would not be fine for a French mini-cab driver to set up in London and ignore the British rules."
Mr Butler dismisses this argument. "Believe me, I never wanted to be involved in all this," he told The Independent. "I didn't want to get involved in a fight with the French state. I just wanted to run my business. They accuse me of not obeying their rules. The truth is that France disregards its own rules and flouts EU law on free movement of European citizens."
He adds: "It is complex but it is also simple. They just want me out. That's the long and short of it. It's protectionism."
Mr Butler argues that, under its own rules and under EU law, France should respect the ski teaching qualifications issued by other countries. France insists that foreign instructors should have the highest possible level of qualification (level four), but it allows French-born instructors to work with qualifications below that level.
Both Mr Butler and his political backers also claim that France has imposed a ridiculously hard, Olympic-standard slalom run – called the "Eurotest" – as the qualification for new foreign-born ski teachers. In fact, the Eurotest is recognised by a dozen European ski teaching associations, including the British one (which does not support Mr Butler's crusade). It also has to be completed by French ski instructors who wish to qualify at the highest level.
There are different views on how difficult the Eurotest is. Simon Atkinson, 48, a British ski instructors who runs the official French ski school at La Rosière, said: "In France, fully qualified teachers have to be able to teach at all levels. The bar is set high but not impossibly high. The Eurotest is tough but it is not ridiculously hard as Simon Butler claims."
Mr Butler retorts: "Ask Simon Atkinson if he has passed the Eurotest. He hasn't and I bet he couldn't." (In fact, Mr Atkinson does not need to because he was already qualified before it was introduced in 2004.)
Jean-Marc Simon, the secretary of the French ski-instructors' union, dismisses claims that Mr Butler is victim of a conspiracy to protect the near monopoly of the union and its commercial arm, the Ecole de Ski Français.
"We are not interested in a monopoly," he said. "There are at least 2,000 [out of 20,000] ski instructors in France who are not in the union. There is now an international ski school, which has bases in 60 or 70 French ski resorts.
"This is about safety and fairness – making sure that all instructors working in France are properly trained and tested. Butler uses British instructors who haven't passed these tests. The state opposes that, not because they are British but because they are breaking our rules, Any country would do the same."
Reuse content