An attempted Isis attack on Israel's national football team has been foiled by police who uncovered bombs, explosives, guns and electronic equipment prepared for the atrocity.
Authorities say it was one of a number of simultaneous attacks plotted by extremists in Kosovo and neighbouring Albania, where the team played a World Cup qualifier last weekend.
Israel won the match 3-0 as the stadium in Elbasan was guarded by more than 2,000 officers.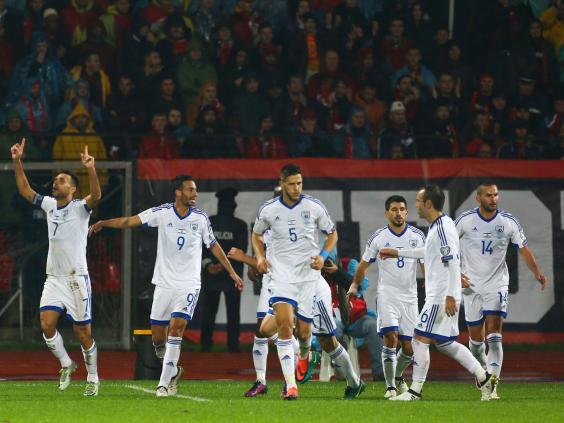 Police arrested 19 people in Kosovo on 4 November, with six others detained in Albania and Macedonia as part of the crackdown.
The suspects allegedly received their orders from Lavdrim Muhaxheri, the self-proclaimed "commander of Albanians in Syria and Iraq".
A police statement said plans were in place to attack Saturday's football match and another target in Kosovo at the same time.
The venue for the fixture was changed for security reasons from the northern city of Shkoder, near the border with Montenegro, to Elbasan, which is much nearer to the capital Tirana. 
Searches in Kosovo uncovered "religious material and literature from well-known authors recognised for their extremist ideology".
Terrorism in 2016: Terror attacks in Europe claimed by Isis
Terrorism in 2016: Terror attacks in Europe claimed by Isis
1/9

Policemen outside Rouen's cathedral during the funeral of Jacques Hamel, the priest who was killed in a church in Saint-Etienne-du-Rouvray in Normandy on 26 July during a hostage-taking claimed by Islamic State group

Joel Saget/AFP/Getty Images

2/9

Two jihadists, both 19, slit Hamel's throat while he was celebrating mass in an attack that shocked France as well as the Catholic Church

Joel Saget/AFP/Getty Images

3/9

Muslims place flowers and hold a minute of silence in front of the church if Saint-Etienne-du-Rouvray, western France, where French priest Jacques Hamel was killed on 26 July

Charly Triballeau/AFP/Getty Images

4/9

Two people hold each other by the new makeshift memorial in Nice, in tribute to the victims of the deadly Bastille Day attack at the Promenade des Anglais

Valery Hache/AFP/Getty Images

5/9

The Islamic State group claimed responsibility for the truck attack that killed 84 people in Nice on France's national holiday. Mohamed Lahouaiej-Bouhlel, 31, smashed a 19-tonne truck into a packed crowd of people in the Riviera city celebrating Bastille Day

Valery Hache/AFP/Getty Images

6/9

Police work at a site where a Syrian migrant set off an explosive device in Ansbach, southern Germany, on 25 July, killing himself and wounding a dozen others

Daniel Roland/AFP/Getty Images

7/9

A Syrian migrant set off an explosion at a bar in southern Germany that killed himself and wounded a dozen others in the third attack to hit Bavaria in a week. The 27-year-old, who had spent a stint in a psychiatric facility, had intended to target a music festival in the city of Ansbach but was turned away because he did not have a ticket

Friebe/AFP/Getty Images

8/9

Police officers walk along train tracks in Wuerzburg southern Germany on 19 July, a day after a man attacked train passengers with an axe. German authorities said they had found a hand-painted IS flag among the belongings of the man, an asylum seeker from Afghanistan, who seriously injured four members of a family of tourists from Hong Kong in his rampage

Daniel Roland/AFP/Getty Images

9/9

German police killed a teenage assailant after he attacked passengers on a train in Wuerzburg, southerg Germany with an axe and a knife on 18 July, seriously wounding three people

Karl-Josef Hildenbrand/AFP/Getty Images
The attacks were planned by a cell coordinated by two Albanians believed to be based with Isis in Syria, who had "clear targets on who and when should be attacked".
Hundreds of militants from the Balkans are believed to be fighting for Isis in Iraq and Syria, although analysts say the flow has dropped in the past year as travel to the group's territories becomes more difficult.
A report released by the EU Institute for Security Studies (ISS) in June found that Balkan nations were "top exporters of volunteers fighting for radical Islamic organisations such as Daesh [Isis] and Jabhat al-Nusra".
The ISS ranked Kosovo and Bosnia and Herzegovina as the top two European countries for foreign fighters per capita, while Albania is ranked in fourth place just behind Belgium.
As it suffers significant territorial losses, Isis propaganda has increasingly encouraged followers to launch attacks on home soil, with Israel being specifically singled out as a target in propaganda.
Additional reporting by AP
Reuse content