Protesters attacked two synagogues in Paris on Sunday as pro-Palestinian protests turned violent.
Worshippers barricaded themselves inside the Synagogue de la Roquette as demonstrators tried to storm the building with bats and chairs.
Police and security volunteers blocked their way and tear gas was launched to disperse the crowds.
The Synagogue de la rue des Tournelles was also targeted by a small group and several people were arrested.
Six policemen trying to hold the attackers back and two Jews were injured in the confrontation, Le Parisien reported.
The Prime Minister, Manuel Valls, condemned the synagogue attacks "in the strongest possible terms".
He added: "France will never tolerate using violent words or acts to import the Israeli-Palestinian conflict onto our soil."
The Mayor of Paris, Anne Hidalgo, praised the police for their "professionalism" during the disorder and called for calm in the face of tensions in the Middle East.
Israel's ongoing operation targeting Hamas in Gaza has left more than 170 Palestinians dead as the Islamist group continues to fire rockets.
The conflict has raised tensions in France, which is home to the largest Muslim population in Western Europe, as well as the largest Jewish community.
Sunday's protest was mostly peaceful, demanding an immediate ceasefire and condemning Israel's response to rocket fire from Gaza as disproportionate.
Thousands of people marched to the iconic Bastille Square waving Palestinian flags and wearing its red, green, white and black colours.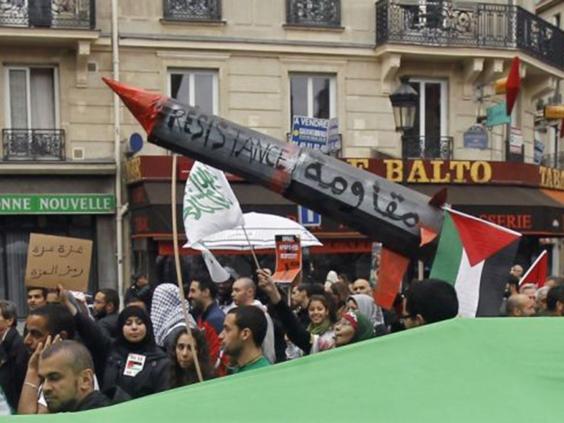 Many were carrying placards with pictures of the aftermath of Israeli bombardments in Gaza, showing homes reduced to rubble and the bodies of children and other civilian casualties.
A large model rocket was carried above the crowds with "resistance" written in black paint on the side.
The President, Francois Hollande, urged Israel and Hamas to negotiate a ceasefire as quickly as possible in a speech during a Bastille Day ceremony on Sunday.
''We will spare no effort, no trouble to achieve this," he said.
Meanwhile, the conflict in Gaza appeared to be escalating after Israeli forces warned residents to evacuate Beit Lahia ahead of a ground assault.
In pictures: Israel launches further air strikes on Gaza
In pictures: Israel launches further air strikes on Gaza
1/104 Israeli border with Gaza

Israeli soldiers rest next to artillery shells from an artillery unit near the Israeli border with Gaza

2/104 Tensions Remain High At Israeli Gaza Border

Palestinian mourners pray in a mosque during the funeral for those killed in a three-storey house belonging to the Abu Jamaa family the day before, in Khan Yunis in the southern Gaza Strip

3/104 Tensions Remain High At Israeli Gaza Border

Palestinian mourners pray over five bodies, all from the Halaq family, during their funeral in the Jabalia refugee camp, in the Gaza Strip

MAHMUD HAMS/AFP/Getty Images

4/104 Tensions Remain High At Israeli Gaza Border

The aunt of Palestinian boy Mohammed Ayad, who medics said was killed during heavy Israeli shelling, mourns as she looks at his body during his funeral in Gaza City

5/104 Tensions Remain High At Israeli Gaza Border

Two Palestinian men flee their homes during a temporary ceasefire in the heavily-hit Shuja'iya neighbourhood in Gaza City

EPA

6/104 Tensions Remain High At Israeli Gaza Border

Palestinian women react next to the rubble of their relatives' house, which police said was destroyed in an Israeli air strike, in Khan Younis in the southern Gaza Strip

7/104 Tensions Remain High At Israeli Gaza Border

Palestinians gather as a bulldozer searches for victims amongst the rubble of a house, which police said was destroyed in an Israeli air strike, in Khan Younis in the southern Gaza Strip

8/104 Tensions Remain High At Israeli Gaza Border

Palestinians paramedics lift the body of a man from the Al Shejaeiya neighbourhood, during a brief period of ceasefire requested by local rescue forces to retrieve dead and wounded from the Shuja'iyya neighbourhood in east Gaza City

9/104 Tensions Remain High At Israeli Gaza Border

An Israeli soldier gestures on a Merkava tank, as part of the Israeli army deployment near Israel's border with the Gaza Strip

10/104 Tensions Remain High At Israeli Gaza Border

Palestinian Beisan Dhahir (7) sleeps at Shifa hospital in Gaza City. Beisan's home was shelled and collapsed by Israel's military operation in Shijaiyah in the Gaza Strip. She survived the ordeal with her aunt and uncle. Beisan's mother, father, brother, sister and baby sister all died in the attack

11/104 Tensions Remain High At Israeli Gaza Border

A picture taken from Israel at the southern border with the Gaza strip shows smoke billowing from behind a hill following an Israeli air strike on Gaza City

12/104 Palestinians clashes with Israeli

Palestinians clashes with Israeli troops following the protest against the Israeli operations in Gaza at the al-Jalazone Camp in Ramallah, West Bank

13/104 Tensions Remain High At Israeli Gaza Border

An Israeli soldier sleeps on a tank near the Israeli border with the Gaza Strip. Israeli strikes killed at least 20 people in Gaza on Saturday 19 July, taking the death toll from a 12-day bombardment to 324

Jack Guez/AFP/Getty Images

14/104 Tensions Remain High At Israeli Gaza Border

Sderot, Israel: Soldiers are seen advancing towards the Israeli-Gaza border during an operation near Sderot, Israel. As operation 'Protective Edge' enters its 12th day, over 300 Gazans have been killed along with three Israeli soldiers

Andrew Burton/Getty Images

15/104 Southern Gaza Strip

Palestinian men help a local journalist who got injured during an Israeli airstrike on an office building hosting several media outlets in Gaza City

16/104 Southern Gaza Strip

Palestinians help an injured colleague to leave a building hit by an Israeli air strike on Gaza City

17/104 Southern Gaza Strip

Palestinians leave their neighborhood to a safer location after Israel's army stared its ground offensive in Rafah, in the southern Gaza Strip

18/104 Israeli Gaza border

Israeli soldiers seen along the border with Gaza before the attack

Getty Images

19/104 Southern Gaza Strip

An Israeli missile strikes in Gaza City

Getty Images

20/104 Southern Gaza Strip

Palestinians run for shelter as they hear bombing in the distance while they flee their homes in the Shajaiyeh neighborhood of Gaza City, after Israel had airdropped leaflets warning people to leave the area

21/104 Southern Gaza Strip

Relatives of 4 Palestinian children killed in Israeli airstrike while they were playing on the beach, mourn in Gaza City

22/104 Southern Gaza Strip

A Palestinian man cries as he holds the dead body of his young brother shortly after he got killed by an Israeli naval bombardment in the port of Gaza City in the morgue of the Shifa hospital in Gaza

23/104 Southern Gaza Strip

Young relatives of four boys, all from the Bakr family, killed during Israeli shelling, cry during their funeral in Gaza City

AFP PHOTO / MOHAMMED ABEDMOHAMMED ABED/AFP/Getty Images

24/104 Southern Gaza Strip

Palestinian employees of Gaza City's al-Deira hotel carry a wounded boy following an Israeli military strike nearby on the beach

THOMAS COEX/AFP/Getty Images

25/104 Southern Gaza Strip

A Palestinian man reads a leaflet dropped by Israeli Defense Forces over the Shuja'iyya neighbourhood in east Gaza. The paper says residents of the area are supposed to leave the area immediately and seek shelter in the center of Gaza City before the Israeli airforce will commence airstrikes. According to Israeli sources 100,000 people were notified to flee, only a few did

26/104 Southern Gaza Strip

Palestinian children run to collect leaflets dropped by Israeli Defense Forces over the Shuja'iyya neighbourhood in east Gaza City

27/104 Southern Gaza Strip

Palestinians salvage what they can of their belongings from the rubble of their destroyed house following an early morning Israeli missile strike in Gaza City

28/104 Southern Gaza Strip

A Palestinian man looks at a house destroyed by Israeli Defense Forces during an overnight air strike in Gaza City

29/104 Southern Gaza Strip

A Palestinian man stands amidst the debris of the house of senior Hamas official Mahmud al-Zahar which was destroyed by Israeli Defense Forces in an air strike in Gaza City

30/104 Israeli Gaza border

Palestinians search a destroyed house following an Israeli missile strike in Rafah

31/104 Israeli Gaza border

A man walks near the Israeli Gaza border

32/104 Southern Gaza Strip

Smoke rises from a Palestinian house during an attack by Israeli missiles in Jabaliya in the northern Gaza Strip. Israel bombed 40 more targets in the Gaza Strip and Palestinian militants launched at least 20 rockets across the border, despite a call by UN Secretary-General for a truce. The death toll rose to over 170 on the seventh day of the Israeli offensive, with more than 1,200 wounded, a Gaza Health Ministry spokesman said

33/104 Israeli Gaza border

A photo taken from the southern Israeli Gaza border shows Israeli army flares falling into the Palestinian enclave. Israel's security cabinet was to meet early on July 15 to discuss Egyptian proposals for a truce in Gaza, a senior official said, as an aerial campaign against Hamas entered its eighth day

34/104 Southern Gaza Strip

A Palestinian elderly walks past a destroyed house in the north of Beit Lahiya town in the northern Gaza Strip

35/104 Southern Gaza Strip

A Palestinian baby Abdullah Abu Halib, wounded during an Israeli airstrike, is treated at Nasser Hospital in Khan Yunis

36/104 Southern Gaza Strip

The funeral ceremony of three members of El-Muammer family, killed in Israeli airstrikes on Gaza, is held in Khan Yunis

37/104 Southern Gaza Strip

Relatives carry the body of 3-year-old Palestinian boy Moayad al-Araj, who hospital officials said were killed in an Israeli air strike, during his funeral in Khan Younis

38/104 Southern Gaza Strip

Palestinian relatives mourn during the funeral of four members of the Moamer family, including a 26-year-old militant of the Hamas movement, during their funeral in southern Gaza Strip city of Rafah

39/104 Southern Gaza Strip

A young Palestinian boy walks over debris from a house that was destroyed in an airstrike in Deir Al Balah

40/104 Southern Gaza Strip

Palestinian boys inspect the damage in a mosque that was destroyed overnight by an Israeli airstrike in Deir Al Balah

41/104 Southern Gaza Strip

Palestinian firefighters extinguish a fire that broke out after an Israeli air strike hit a car in Gaza City

42/104 Southern Gaza Strip

Palestinians gather around a firing car following an Israeli air strike in Gaza City

43/104 Southern Gaza Strip

A Palestinian man walks next to a destroyed house following Israeli missile strike in Gaza City

44/104 Southern Gaza Strip

Palestinians gather around the remains of a house, which police said was destroyed in an Israeli air strike in Rafah

45/104 Southern Gaza Strip

Palestinians carry the body of three-year-old Mohammed Mnassrah who was killed along with his parents and brother in an airstrike, during his funeral in Al Maghazi refugee camp in the eastern Gaza Strip

46/104 Southern Gaza Strip

Relatives and friends of al-Hajj family mourn as they gather in a mosque to pray over the bodies of the eight family members during their funeral in Khan Yunis

47/104 Israel

A smoke and fire billowing from an Israeli gas station after it was hit by a rocket fired from the Palestinian Gaza Strip

48/104 Southern Gaza Strip

A Palestinian firefighter hoses a boat hit in an missile strike at the port in Gaza City

49/104 Southern Gaza Strip

A Palestinian firefighter hoses a boat damaged by an missile strike at the port in Gaza City

50/104 Southern Gaza Strip

The destroyed house of the Palestinian Abu Lealla family following an Israeli airstrike north of Gaza City

51/104 Southern Gaza Strip

Palestinians inspect the rubble of a house after it was hit by an Israeli missile strike in Gaza City

52/104 Israel

Israeli fire-fighters extinguish a fire that broke out after a rocket hit a petrol station in the southern Israeli city of Ashdod

53/104 Israel

Israeli fire fighters extinguish vehicles destroyed by a rocket fired from the Gaza Strip that hit a gas station in the city of Ashdod

54/104 Israel

Israeli fire fighters extinguish vehicles destroyed by a rocket fired from the Gaza Strip in the city of Ashdod

55/104 Israel

Israeli firefighters try to extinguish the fire from several cars that were damaged by a missile fired from the Gaza Strip that hit a gas station in the southern city of Ashdod

56/104 Israel

Firefighters try to douse a fire from a rocket that hit a Petrol station in Ashdod

57/104 Southern Gaza Strip

A ball of fire is seen following an air strike on Rafah in the southern of Gaza strip

58/104 Southern Gaza Strip

Palestinian firefighters extinguish fire from a building following an Israeli air strike in Gaza City

59/104 Southern Gaza Strip

A Palestinian man walks on the rubble of a destroyed building following an Israeli air strike in Gaza City

60/104 Southern Gaza Strip

Palestinians carry bodies of seven people killed in a strike during their funeral in Khan Younis refugee camp

61/104 Southern Gaza Strip

Israel launched the military operation 'Protective Edge', which came in response to a renewed wave of rockets out of the Gaza Strip, for some of which Palestinian group Hamas has claimed responsibility. There have been more than 120 Israeli airstrikes in the coastal enclave, according to Palestinian sources, while hundreds of rockets and mortar shells have landed in southern Israel. Israeli military spokesman Peter Lerner said the offensive, named Protective Edge, could grow into a 'ground mission if required'

62/104 Southern Gaza Strip

Flames engulf a building hit by an Israeli air strike

63/104 Southern Gaza Strip

Palestinians inspect damages following an Israeli air strike

64/104 Southern Gaza Strip

Palestinian rescuers check a car hit by an Israeli air strike killing the driver in Gaza City

65/104 Southern Gaza Strip

A Palestinian woman runs carrying a girl following what police said was an Israeli air strike on a house in Gaza city

66/104 Southern Gaza Strip

Palestinians sitting on a street react after a deadly Israeli air strike that targeted their house in the town of Khan Yunis in the Gaza Strip

67/104 Southern Gaza Strip

Palestinian relatives mourn during the funeral of members of Hamad family in the town of Beit Hanoun in the northern Gaza Strip

68/104 Southern Gaza Strip

A Palestinian man carries his wounded daughter into the al-Shifa hospital in Gaza City following an Israeli air strike

69/104 Southern Gaza Strip

Palestinians stand on the edge of a crater as others look for people under the rubble of a house that was destroyed in an Israeli air strike in Gaza City

70/104 Southern Gaza Strip

A Palestinian removes rubble near a damaged building belonging to a senior Hamas official following an Israeli missile strike in the Jabaliya refugee camp in the northern Gaza Strip

71/104 Southern Gaza Strip

Palestinians collect their belongings from the rubble of their house which police said was destroyed in an Israeli air strike in Rafah

72/104 Southern Gaza Strip

Beit Hanoun, a city on the northeast edge of the Gaza Strip, hit by Israeli airstrike, West Bank

73/104 Southern Gaza Strip

A Palestinian man removes blooded cushions from an outdoors sitting area following an Israeli air strike in Beit Hanun

74/104 Southern Gaza Strip

Relatives and friends of the al-Kaware family carry one of the 7 members of the family to the mosque during their funeral in Khan Yunis

75/104 Southern Gaza Strip

A Palestinian boy who was injured in an Israeli airstrike, sits next to his mother after receiving treatment at a hospital in Khan Younis

76/104 Southern Gaza Strip

A picture taken from the southern Israeli border with the Gaza Strip shows smoke billowing after an Israeli air strike in the Palestinian coastal enclave

77/104 Southern Gaza Strip

Wounded Palestinians are taken to hospitals after Israel airstrikes targeted different points of Gaza city

78/104 Southern Gaza Strip

A Palestinian boy cries as he receives treatment at a hospital after he was injured in an Israeli airstrike in Khan Younis

79/104 Southern Gaza Strip

Two Palestinian girls inspect the ruble of a destroyed house following an Israeli airstrike in Rafah refugee camp

80/104 Southern Gaza Strip

A Palestinian woman makes her way through debris as people inspect the remains of a house belonging to a member of the Islamist Hamas movement following an Israeli air strike in the Gaza strip town of Khan Yunis

81/104 Southern Gaza Strip

A Palestinian man searches for belongings under the rubble of a house which police said was destroyed in an Israeli air strike in Gaza City

82/104 Southern Gaza Strip

Palestinian men carry a pumpkin and watermelon as they walk across the rubble

83/104 Southern Gaza Strip

Palestinians stand atop the rubble of a house which police said was destroyed in an Israeli air strike

84/104 Southern Gaza Strip

Smoke rises after an attack of Israeli aircraft in the South of Gaza City

85/104 Southern Gaza Strip

The father of killed Hamas militant Rashad Yassin (28) arrives at the morgue of the al-Aqsa hospital in Deir al-Balah, in the central Gaza strip

86/104 Southern Gaza Strip

Smoke and flames are seen following what police said was an Israeli air strike in Rafah in the southern Gaza Strip

87/104 Southern Gaza Strip

Fire fighters extinguish a vehicle targeted in an Israeli airstrike on Gaza City

88/104 Southern Gaza Strip

Wounded people are taken to the hospital in Gaza city

89/104 Southern Gaza Strip

A smoke rises after an Israeli air strike in the Palestinian coastal enclave

90/104 Southern Gaza Strip

A Palestinian girls in the rubble of the destroyed home of the Al Abadlla family following an Israeli airstrike in Khanyounis, southern Gaza Strip

91/104 Southern Gaza Strip

Palestinians inspect the rubble of a house after it was hit by an Israeli missile strike in Khan Younis, southern Gaza Strip

92/104 Southern Gaza Strip

Palestinians inspect destroyed area as smoke rises from the ruins in Khan Yunis after the Israeli airstrikes aiming Gaza

93/104 Israel

The Iron Dome air-defense system fires to intercept a rocket over the city of Ashdod. Due to recent escalation in the region, the Israeli army started new deployments at the border with the Gaza Strip

94/104 Israel

An Israeli soldier performs a morning prayer in an army deployment area near Israel's border with the Gaza Strip

95/104 Southern Gaza Strip

A woman stands inside her destroyed house in Khan Yunis

96/104 Southern Gaza Strip

Palestinians inspect destroyed area in Khan Yunis after the Israeli airstrikes aiming Gaza

97/104 Southern Gaza Strip

Palestinian men carry an injured person into Gaza City's al-Shifa hospital following an Israeli air strike

98/104 Southern Gaza Strip

Smoke rises following what witnesses said was an Israeli air strike in Gaza City

99/104 Southern Gaza Strip

Palestinians collect their belongings from damaged houses after an Israeli missile strike hit Gaza City

100/104 Southern Gaza Strip

The Israeli air force launched dozens of raids on the Gaza Strip after massive rocket fire from the enclave pounded southern Israel, leaving many people injured

101/104 Southern Gaza Strip

A Palestinian girl stands in a destroyed building following an Israeli military strike in Gaza City

102/104 Southern Gaza Strip

A destroyed building in seen following an Israeli military strike in in Khan Yunis, in the soutehrn Gaza Strip

103/104 Southern Gaza Strip

Palestinians march during funeral of Palestinian Marwan Sleem in the central Gaza Strip

104/104 Southern Gaza Strip

Israeli soldiers ride atop a tank outside the southern Gaza Strip. Israel launched a series of air strikes on Gaza to quell Hamas rocket fire, and the Islamist group's armed wing said seven of its gunmen were killed, making it the deadliest day for Hamas since a 2012 cross-border war with the Jewish state
Additional reporting by AP
Reuse content