A senior Italian politician has provoked a storm of controversy after tweeting uncorroborated allegations that two Italian women freed from Islamic terrorists last week had had "consensual sex" with the fighters.
Maurizio Gasparri, 58, tweeted on Saturday, "#VanessaGreta [had] consensual sex with the guerrillas? And we're paying!" just days after the release of two Italian hostages, Vanessa Marzullo and Greta Ramelli, who were held by Islamic extremists for six months.
The two girls' arrival in Rome on Friday was mired in controversy, with the Italian foreign minister forced to label claims that the government had paid a reported €12 million for their safe return as "baseless".
#VanessaeGreta sesso consenziente con i guerriglieri? E noi paghiamo! @forza_italia

— Maurizio Gasparri (@gasparripdl) January 17, 2015
Ramelli and Marzullo, both 21, were volunteering as healthcare assistant in the northern Syrian city of Aleppo when they were captured by the Nusru Front – al-Qaeda's Syrian outshoot – in July.
The vice president of the Italian senate provoked a storm of controversy with his remarks, with social media users taking to Twitter. The hashtag #GasparrioffTwitter trended for much of yesterday in Italy, The Daily Telegraph reported.
Mr Gasparri, who served as Silvio Berlusconi's minister of communications from 2001 to 2005, claims to have read the allegations about the two women on a blog and told La Repubblica his remarks were intended as a question.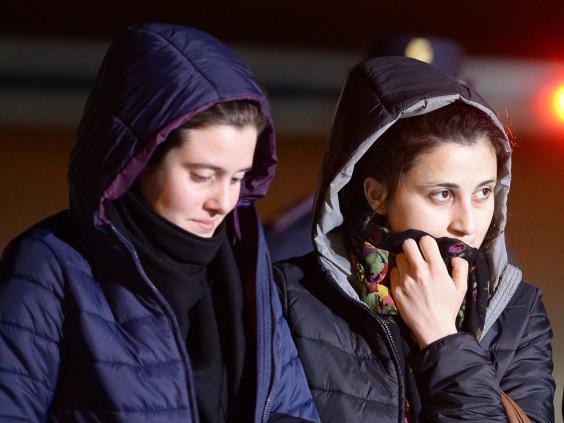 "A site reported the two girls had told authorities [that they had had sex with their captors]," he claimed.
He continued: "I also wrote that I hoped it wasn't true. I simply noted the claim and asked if it was true. I did not state anything."
It remains unclear where Mr Gasparri claims he originally saw the allegations.
Reuse content