In the shade of the thick stone walls of Kos Castle, the walkway to the ferry terminal was lined with new arrivals, many from Syria – some of the thousands of refugees and migrants on Kos waiting for a way off the Greek island. Some tried to get clean by washing in the sea, and draped nearby railings with wet clothing and towels.
The cruise liner Eleftherios Venizelos, carrying about 2,500 people, docked in the port of Piraeus outside Athens, having been chartered by the Greek government to collect Syrian migrants fleeing the country's civil war. It brought 1,300 passengers from Kos, where it had been moored, and a further 1,200 from the islands of Leros, Kalymnos and Lesvos.
But those still on Kos remain in desperate need of the most basic supplies. Fatima Abdulazziz, 20, reached the island from the Turkish town of Bodrum with her 18-month old son, her one-month-old daughter and a friend. She said she had paid $1,200 (£765) for space on a 27ft inflatable dinghy that was packed with 55 adults and 20 children.
Ms Abdulazziz said she had travelled from the northern Syrian city of Aleppo. "My husband and I had a large house and a car," she said, adding tearfully: "The house was bombed last year."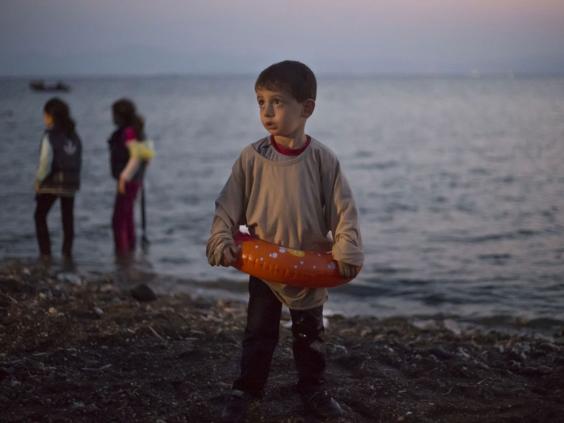 Up to 4,000 migrants and refugees remain on Kos, according to local estimates. Yet another boat arrived this afternoon, bringing a further 155. Meanwhile, a spokesman for the Greek coast guard said it had picked up 519 people in 16 search-and-rescue operations off the islands of Samos, Agathonissi, Kos and Farmakonissi in the past 24 hours. Migrant and refugee arrivals in Greece totalled 50,000 in July, far outstripping the figure for the whole of 2014.
The government's decision to send the Eleftherios Venizelos was aimed at easing the pressure on the small tourist islands where more people were arriving than local police could process. But the scheme was criticised by Maurice Wren, head of the Refugee Council in Britain, who argued that no one group should have "special treatment… when it comes to dealing with claims for international protection". He said that although Syrians' claims for asylum were "manifestly well-founded", expedited procedures should only extend "to the determination of claims, not the conditions in which people are required to live".
The high numbers of migrants trying to register has overwhelmed Kos Town's tiny police station. Groups of mainly Pakistan and Bangladeshi men waited outside for their papers, watched by police in riot gear.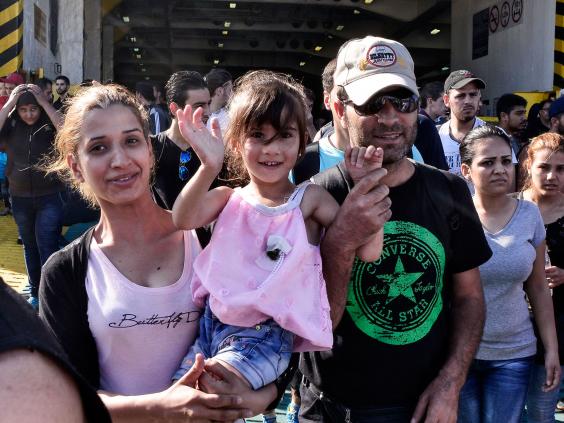 The appearance of so many people with pressing needs has prompted local volunteers to distribute supplies. Kerry Horafiou, a mother-of-two who organises the charity Kos Kindness, gave out a car boot-load of nappies and baby wipes to migrants as part of handouts that have become almost weekly.
Not far away, a group of young Iranians sat playing cards. Hossein, 23, who did not want to give his surname, said he had been on Kos for 10 days. He fled Iran after university rather than perform national service. He said he had no passport but wanted to get to Holland, Sweden or Germany. "There is the boat for the Syrians, but what is there for us?" he asked.
Fatima Abdulazziz also wanted to head for Germany to join her husband, an engineer. "It's a good place for work and to raise a family," she said. The cruise liner is due to return to collect more people on Friday, so her wait on Kos may be short.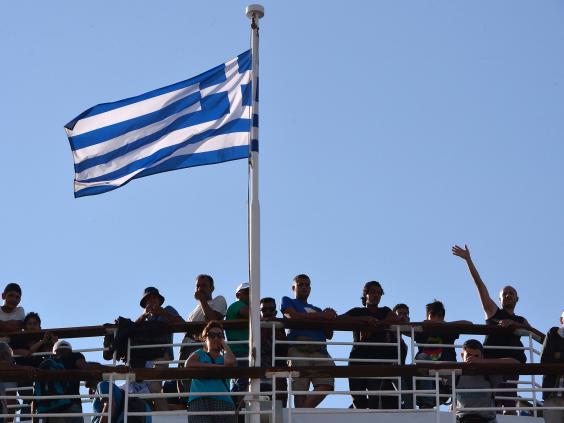 The wish of many migrants on Kos to reach Germany was reflected by Berlin's announcement on Wednesday that it expected to receive a record 800,000 asylum-seekers and refugees this year, four times last year's number.
Elsewhere, Macedonia deployed riot police in armoured vehicles and called out the army in an attempt to cut off the flow of migrants and refugees pouring in from Greece. Authorities said they would "reduce illegal border entry to a minimum".
Reuse content