A Kremlin spokesperson has denied any discussion of financial aid between Russian President Vladimir Putin and Greek Prime Minister Alexis Tsipras.
When asked if any dialogue on this topic had occurred during a conference in St Petersburg, spokesman for President Putin, Dmitry Peskov replied: "No, no, no."
His words appear to contradict those from Russian Deputy Prime Minister, Arkady Dvorkovich, who said that the country was looking at the "question" of providing financial aid to protect investment projects and trade.
TASS news agency reported that Mr Dvorkovich said: "We will support any solution on regulating the Greek debt crisis that is suggested by Greece and our European partners.
"The most important things for us are investment projects and trade with Greece. If financial support is required, we will consider this question.
Greek Prime Minister Alexis Tsipras, who flew to St Petersburg on Thursday to partake in Russia's biggest annual business conference, said on the trip that Russia was "one of the most important partners for us."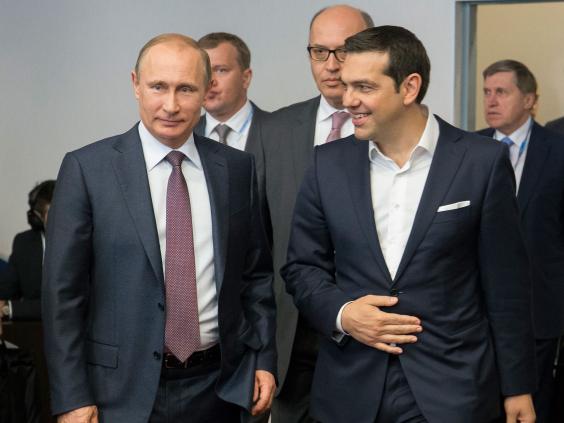 "The [eurozone] leaders summit on Monday is a positive development on the road toward a deal," Mr Tsipras said in a statement.
"All those who are betting on crisis and terror scenarios will be proven wrong."
He added: "There will be a solution based on respecting EU rules and democracy which would allow Greece to return to growth in the euro."
Ahead of a meeting of European finance ministers on Friday, UK Chancellor George Osborne said: "We have entered the eleventh hour of this Greek crisis, and we urge the Greek government to do a deal before it is too late.
"We hope for the best, but we now must be prepared for the worst."
"In the United Kingdom, we have taken measures to increase economic security so we can deal with risks like this from abroad. Clearly now we must complete that plan."
The European Central Bank stepped in on Friday afternoon to stabilise Greek banks, as around €2 billion have been withdrawn in the last three days by Greeks looking to protect their savings.
The country is due to pay the International Monetary Fund €1.6bn by the end of June, but says it cannot afford to do so.
International creditors are refusing to provide further bailouts worth €7.2bn, until Greece agrees to further economic reforms, including changes to pensions and VAT rates.
Reuse content