The latest Google Doodle marks La Tomatina, the tomato-throwing festival that takes place each August in the town of Bunol in Valencia, eastern Spain.
The festival, which sees its 70th anniversary this year, has inspired similar festivals around the world, including in Colombia, the US and India.

The festival began in 1945
It is said to have started during a parade when a group of revellers knocked another person off one of the parade floats.
The furious young man picked tomatoes from a nearby vegetable stall and began to hurl them at people, sparking one of the world's largest food fights.
The police eventually intervened to end the battle.

It was made official in 1957
For several years after it began the festival was discouraged by the authorities, but in 1957 it was organised by a local group known as 'Los Clavarios de San Luis Bertrán', and was later taken over by the city authorities.
St Luis Bertrán, a monk from Valencia who became a missionary in South America, is the patron saint of Bunol where the festival takes place.
Quite what he would have made of La Tomatina is unclear as he is thought to have been a rather serious individual.

Festivities begin with the untying of a ham
The festivities start at about 10am with the climbing of the Palo Jabón, or 'ham stick'. (Represented in the Google Doodle as the 'L').
Participants attempt to climb a pole that has been smeared with pig fat in order to reach a ham tied to the top of the pole.
When the ham falls, the tomato throwing begins.

It takes about 200,000 pounds of tomatoes
Revellers at La Tomatina are estimated to hurl about 99,790kg of tomatoes during the tomato-throwing, which lasts about an hour.
The end of the throwing is signalled by the launch of a firecracker, and once things are over, the streets and buildings are hosed down.

Tomatoes must be squashed first
In order to avoid injuries only tomatoes can be thrown at the festival, and the rules state they must be squashed before being hurled.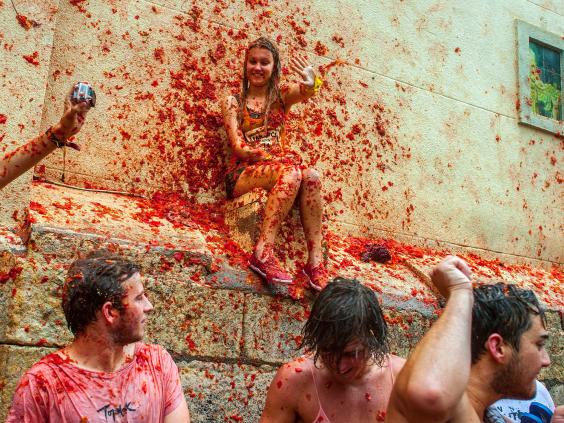 Reuse content