Jeers and whistles greeted the Italian Prime Minister, Enrico Letta, and the European Commission President, Jose Manuel Barroso, as they flew into Lampedusa to announce new funds to help Italy deal with refugee tragedies.
Last week, a heavily laden refugee boat sank within sight of the island with the loss of nearly 300 lives .
Campaigners for immigrants' rights shouted "shame" and "killers" as the leaders visited the island's aircraft hangar, which has become a makeshift mortuary, with hundreds of coffins arranged in rows. By this evening, the official death toll had risen to more than 300, as divers continued to extract bodies from the shipwreck 50m below the surface.
"Europe cannot turn away," Mr Barroso told reporters after paying his respects in front of rows of coffins. "This tragedy today shows that it is indispensable to step up our efforts." He announced an extra €30m (£25m) of EU funding to help Italian communities such as Lampedusa deal with the migration crisis and to provide better care for immigrants.
Mr Letta, who knelt down and touched a small white coffin of one of the child victims of last Thursday's disaster, apologised on behalf of his country for its failings in regard to the tragedy.
The Prime Minister was accompanied by his Interior Minister, Angelino Alfano, a Justice Minister in a former Berlusconi administration which introduced the controversial Bossi-Fini law that makes illegal migration – and aiding illicit migrants – a punishable offence.
This law has been blamed for deterring some boats from coming to the aid of the Lampedusa victims. Mr Letta has indicated he wants to scrap it.
He also announced the victims would receive a state funeral, and thanked the people of Lampedusa for their humanitarian efforts.  He added that the presence of Mr Barroso was "a very clear sign that this drama affected all of Europe".
Some heckling centred on the leaders' failure to make a full visit to the squalid detention centre, which is now at three times its official capacity.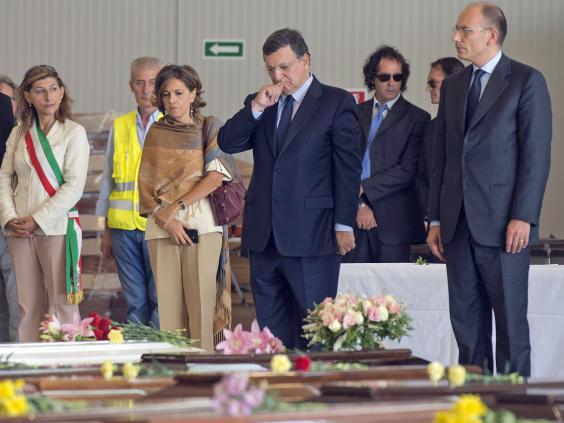 One local woman could be heard saying: "The conditions are unacceptable at the refugee centre. It's shameful, there are children there. We try to help but we don't have the means."
The premier and EC President met representatives of NGOs and a group of Syrian migrants before announcing the funding increases to help affected southern Italian communities and conditions for migrants.
Campaign groups estimate that in the past decade nearly 20,000 migrants fleeing poverty or conflict in Africa have perished making the crossing to Europe.
The EU Home Affairs Commissioner, Cecilia Malmstrom, who accompanied Mr Barroso to Lampedusa, has proposed expanding the search and rescue operations of the EU border protection agency Frontex across the Mediterranean "from Spain to Cyprus," to intercept vessels and prevent similar tragedies.
Anticipating the political spats to come, Mr Barroso acknowledged that while Italy and other southern Mediterranean countries such as Greece bear the brunt of the arrivals, northern European countries such as Germany, France, Britain, Sweden and Belgium receive the bulk of asylum-seekers for permanent settlement.
Reuse content