Eight friends and advisers of France's wealthiest woman, Liliane Bettencourt, were found guilty of exploiting the senility of the L'Oréal heiress to fleece her of hundreds of millions of euros.
A court in Bordeaux imposed prison terms on three men, including the society photographer and playboy, François-Marie Banier – the man at the centre of a convoluted, family, legal and political saga which has gripped France since 2007.
In a delayed judgement, the court dismissed similar charges against a close confidante of former President Nicolas Sarkozy, the former budget minister Eric Woerth. There was no evidence, the court decided, that Mr Woerth knew of Ms Bettencourt's mental weakness when he raised funds for Mr Sarkozy's 2007 presidential campaign.
In a 248 page judgement, the court concluded that Mr Banier had  exercised "real pscychological and moral control" over Ms Bettencourt for many years. He and the other men – incuding financial advisers, a lawyer and a notary – had knowingly exploited her mental weakness to extract money and art-works from the billionairess, now aged 92.
The court gave him a three year prison sentence, of which six months was suspended and fined him Euros 350,000.
Mr Banier was originally accused of taking more than Euros 1bn from the chief shareholder of the French cosmetics giant L'Oréal. He gave back a reported 500m euros in money and property before the trial and was ordered yesterday to return another 158m euros to Ms Bettencourt and her family.
At one point, the court heard, Mr Banier, now 67, tried to persuade Ms Bettencourt to adopt him as a son and to make him the sole beneficiary of her will. It was this development which finaly persuaded Ms Bettencourt's then estranged daughter, Françoise Bettencourt-Myers, to start a legal action in 2007.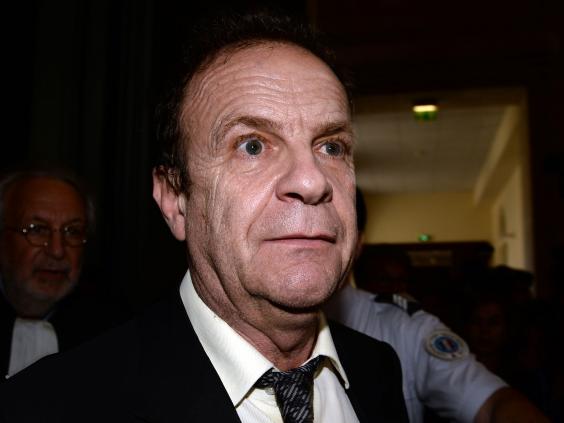 Mr Banier's boy-friend, Martin d'Orgeval, 41, was also found guity yesterday of cheating Ms Bettencourt of art works worth 5m euros. He was given an 18 months suspended prison sentence yesterday and ordered to return the property.
Two of Ms Bettencourt's private financial advisers – Patrice de Maistre and Pascal Wilhelm – were also convicted of "abuse of the mental weakness" of the billionaires to obtain excessive financial rewards. Both were jailed for 18 months and fined 250,000 euros. Further 12 months jail terms were suspended.
Four other men were found guilty of related offences and fined or given suspended jail terms.
At the five weeks court hearing in January and February, the photographer Jean-Francois  Banier was described as the de facto leader of a conspiracy to cheat Ms Bettencourt. He dismissed the accusation, insisting that he had"no interest in money". The billionairess was his friend and admirer , he said. She wanted to fund his artistic work and "took pleasure in giving".
Lawyers for Mr Banier and the others defendants said that there was no clear medical evidence that Ms Bettencourt, now suffering from a variant of Alzheimer's disease, was mentally feeble at the time of the alleged offences. The prosecution said that there was medical and other evidence that Ms Bettencourt was not fully capable of understanding her actions from 2006 and "probably since 2003".
The Bettencourt saga once appeared to have become a political scandal. Mr Sarkozy was himself briefly accused by investigating magistrates of abusing the old lady's mental weakness but the action against him was dropped for lack of evidence in October 2013.
In 2008, the Sarkozy administration attempted to use its influence to prevent a criminal investigation of Mr Banier and the others – at Ms Bettencourt's request. As a result of this intervention – and other complications – the investigation and trial were removed from the Paris area to Bordeaux.
Reuse content