Marine Le Pen has known far better weeks.
Five days after her far right party underperformed in French local elections, she received a double blow to her credibility today from hacked Kremlin text messages and a Holocaust-minimising outburst by her father.
Texts to and from a Kremlin official, hacked and leaked by a Russian opposition group, implied that Ms Le Pen's party had been given a 9m euro loan by a Russian bank last year as a "reward" for supporting President Vladimir Putin's annexation of the Crimea.
Earlier, the founder of the Front National Jean-Marie Le Pen repeated his declaration that the Nazi gas chambers in which millions of jews died during World War Two were merely a "detail" of history.
In pictures: Extremists in the EU
In pictures: Extremists in the EU
1/6 France: Marine le Pen

Marine Le Pen, 45, took over the Front National (FN), the party that her father founded, in 2011. He himself described her as "a big, healthy, blonde girl, an ideal physical specimen." She claims to have cleaned up the FN and succeeded in pushing her anti-European, anti-euro and anti-immigration agenda into the EU political mainstream

AFP

2/6 Germany: Udo Voigt

He will be the first German neo-Nazi to enter the European Parliament. The former army officer, born in 1952, was jailed in 1995 for inciting racial hatred. Formerly the leader of the far right National Democratic Party (NPD), Voigt was convicted in 2009 after he was caught handing out flyers at the World Cup which argued that a black player was not entitled to play for Germany, whose national team – the literature argued – should be made up only of white players.

AFP

3/6 Denmark: Morten Messerschmidt

Leader of the Danish People's Party, which won 27 per cent of the vote. His party has rammed 20 laws relating to immigrants and asylum-seekers through the Danish parliament, giving it the most anti-foreigner legislation in Europe. His party calls Islam "a fascist ideology" and rails against "East European criminal gangs". One party strategist said "blood ties" to Denmark should be required for citizenship, though the statement was quickly retracted.

EPA

4/6 Hungary: Krisztina Morvai

A senior member of Jobbik, the anti-Semitic and anti-Roma party on Hungary's far right wing. In 2009, she attracted international publicity after declaring: "So-called proud Hungarian Jews should go back to playing with their little circumcised dicks." In 2009, she cancelled an interview with a British newspaper, declaring in tones of outrage: "I am a decent politician and the mother of three children, yet you in the west keep portraying me as a Nazi and a Fascist."

AP

5/6 Italy: Mario Borghezio

MEP for Italy's notoriously racist Northern League, he has relentlessly attacked the nation's first black cabinet minister, Cecile Kyenge, minister for integration, claiming she would import 'tribal traditions' into the Italian government. Other elected members in the party called her "an orang-utan" and suggested that someone should rape her, so she would understand how the victims of Somali rapists felt. He attracted attention by lobbying for the creation of an EU archive of UFO sightings.

Getty

6/6 Greece: Eleftherios Synadinos

Fabulously mustachioed retired lieutenant-general in the Greek army, he was one of Golden Dawn's top candidates in the European elections, at which the overtly neo-Nazi party obtained more than 9 per cent of the vote. With its black-shirted assault squads, the Hitler photos and the party's swastika-inspired logo, it has been accused of being a criminal organisation. Its website declares: "We aren't the quiet birds of peace time, we are birds of the storm and the hurricane."
The comment by Le Pen senior in a radio interview is the latest in a series of incidents in which he has deliberately opposed his daughter's attempts to rid the Front National of the odour of racism, anti-semitism and Holocaust revisionism.
Asked whether he stood by his "detail of history" jibe first made in 1987, the party's semi-retired founder said that he had not changed his mind and the comment was merely a "statement of the facts".
Ms Le Pen, 46, interrupted an easter holiday abroad with her own three daughters today to condemn her father's words with a a degree of ferocity that she has never employed against him before. She said that she "disagreed profoundly" with "both his comments and the way on which he expressed them.
"He argues that only controversy of this kind can rescue the Front National from media obscurity," she said. "That is untrue. The only thing that he is trying  to rescue from media obscurety is himself."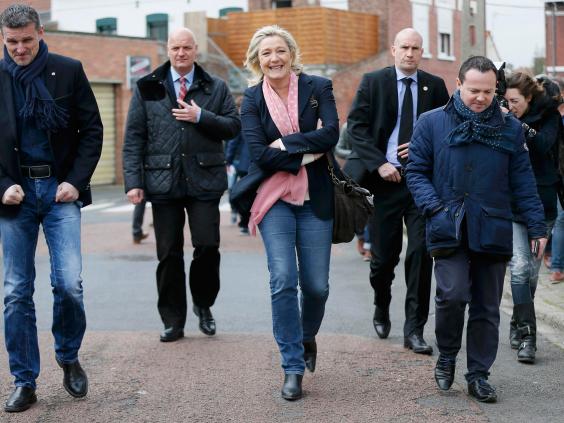 The revelations contained in the hacked Kremlin text messages are potentially even more damaging to Ms Le Pen.  
When the National Front received a 9m euro loan in November last year from the First Czech-Russian Bank, she insisted that this was purely a commercial transaction and had no link with her frequent expressions of support and admiration for Vladimir Putin.
Text messages published today by the French news website Mediapart suggested otherwise. The messages were among 1,187 pages of texts sent and received by Timur Prokopenko, head of the Kremlin internal affairs department, which were hacked and published earlier this week by an opposition group called "Anonymous International".
They included texts concerning Marine Le Pen and the referendum in the Russian-annexed Crimea.
On 17 March last year, "Kostia", believed to be a pro-Putin Russian exile in the south of France, reported to the Kremlin: "Marine Le Pen has officially recognised the results (of the referendum) in Crimea"
The senior Kremlin official replied: "She has not betrayed out expectations."
Kostia said: "We must, in one way or another, thank the French. It is importrant."
The Kremlin: " Yes. Super!"
Eight months later the FN received the Euros 9m loan which is expected to be the first tranche of a series of Russian payments which will fund the cash-strapped far right party up to the French presidential election in 2017.
Both Marine Le Pen and other senior NF officails today denied all knowledge of the two men in the text exchange. Ms Le Pen said that she could prove that in March 2014 she was negotoiating for a loan from a bank in Abu Dhabi (which fell through).
Reuse content