102,000 migrants have arrived by sea in Europe this year, according to new figures from the International Organisation for Migration (IOM).
According to statistics compiled by the IOM, 54,660 migrants reached Italy from the Mediterranean, after departing almost exclusively from Libya, while 46,150 migrants reached Greece, departing mainly from Turkey.
The number is slightly ahead of levels reached at this time in 2014.
More than 5,800 migrants were saved from the Mediterranean at the weekend, including 1,200 people rescued by the Royal Navy off the coast of Libya.
Many Italian craft were involved in the rescue operation, as well as ships sent by Germany, Sweden, Spain, Ireland and the United Kingdom, and no fatalities were reported.
The rescue operations come before what is expected to be a surge of migrant crossings in the months ahead.
Yesterday, Northern Italian states refused to take migrants as thousands of people poured into the south of the country.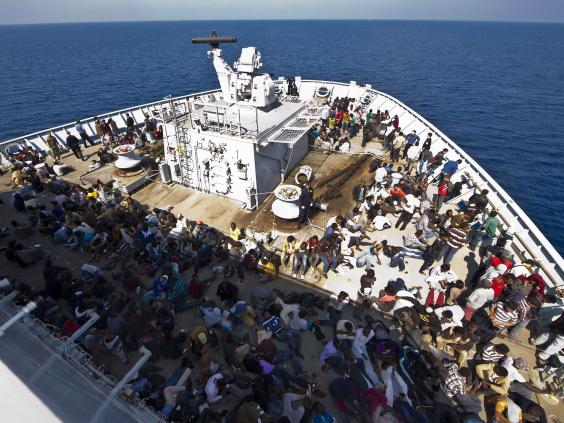 Those rescued had travelled for as long as 10 hours from various towns and beaches across the Libyan coast. Some described the journey as a living hell.
Roberto Maroni, the governor of Italy's most populous region, Lombardy, and a senior figure in the anti-immigration Northern League, threatened to withhold funds from municipalities in his region that accepted more migrants from Sicily.
Calm weather in the Mediterranean is expected to encourage smugglers to carry vulnerable people, among them refugees and economic migrants, across the seas.
Greece has seen a significant increase in the number of arrivals in comparison to last year.
Between January and December 2014 arrivals were around 34,000, whereas after only the first five months of 2015, arrivals are already about 46,150.
Reuse content