Glamorous high-school teacher Brigitte Trogneux is about to become France's first lady.
Her husband, Emmanuel Macron, swept to power on Sunday and is set to become France's youngest president.
Trogneux is 24 years his senior, and she first met Macron while teaching him drama in Amiens when he was 15.
She was never far from Macron's side on the campaign trail, and she is credited with helping coach her husband to power. Trogneux is now ready to take on an active role in his government.
Scroll on to meet the stylish soon-to-be first lady of France.
---
Meet Brigitte Trogneux, the glamorous high-school teacher who is the wife of French President-elect Emmanuel Macron.
---
She is the youngest of six Trogneux children and her family are famous chocolatiers in the region of Amiens. Les Trogneux is famous for its macaroons.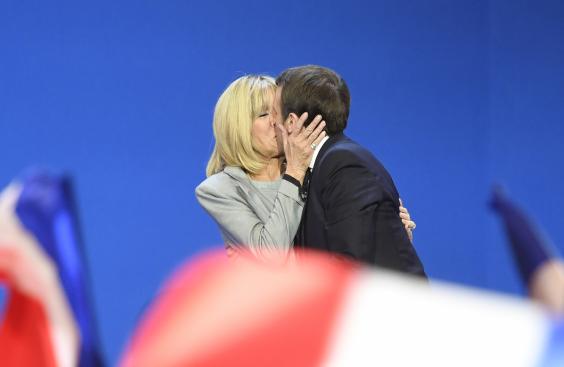 ---
There is a 24-year age gap between 64-year-old Trogneux and 39-year-old Macron.
---
Trogneux was Macron's drama teacher. They met at the Jésuites de la Providence lycée, in Amiens, when he was 15. Footage has emerged on social media of the pair sharing their "first kiss" (on the cheek) when he was a student and she was a married teacher.
---
Macron was reportedly packed off to Paris to finish his studies when news broke of his close bond with the married mother of three. Trogneux told Paris Match magazine that, at 17, Emmanuel told her: "Whatever you do, I will marry you."
---
Trogneux divorced her banker husband and father of her children, André-Louis Auzière, in 2006, and married Macron the following year.
---
She has been by his side ever since.
---
Macron is stepfather to Trogneux's three children -- two girls and a boy. Below, her daughters Thyphaine (left) and Laurence (right) at one of Macron's campaign rallies.
---
The age gap between the couple has been a source of fascination for local media.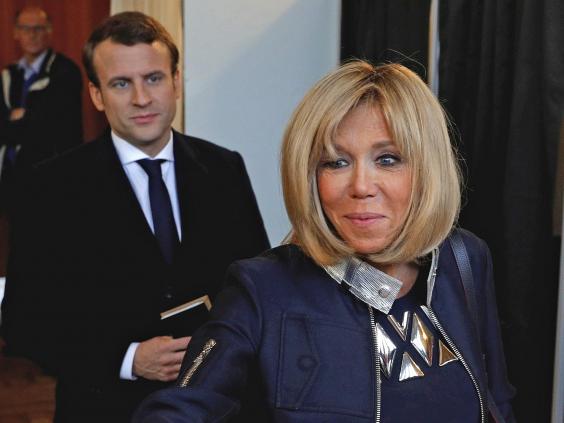 ---
But the couple have embraced the limelight.
---
They live together in Le Touquet, a commune near Boulogne-sur-Mer, in the Pas-de-Calais department in northern France. Below, Trogneux speaks with the press outside their home.
---
The pair are reportedly 'keen anglophiles.' Trogneux told the press: 'We both absolutely love Britain, and make sure we visit every year ... We go to plays in London, but Emmanuel and I are great strollers too. We love to go on long walks through the city, and to speak to people. We love walking.'
---
They also appear to be keen skiers. Here, Trogneux and Macron smile for cameras as they take a chairlift up to the mountain top for a lunch break during a campaign visit to Bagneres-de-Bigorre, in the Pyrenees in Southwestern France.
---
At the top, the couple looked relaxed as they shared a bottle of wine with colleagues.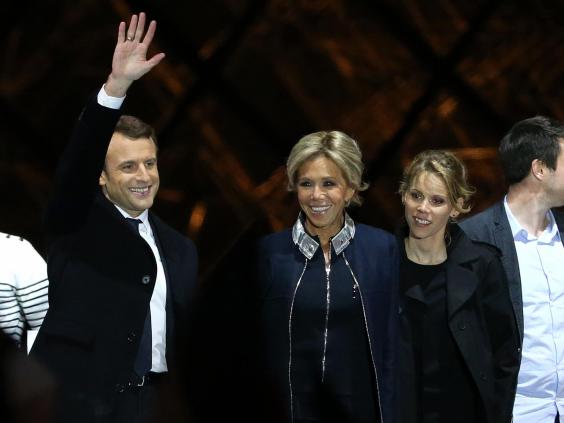 ---
Trogneux is also known for her strong personal sense of style.
---
The future first lady is apparently a regular at Paris Fashion Week, but recently swapped the front row to support her husband in his presidential campaign.
---
According to Macron's biographer, Anne Fulda, the future president of France has only ever had one girlfriend of his own age -- the only other relationship he has ever had, which she says is "quite exceptional today."A
---
Trogneux is understood to be an important mentor to Macron. He said 'without her, I wouldn't be me,' after winning the first round of voting in April 2017.
---
Trogneux cast her ballot during the second round of 2017 French presidential election in Le Touquet.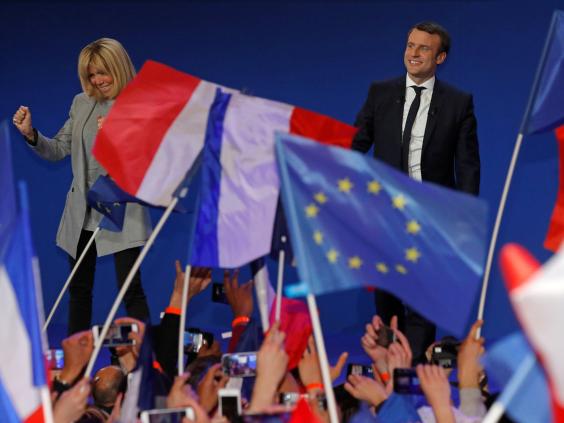 ---
And she celebrated with Macron after early results in the first round of the 2017 French presidential election at the Parc des Expositions hall in Paris.
---
The crowd reportedly shouted 'Brigitte! Brigitte! Brigitte!' as she took to the stage with Macron to celebrate his landslide win on May 7 at a victory rally near the Louvre in Paris.T
---
Trogneux's main areas of focus as first lady are expected to be education and working with disadvantaged and autistic children.
---
It remains to be seen exactly how Trogneux's role as the first lady will play out, but one thing is for certain, we will be seeing a lot more of the former teacher.Claude Paris/AP
Read more: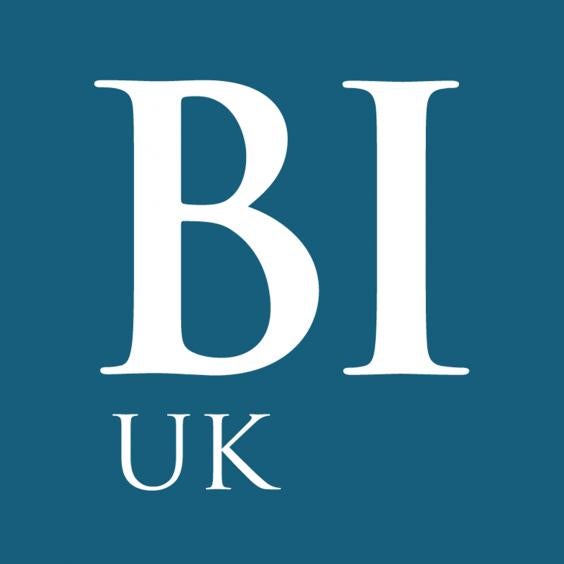 • Theresa May to bring back fox hunting
• Employers are struggling to hire as Breixt skills shortage bites
• These 4 things could trigger the next crisis in Europe
Read the original article on Business Insider UK. © 2017. Follow Business Insider UK on Twitter.
Reuse content