"You've got to make up your mind", Mustafa Dzhemilev said. "You're either at war, or you're trading with the enemy." The leader of the Crimean Tatars, 71, was dwarfed by the lorries lined up behind him at the Chaplynka border crossing.
But his diminutive figure belied a steely determination, forged by a life of activism against Russian adversaries. The newly launched campaign to block an important trade lifeline between Ukraine and "occupied" Crimea might be his most important yet.
The Crimean Tatars are a close-knit, minority population (12 per cent) inside the majority-Russian (58 per cent) Crimea. They were part of a significant minority that did not welcome Moscow's annexation last year and they retain a strong historical grievance with Russia because their entire population was deported to Central Asia on the orders of Stalin in 1944. Mr Dzhemilev was just six months old at the time.
In exile, he became a famous dissenting voice. In 1975 he went on a hunger strike, campaigning for his people's return to their homeland – he was persuaded to end it after 303 days by another famous dissident, Andrei Sakharov.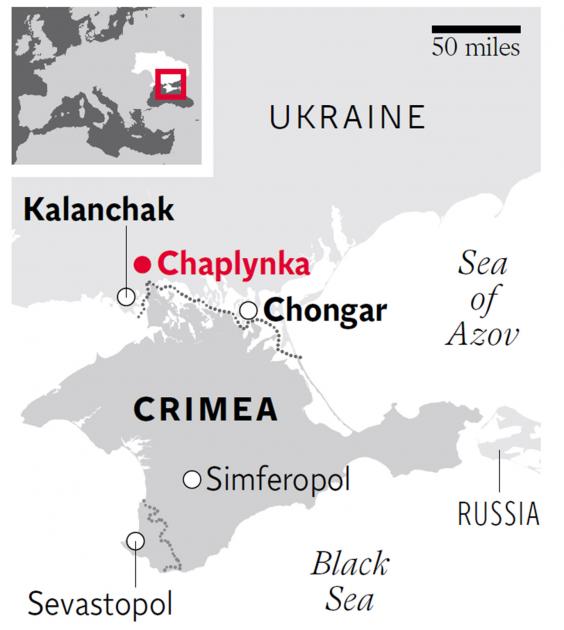 Mr Dzhemilev was only able to move back to Crimea in 1989 as the Soviet Union began to crumble. Shortly after his return he was elected as head of the Tatar consultative parliament, the Mejlis, and in 1998 he entered the Ukrainian national parliament as an MP.
When Russia prepared to annex Crimea in March last year, it was only natural that President Putin and his allies should turn to Mr Dzhemilev in their attempts to ensure a smooth passage for their military strategy. He was flown in to Moscow: whisked from the plane in a limousine to a special conference room with a direct line to the President. They spoke for 40 minutes but Mr Dzhemilev did not budge. "He told me that our future would be better in Russia, that all the problems that had amassed over 20 years of Ukrainian rule would be resolved in months," recalled Mr Dzhemilev. "I told him our population would not welcome Russian occupation, since the last time it happened half our people perished." The Crimean Tatars did not believe a Russian presence would serve them well, he told Mr Putin. What was needed were negotiations between Ukraine and Russia, and full a withdrawal of Russian "little green men" from Crimea.
Mr Dzhemilev admits he anticipated an angry response from Mr Putin but instead was told that his words "showed he was a man who loves his homeland". Mr Dzhemilev was told to come to Moscow and use the same presidential hotline if ever he changed his mind. The two men had agreed to disagree.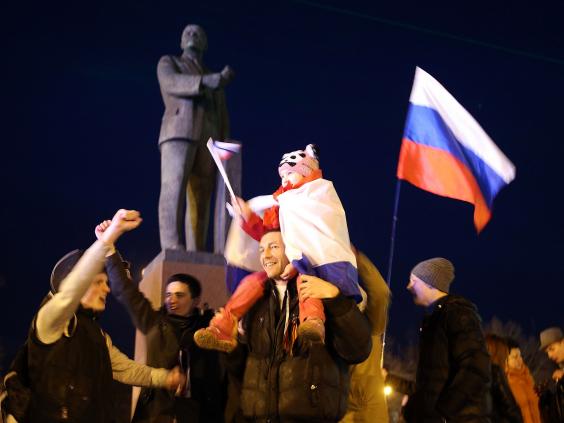 Three days later pro-Russian Crimeans voted, in a much-disputed ballot, for annexation. Just weeks after his conversation with Mr Putin, Mr Dzhemilev was stopped from entering Crimea from mainland Ukraine and told he would not be allowed back in until 2019. "I told them that they were very optimistic if they thought they could hang on to Crimea till then," recalled Mr Dzhemilev.
To some extent the Crimean Tatars' worst fears have been realised, with a worrying pattern of extrajudicial arrests, violence, disappearances and murder emerging from the peninsula. Last week, a report from the Organisation for Security and Co-operation in Europe said there were "numerous credible, consistent and compelling accounts of human-rights violations and legal irregularities" in the new Crimea.
Crimean Tatar authorities claim the de facto, Russian-installed authorities have been responsible for some 22 murders and disappearances of Tatars since Crimea was annexed. The authorities deny this. The alleged killings began with Reshat Akhmetov, who was bundled into a car after demonstrating with a Ukrainian flag in central Simferopol. He was found dead a few days later with stab wounds across his body and eyes.
The disappearances continue. A few weeks ago, three members of the Crimean Tatar community were reported missing; two have already been found dead. "The authorities say they've found the killer but can't say who he is, other than that he is Ukrainian, how he killed two big men or how he managed to bury them," said Mr Dzhemilev. "It's the stuff of fairy-tales." He said the murders were the direct work of the de facto authorities, designed to further frighten the Crimean Tatar population.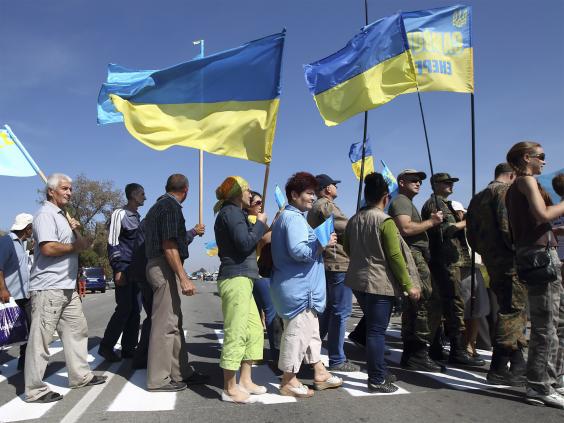 Among the 200 or so demonstrators present on the Crimean border when The Independent visited was Larisa Shaimardanova, the mother of Timur Shaimardanov, an activist who disappeared in Simferopol on 26 May last year. Breaking down in tears, she said she had been ignored by both Russian and Ukrainian authorities since his disappearance. She has since moved to greater safety on the Ukrainian side of the border.
Since coming into force at noon on Sunday, the blockade here has been largely effective – much to the chagrin of lorry drivers who had been waiting days for customs clearance. At one point, there were more than 200 lorries being held at the three border crossings in Chongar, Chaplynka and Kalanchak but by Tuesday evening several dozen had decided to turn around.
Ukrainian President Petro Poroshenko, who initially adopted a position of studied neutrality, has since offered some support for the "civilian" protest. The state would ensure the security of those protesting at the border, he said. But questions emerged about co-operation between state border guards, the exiled Crimean Tatar authorities and the nationalist far-right paramilitaries who have also arrived on the scene after declaring support for the blockade last week.
Ukraine crisis: A timeline of the conflict
Ukraine crisis: A timeline of the conflict
1/22 30 November 2013

Public support grows for the "Euromaidan" anti-government protesters in Kiev demonstrating against Yanukovych's refusal to sign the EU Association Agreement as images of them injured by police crackdown spread.

EPA

2/22 20 February 2014

Kiev sees its worst day of violence for almost 70 years as at least 88 people are killed in 48 hours, with uniformed snipers shooting at protesters from rooftops.

AFP/Getty Images

3/22 22 February 2014

Yanukovych flees the country after protest leaders and politicians agree to form a new government and hold elections. The imprisoned former Prime Minister, Yulia Tymoshenko, is freed from prison and protesters take control of Presidential administration buildings, including Mr Yanukovych's residence.

Genya Savilov/AFP/Getty Imageses

4/22 27 February 2014

Pro-Russian militias seize government buildings in Crimea and the new Ukrainian government vows to prevent the country breaking up as the Crimean Parliament sets a referendum on secession from Ukraine in May.

Sean Gallup/Getty Images

5/22 16 March 2014

Crimea votes overwhelmingly to secede from Ukraine and join Russia in a ballot condemned by the US and Europe as illegal. Russian troops had moved into the peninsula weeks before after pro-Russian separatists occupied buildings.

EPA

6/22 6 April 2014

Pro-Russian rebels seize government buildings in the eastern cities of Donetsk, Luhansk and Kharkiv, calling for a referendum on independence and claiming independent republic. Ukraine authorities regain control of Kharkiv buildings on 8 April after launching an "anti-terror operation" but the rest remain out of their control.

EPA/PHOTOMIG

7/22 7 June 2014

Petro Poroshenko is sworn in as Ukraine's president, calling on separatists to lay down their arms and end the fighting and later orders the creation of humanitarian corridors, since violated, to allow civilians to flee war zones.

Getty Images

8/22 27 June 2014

The EU signs an association agreement with Ukraine, along with Georgia and Moldova, eight months after protests over the abandonment of the deal sparked the crisis.

LOUISA GOULIAMAKI/AFP/Getty Images

9/22 17 July 2014

Malaysian Airlines flight MH17 is shot down over eastern Ukraine, killing all 298 people on board. Ukrainian intelligence officials claim it was hit by rebels using a Buk surface-to-air launcher in an apparent accident.

10/22 22 August 2014

A Russian aid convoy of more than 100 lorries enters eastern Ukraine and makes drop in rebel-controlled Luhansk without Government permission, sparking allegations of a "direct violation of international law".

Reuters/Alexander Demianchuk

11/22 29 August 2014

Nato releases satellite images appearing to show Russian soldiers, artillery and armoured vehicles engaged in military operations in eastern Ukraine.

Nato

12/22 8 September 2014

Russia warns that it could block flights through its airspace if the EU goes ahead with new sanctions over the ongoing crisis and conflict

EPA

13/22 17 September 2014

Despite the cease-fire and a law passed by the Ukrainian parliament on Tuesday granting greater autonomy to rebel-held parts of the east, civilian casualties continued to rise, adding to the estimated 3,000 people killed

Reuters

14/22 16 November 2014

The fragile ceasefire gives way to an increased wave of military activity as artillery fire continues to rock the eastern Ukraine's pro-Russian rebel bastion of Donetsk

Getty

15/22 26 December 2014

A new round of ceasefire talks, scheduled on neutral ground in the Belariusian capital Minsk, are called off

AFP/Getty

16/22 12 January 2015

Soldiers in Debaltseve were forced to prepare heavy defences around the city; despite a brief respite to the fighting in eastern Ukraine, hostilities in Donetsk resumed at a level not seen since September 2014

AFP/Getty

17/22 21 January 2015

13 people are killed during shelling of bus in the rebel-held city of Donetsk

Reuters

18/22 24 January 2015

Ten people were killed after pro-Russian separatists bombarded the east Ukrainian port city of Mariupol

AP

19/22 2 February 2015

There was a dangerous shift in tempo as rebels bolstered troop numbers against government forces

AFP/Getty

20/22 11 February 2015

European leaders meet in Minsk and agree on a ceasefire in eastern Ukraine beginning on February 14. From left to right: Belarus President Alexander Lukashenko, Russian President Vladimir Putin, German Chancellor Angela Merkel, France's President Francois Hollande and Ukrainian President Petro Poroshenko.

MAXIM MALINOVSKY | AFP | Getty Images

21/22 13 February 2015

Pro-Russian rebels in the city of Gorlivka, in the Donetsk region, fire missiles at Ukrainian forces in Debaltseve. Fighting continued in Debaltseve for a number of days after the Minsk ceasefire began.

ANDREY BORODULIN | AFP | Getty Images

22/22 18 February 2015

Ukrainian soldiers repair the bullet-shattered windshield of their truck as their withdraw from the strategic town of Debaltseve. Following intense shelling from pro-Russian rebels, Ukrainian forces began to leave the town in the early hours of February 18.

Brendan Hoffman | Getty Images
Mr Dzhemilev insisted that the paramilitary groups were present without the Tatars' invitation and that there had been no talks or agreement with them prior to the action. "We took steps to warn them that we didn't want any violence or political agitation," he said. But he added that he welcomed "anyone who peacefully supports the territorial integrity of Ukraine".
Artem Skoropadsky, a spokesman for Right Sector – by far the most visible of the paramilitary forces present – said his leadership had met Crimean Tatar representatives and were now co-ordinating their activities. He confirmed that the group had a total of 150 men across the checkpoints.
Crimean Tatar representatives said the blockade was in place indefinitely, but others doubt their ability to continue to block a lucrative trade route. There is also the prospect of a Russian reaction. Crimea's ports are largely cut off from international shipping because of the Western-led economic boycott so the removal of cheap Ukrainian produce would lead to rapid inflation on the peninsula. It would only be a matter of time before the Russian side put pressure on Ukraine to end the blockade.
Meanwhile, Europe's diplomatic outlook is one which now privately accepts that Crimea is unlikely to be returned to Ukraine soon. But Mr Dzhemilev has harsh words for such positions, likening the view to the "short-sighted politics" of 1938. "Chamberlain said he brought peace and he brought the Second World War," he said. "If they forget about Crimea, they might as well forget about Western Europe."
Reuse content