They were running from one of the world's ugliest conflicts hoping to forge a new life in Europe's most welcoming country – but ended their lives in a heap of decomposing bodies in the back of a Bulgarian-owned refrigerated lorry.
Harrowing details of the horror discovered by the side of the A4 motorway in Austria on Thursday have emerged as police revealed that the death toll from the failed people-smuggling attempt was 71 – not 50, as first estimated – and included eight women and four children.
Forensic investigators examining the corpses found a Syrian travel document, indicating that at least some of the dead were refugees from Syria's civil war who would have been allowed to claim asylum in Germany, which is though to be their intended destination. For Syrians, Germany has suspended the European Union's normal rules to guarantee that migrants picked up in the country are not sent home. Once registered in Germany, such migrants can claim housing and social security and file for asylum.
The migrants are thought to have suffocated inside the sealed refrigeration unit – which was switched off – before the lorry carried them into Austria from Hungary. It is thought they were in the hands of a Bulgarian-Hungarian trafficking gang who left the lorry parked in a lay-by between Neusiedl and Parndorf for at least 24 hours before police found the bodies.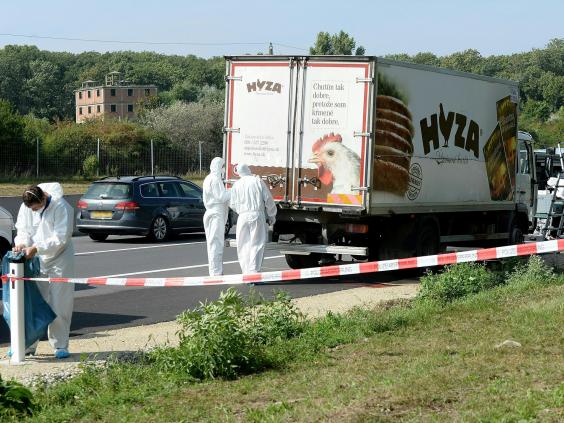 Hans Peter Doskozil, the police director for the area where the truck was found, said three people had been arrested in Hungary; they are thought to be the lorry owner and two drivers.
Data from overhead cameras used to track lorries travelling through Austria as part of the motorway toll system were being scrutinised by detectives to determine the lorry's route. Mr Doskozil said: "The first indications  are that they had been dead one or two days."
"What I saw there was quite terrible," an Austrian policeman was quoted as telling the Kurier newspaper. "It was a pile of lifeless people." The officers who were first on the scene are having psychological counselling.
Camera data has already shown that the truck was in Hungary shortly before 9am on Wednesday. Between then and its discovery on Thursday morning, the vehicle was driven to its final destination with its human cargo dead or dying inside. A tear in the metal sheeting on one side of the truck testified to the enormous struggle those who were inside put up as they tried to escape their stifling metal tomb. Among them, said police, were a two-year-old girl and three boys aged between eight and 10.
Police said that the victims would have paid between €3,000 to €5,000 each to the smugglers for their transit through Europe. "It was an organised crime structure that was behind this, of that we are sure," added Mr Doskozil.
Although the tragedy has evoked sympathy throughout Europe, the enormous numbers of refugees still heading west is continuing to cause friction, particularly in Germany, where numerous asylum centres have been subjected to arson attacks or have been stoned in recent weeks.
A mass demonstration against refugees is planned by the right-wing NPD party in the holiday town of Goslar in the Harz Mountains for Saturday after the mayor said he wanted as many as possible to settle there and help to regenerate a community suffering from a low birth rate and an exodus of young people.
As wide areas of Europe turn their backs on immigrants, insisting that they have neither space nor money for more refugees, Mayor Oliver Junk is a rare, humane exception. "Refugees are the best way to regenerate a struggling area," he said. "We are losing several hundred young people a year. Housing is standing empty. This can be used by refugees who, we hope, will like Goslar and bring their skills to the community.
"As a region with a declining population, we rely on immigration. We need citizens to help our communities and our economy to function, so that we can get schools, swimming pools and our municipal infrastructure."
Elsewhere in Europe, scuffles broke out among more than 1,000 people at Greece's northern border with Macedonia on Friday as exhausted, thirsty migrants jostled to get into position to cross. Macedonian authorities were allowing up to 50 people across at a time from the Greek village of Idomeni, but more were arriving by bus all day.
Prosecutors in Sicily detained 10 people on suspicion of smuggling and murder for having allegedly crammed dozens of migrants into the airless hold of a boat where 52 bodies were found this week.
The Swedish ship Poseidon rescued 439 survivors on Wednesday but crew members made the grisly discovery when they looked into the hold. The rescuers ended up smashing the deck to reach the 52 corpses inside.
Carmine Mosca, the head of Palermo police, said survivors brought ashore on Thursday said the smugglers would stab them if they tried to come out of the hold for air. "When these migrants tried to relay their need for air and water, they were mishandled, injured, knifed in a truly fierce way," he said.
Maurizio Scalia, the Palermo prosecutor, said the crew included seven Moroccans, two Syrians and a Libyan "enforcer". The migrants were mostly from sub-Saharan Africa. AP
Additional reporting by Costas Kantouris in Idomeni and Nicole Winfield in Rome
Reuse content