A former French soldier has been arrested on suspicion of attacking a retirement home for Catholic missionaries in France.
The 47-year-old man is accused of killing a laundress whose body was found bound and gagged outside the Green Oaks home near the city of Montpellier on Thursday night.
He was caught after almost 24 hours on the run, with more than 130 police officers, road blocks and helicopters deployed in a large-scale manhunt.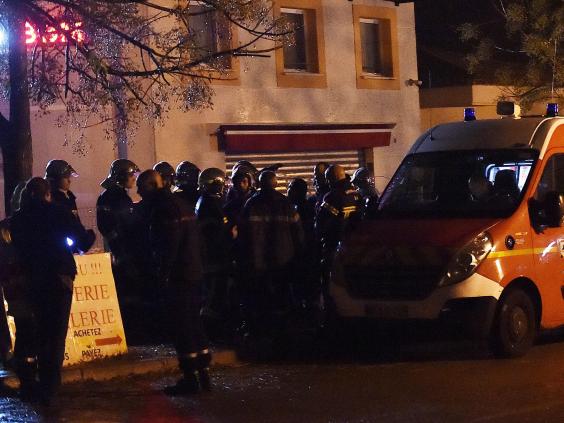 Authorities had warned the suspect was "very dangerous" but sought to calm fears of a terror attack.
Initial statements from police said the man was armed with a "sawn-off shotgun" and knife but an air gun has since been recovered in his car.
The man, masked and dressed in black, attacked the retirement home at around 9.45pm local time (8.45pm GMT), when around 60 residents and workers were inside.
Alain Berthet, a local councillor in Montferrier-sur-Lez, said the home's residents - priests, nuns and others who had worked in Africa - were "very elderly with an average age of 75 although some are more than 90," with many needing assistance to walk.
The unnamed suspect is alleged to have killed a 54-year-old employee of the retirement home, where she worked as a laundress. Her body was found bound and gagged with knife wounds. 
News of the killing was reverberating round France, with people voicing their horror on social media.
Terrorism in 2016: Terror attacks in Europe claimed by Isis
Terrorism in 2016: Terror attacks in Europe claimed by Isis
1/9

Policemen outside Rouen's cathedral during the funeral of Jacques Hamel, the priest who was killed in a church in Saint-Etienne-du-Rouvray in Normandy on 26 July during a hostage-taking claimed by Islamic State group

Joel Saget/AFP/Getty Images

2/9

Two jihadists, both 19, slit Hamel's throat while he was celebrating mass in an attack that shocked France as well as the Catholic Church

Joel Saget/AFP/Getty Images

3/9

Muslims place flowers and hold a minute of silence in front of the church if Saint-Etienne-du-Rouvray, western France, where French priest Jacques Hamel was killed on 26 July

Charly Triballeau/AFP/Getty Images

4/9

Two people hold each other by the new makeshift memorial in Nice, in tribute to the victims of the deadly Bastille Day attack at the Promenade des Anglais

Valery Hache/AFP/Getty Images

5/9

The Islamic State group claimed responsibility for the truck attack that killed 84 people in Nice on France's national holiday. Mohamed Lahouaiej-Bouhlel, 31, smashed a 19-tonne truck into a packed crowd of people in the Riviera city celebrating Bastille Day

Valery Hache/AFP/Getty Images

6/9

Police work at a site where a Syrian migrant set off an explosive device in Ansbach, southern Germany, on 25 July, killing himself and wounding a dozen others

Daniel Roland/AFP/Getty Images

7/9

A Syrian migrant set off an explosion at a bar in southern Germany that killed himself and wounded a dozen others in the third attack to hit Bavaria in a week. The 27-year-old, who had spent a stint in a psychiatric facility, had intended to target a music festival in the city of Ansbach but was turned away because he did not have a ticket

Friebe/AFP/Getty Images

8/9

Police officers walk along train tracks in Wuerzburg southern Germany on 19 July, a day after a man attacked train passengers with an axe. German authorities said they had found a hand-painted IS flag among the belongings of the man, an asylum seeker from Afghanistan, who seriously injured four members of a family of tourists from Hong Kong in his rampage

Daniel Roland/AFP/Getty Images

9/9

German police killed a teenage assailant after he attacked passengers on a train in Wuerzburg, southerg Germany with an axe and a knife on 18 July, seriously wounding three people

Karl-Josef Hildenbrand/AFP/Getty Images
Suspicions quickly turned to terrorism just months after Isis supporters murdered a Catholic priest in an assault on a church in Normandy, but local prosecutor Christophe Barret said investigators believed the attack was not terror-related.
"At this stage we can't say exactly what the perpetrator's motive was, but what we can say is that there is no link, none at all, with Islamist terrorism," he added.
Security forces were called to the home after a woman who had been bound and gagged freed herself and escaped.
The arrested man, who had served in France's parachute regiment, worked at the missionaries' home "some years ago" but was now unemployed, a source in the investigation told AFP.
He was arrested in the town where he lives, 10 miles from Montferrier-sur-Lez, and reportedly did not put up any resistance.
France remains under a state of emergency imposed following the murder of 130 people in the Paris attacks last November and a string of subsequent atrocities.
Several terror plots have since been uncovered, including plans by Isis militants to attack Disneyland Paris and the Champs Elysees.
Reuse content