The nanny who decapitated a four-year-old girl and held her head up in the street reportedly said she was inspired by watching Isis videos online. 
Gyulchehra Bobokulova, originally from Uzbekistan, was caught on camera carrying the child's head outside a Moscow subway station on 2 March. 
Speaking from the secure psychiatric hospital where she is being held until the investigation is complete, the 38-year-old reportedly said she feels more sorry for herself than her victim. 
Bobokulova, who worked as a nanny for the girl's parents, set the family flat on fire after the killing and was then detained by police near the metro station after pulling the head out of a bag. 
Initially she said "Allah ordered" her to kill Anastasia (Nastya) Meshcheryakova and that it was retribution for President Vladimir Putin's air strikes on Isis territory.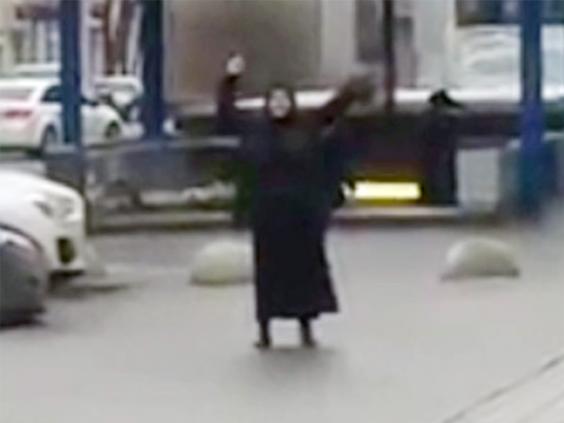 She told Russian newspaper Moskovsky Komsomolets: "They raised my hatred and it filled me. I saw online how they were cutting off heads. This hatred.
"There was a voice in my head: 'Do it to the girl'. I feel sorry a bit for her. I feel sorry for myself. I have no home, I have nothing. She was a good girl. But I don't have a home.
"I saw how they cut off heads and I did it. The voices... I killed the girl, yes. But I don't need treatment. Let me go back to the normal jail."
She allegedly complained about her treatment at the hospital - which is famous for never having a single escapee during the Soviet era - saying she has been given strong drugs that make walking difficult and has been forced to have a series of "painful" injections. 
She reportedly said: "I don't want it. I walk badly because of the drugs. I fall down when I go to the toilet. My back hurts, my head hurts. All hurts.
"I hardly hold a spoon in my hands. My hands do not obey me, or my legs. My hair is dirty and clotted and I can't wash it."
She claimed she no longer hears voices and insisted she is no longer ill. 
Gyulchekhra Bobokulova behind bars
Gyulchekhra Bobokulova behind bars
1/10

Gyulchehra Bobokulova smiles as she sits in a cage at the Presnensky district court in Moscow

2/10

Gyulchekhra Bobokulova, a nanny suspected of murdering a child in her care, is escorted inside a court building in Moscow

3/10

The hijab-wearing nanny was spotted walking the streets of Moscow brandishing the head of Nastya Meshcheryakova, before she was detained by police

AFP

4/10

The woman has admitted: 'Allah ordered me to kill'

5/10

It is believed that Gyulchehra Bobokulova has recently become radicalised

6/10

A police source revealed that the babysitter was registered as schizophrenic

7/10

Gyulchehra Bobokulova from Uzbekistan was arrested on 29 February 2016 near the Oktyabrskoye Pole underground station where she had appeared dressed in black and carrying a severed child's head and shouting

8/10

Gyulchekhra Bobokulova attends a court hearing in Moscow

9/10

Gyulchehra Bobokulova is escorted by police

10/10

Gyulchehra Bobokulova holds papers and yawns sitting in a cage during a court hearing at the Presnensky district court in Moscow
An unnamed doctor at the hospital told the Mail Online they had explained to Bobokulova that she needed treatment and claimed she had signed a document authorising it. 
He said: "We are monitoring her 24 hours a day. When we fear that she can hurt herself, we use soft ties.
"Bobokulova was placed here after the conclusion made by the doctor psychiatrist who visited her in the regular jail.
"She complained of voices in her head. The doctor diagnosed the serious psychiatric disorder when immediate isolation and therapy is needed."