The dive off Ibiza on Sunday was not supposed to be a challenge for champion Natalia Molchanova. But the Russian, described as the world's greatest free-diver, never resurfaced and it is now assumed that she has drowned.
The 53-year-old was with her son and two friends in a chartered boat off Formentera, a small island next to Ibiza. They had planned an afternoon's recreational diving in the Mediterranean, away from the pressure of records or prizes. Ms Molchanova, whose career boasts 41 world records, entered the sea and followed the usual breathing exercises to lower her heart rate before diving to a depth of between 30 and 40 metres – easily achievable for a diver of her experience.

Despite the apparently benign conditions she never resurfaced and the search for her, which had included submarines and helicopters, has been called off by the Spanish coastguard. Friends in the free-diving world are now beginning to accept that their worst fears have been realised.
The British free-diver Sara Campbell led tributes to Ms Molchanova, saying she was a woman of both strength and gentleness.
"There was always a bit of a language barrier between Natalia and the other divers. But in the last couple of years her English got better and we started to get to know the woman behind the athlete," said Ms Campbell.
She said there was a softer side to the  woman nicknamed the Russian Machine. She wrote poetry, and loved animals and children.
"There was a deep gentleness to her which most people did not see," said Ms Campbell, who runs a diving camp at Dahab in Egypt. Ms Molchanova was already a major figure in the diving world when Ms Campbell began diving in 2006.
Ms Campbell recounted a dive where the Russian had blacked out, and said she had been struck with how she had dealt with the incident and then continued to dive.
"There was nobody like her. She was an amazing woman. If it's true she has been lost – which it seems – then it is a very tragic loss."
"She was a free-diving superstar, and we all thought nothing could harm her," said Kimmo Lahtinen, the president of Aida, the international free-diving federation.
"Nothing could happen to her, but we are playing with the ocean, and when you play with the ocean you know who is the strongest one."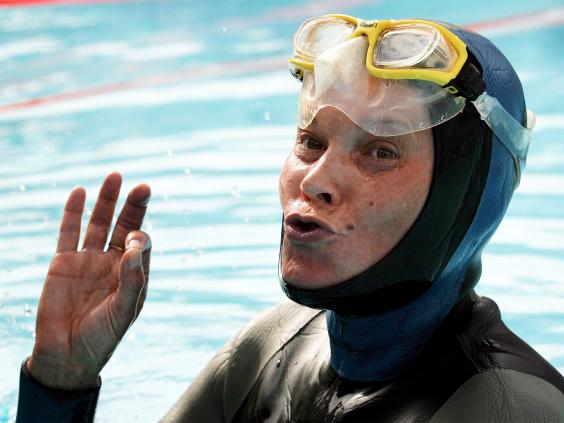 Another Aida official, Galina Zveryaeva, said that free-diving "burnt so deep inside of [Ms Molchanova] that she dedicated her life to it."
As well as her world records, Ms Molchanova was a 23-time world champion. With the help of fins, she reached depths of more than 100 metres.
Without them, as she was on Sunday's dive, she held the world's best mark, reaching 71 metres below the surface. It is thought that she may have succumbed to the strong underwater currents for which the area is known, or that the weights divers use to lower themselves may have become stuck in some way. Other suggestions include the possibility that she had blacked out, or even that a shark attacked her.
Ms Molchanova's son, Alexey, himself an accomplished diver, said on Tuesday that despite 48 hours of frantic searching, his mother was not expected to be found alive. A submersible robot was brought in to expand the search on Tuesday.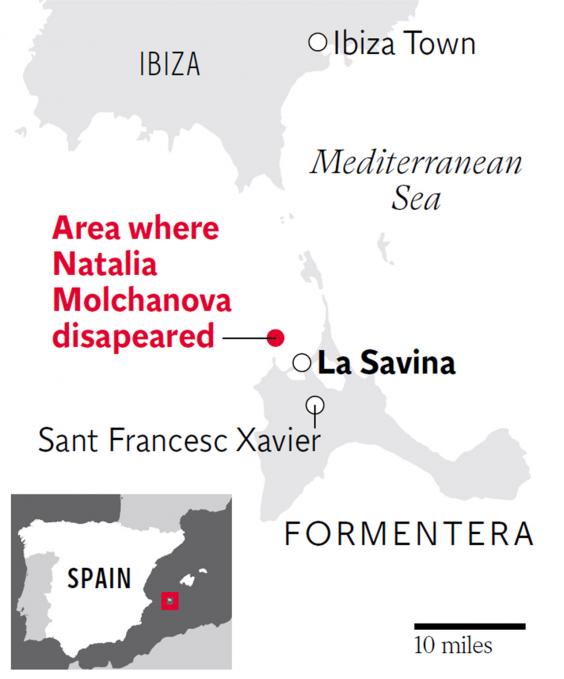 Free-diving is one of the world's most dangerous sports. Divers typically compete to see who can descend to the greatest depths, without the assistance of oxygen. Ms Molchanova was able to hold her breath for more than nine minutes. It is not unheard of for competitors to lose consciousness as they return to the surface.
Will Trubridge, a world free-diving champion from New Zealand, said in a tweet that "the world lost its greatest free-diver on Sunday".
Unlike scuba diving, which uses oxygen tanks and is largely undertaken as a recreational activity, free-diving is highly competitive.
The desire to dive deeper has cost other free-divers their lives. In 2002, 28-year-old Frenchwoman Audrey Mestre drowned while attempting a dive of 171 metres, when a balloon designed to bring her to the surface within three minutes failed to work.
In swimming pools, divers swim lengths underwater on one breath of air – Ms Molchanov's record in the event, using a fin, was 237 metres.
But for a diver like Ms Molchanov, the pool was simply preparation for the open sea. "Compared to the ocean," she is quoted as saying, "the pool is like running on a treadmill versus running in the forest."
Reuse content