Two cranes have fallen onto a row of buildings in the western Dutch city of Alphen aan den Rijn, where rescue workers are attempting to determine the number of casualties.
The machines were being used to restore a bridge on the river Rijn when they tipped over, crushing apartments and small shops beneath them.
Some three hours after the incident on Monday afternoon, the number of people injured remained unclear, and local officials urged the public to stay away from the scene to enable rescuer teams to carry out their work into nightfall.
Local fire brigade spokesman Ton Koot told The Associated Press that one person had been taken to hospital. He added that initial reports suggesting that between seven at 20 people were injured had been based on estimates on the number of people who may have been in the buildings.
"We are stabilisng the situation so rescue workers can go in," Koot said, adding that two teams armed with heavy machinery usually used overseas for earthquakes were at the scene with five specially trained dogs tasked with trying to sniff out those trapped in the rubble.
The Dutch Safety Board, which investigates serious accidents, said it was sending a team to the scene.
Images from the scene show an enormous metal pillar after it smashed into a building, and people standing behind tape cordoning off the area.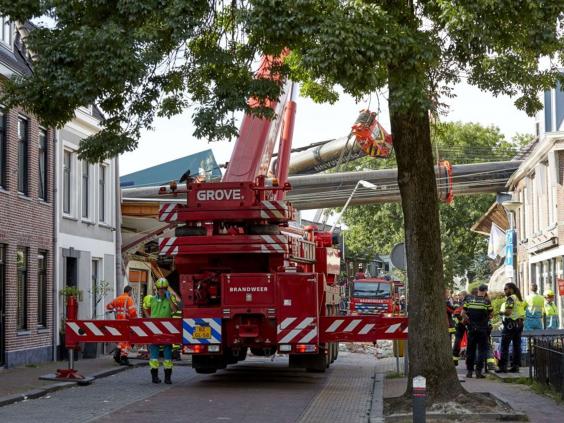 2 hijskranen met brugdek Kon. Julianabrug omgevallen in Alphen aan den Rijn. Meerdere panden beschadigd @studioalphen pic.twitter.com/QPkbGjczVm

— Mike Mourits (@mikemourits) August 3, 2015
A video shows the cranes moving a piece of decking on the river Rijn, before they crash onto nearby buildings.
Dick van Smirren, who filmed the incident, told NOS: "You see the cloud of dust rise — that is a terrible image and you think, 'Who is under there?' You can't believe what you see."
More to follow
Reuse content