A calm evening light settled over Saint Symphorien cemetery in Mons yesterday as dignitaries, soldiers and families of the fallen gathered to mark the day the world plunged into darkness. Before them lay the graves of the war dead, British and German casualties side-by-side, as delegates from those once-warring nations stood together to remember the catastrophic events of 100 years ago.
Serving German and British soldiers took turns to read letters, poems and prose from the front line, a reminder of the unimaginable human suffering set in motion on 4 August 1914. The first German soldiers crossed into Belgium, triggering Britain's declaration of war and a four-year conflict that would shape the world we live in today.
As the shells fall on Gaza, millions of Syrians flee war crimes, and the events in Ukraine shake a long-standing belief in the sanctity of Europe's borders, the message yesterday was one of reconciliation: no matter how deep the animosities, how cruel the conflict, how many dead, nations can overcome.
"We should never fail to cherish the peace between these nations, and never underestimate the patient work it has taken to build that peace," David Cameron told the gathered guests, after music from British and German choirs rang out across the carefully tended graveyard. "So 100 years on, it is right that collectively we stop, we pause, and we re-pledge this for the next 100 years: we will never forget, we will always remember them."
The German President, Joachim Gauck, shared similar sentiments earlier in the day at Liège, where a ceremony launched the centenary events. "We are grateful to have been able to live together in peace for so long here in Europe," he said. "We know that this is not something to be taken for granted."
WW1 Centenary
WW1 Centenary
1/19 WW1 Centenary

A photograph of George Parlett, who enlisted in the Devon Regiment in 1914, sits beside a candle and remembrance cross on the war memorial in Bishop's Stortford

Getty

2/19 WW1 Centenary

Service personnel at the candlelit vigil in Westminster Abbey

Getty

3/19 WW1 Centenary

The 'Grave of the Unknown Warrior' is prepared ahead of a candlelight vigil marking the start of WW1

Getty

4/19 WW1 Centenary

An oil lamp burns at the Grave of the Unknown Warrior in Westminster Abbey

Getty

5/19 WW1 Centenary

Members of the Great War Society in Bovington are showered with poppies during the day's commemorations

Getty

6/19 WW1 Centenary

Prince Harry salutes veterans in Folkestone

Reuters

7/19 WW1 Centenary

Chelsea Pensioners in a parade of Edwardian cars passing the Cenotaph in Whitehall

Getty

8/19 WW1 Centenary

Members of living history societies under a shower of a million poppy flowers at the Tank Museum in Bovington Germany

Getty

9/19 WW1 Centenary

Prince Charles and David Cameron take the Salute in Glasgow

Getty

10/19 WW1 Centenary

Nick Clegg and Ed Miliband at a wreath-laying ceremony in Glasgow

PA

11/19 WW1 Centenary

People viewing wreaths laid at the cenotaph in George Square

Getty

12/19 WW1 Centenary

A former serviceman places a poppy at cenotaph in George Square to mark the centenary

Getty

13/19 WW1 Centenary

The band of the Parachute Regiment preparing to play in George Square

Getty

14/19 WW1 Centenary

The art installation 'Blood Swept Lands and Seas of Red' by Paul Cummins at the Tower of London

PA

15/19 WW1 Centenary

Prince William, the Duchess of Cambridge, the French President François Hollande and the German President Joachim Gauck

AP

16/19 WW1 Centenary

The names of the missing in Ypres

Getty

17/19 WW1 Centenary

Veterans at the Allies memorial in Cointe, Belgium

Reuters

18/19 WW1 Centenary

King Philippe of Belgium at an Allies memorial in Cointe, Belgium

PA

19/19 WW1 Centenary

The Duke and Duchess of Cambridge in Mons with David Cameron and Sir Joe French, of the Commonwealth

Getty
The heads of state and other dignitaries from 50 nations had gathered at Liège's Allied Memorial, a few dozen miles from the border where the first German troops crossed. The invasion ended a 37-day tumble into carnage which began with a fatal bullet in Sarajevo on 28 June. The assassination of Austria-Hungary's Archduke Franz Ferdinand put the empire and its ally Germany on a spiralling collision course, first with Serbia and Russia, then Britain and France.
Frantic diplomacy failed to stop the wave of nationalism and paranoia, and on 3 August 1914, Germany declared war on France, hoping to storm through Belgium and reach Paris within weeks. Belgium refused safe passage, triggering a British pledge to protect the small nation's neutrality: by 11pm a day later, Germany and Britain were at war.
The swift advance on Paris never came, and Liège became the first battlefield of the first global conflict, which would eventually draw in 65 million combatants from 72 nations, with millions of them never making it home alive.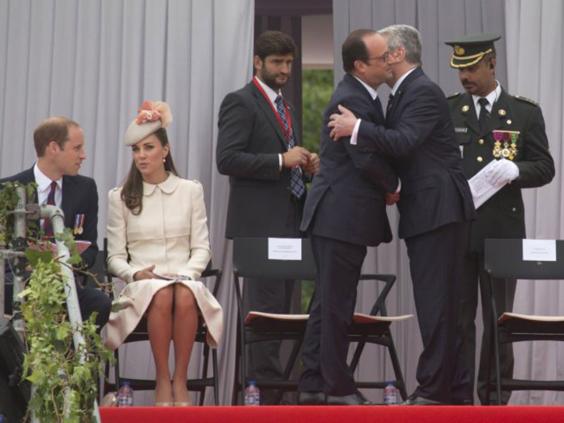 On a forested hilltop above Liège yesterday, hundreds of balloons soared into the sky around the towering war memorial as dignitaries gave their sombre speeches. As well as tributes to the fallen, there were warnings that Europe must not be complacent to the threats of today.
"It takes a great deal of time and effort to bring peoples together and unite them in a common destiny," said the Belgian Prime Minister, Elio Di Rupo. "However, it often does not take much to shatter this solidarity and revive the worst tensions," he said, citing the revival of anti-Semitism and far-right sentiment as Europe grapples to recover from the economic crisis.
The French President, François Hollande, drew parallels between Belgium's shattered neutrality of 1914 and the conflicts blighting many corners of the world today.
"How can we stay neutral when a civilian aircraft can be shot out of the sky in Ukraine? When there are civilian populations being massacred in Iraq, Syria, and Libya? When in Gaza a deadly conflict has been going on for over a month?" he asked.
The Duke and Duchess of Cambridge and Germany's President Gauck then travelled west to the Belgian city of Mons, where British forces first saw combat on 23 August 1914. The fierce battles around Liège and Mons managed to delay the German advance on Paris, and marked the opening of the Western Front.
It was also the beginning of a long and brutal occupation for most of Belgium. Only a tiny north-west corner of the country around the town of Ypres remained out of German hands, and its strategic location saw it suffer repeated attack. The land around it became known as Flanders Fields, immortalised in verse. But those battles were still in an unimagined future when Private John Parr, part of Britain's bicycle scouts, became the first Allied fatality on 21 August 1914. He was killed not far from Mons, and is now buried in Saint Symphorien along with 512 other war dead. Unusually, casualties from both sides rest here, with 227 British casualties, 284 from Germany, as well as others from Belgium, Ireland and Canada.
It is the symbolism of this shared ground which was commemorated last night in a ceremony attended by the British Royal Family, German and Belgian delegates, and Mr Cameron. Serving soldiers, including Prince Harry, read extracts from poems and letters sent home from the front by German and British soldiers.
Some wrote eloquently of the "horrible vision of the red-hot passion of war"; others of the initial excitement of combat. One of the letters was from Pte Parr's mother to the War Office: she simply wanted to know what had happened to her son, unaware that he had become the first casualty of a conflict that would engulf the world like no other before it.
Reuse content