The victims of the Paris attacks were buried at ceremonies in France and Israel today.
In a 20-minute address at the funeral procession in Paris, the victims' names were read with the citation that they were "dynamic, courageous, highly professional and had an exemplary record".
The French President, Francois Hollande, pinned a medal to a blue cushion on each coffin as he led the tributes.
"In the name of the French Republic we make you a Chevalier of the Legion d'Honneur," he announced before bowing for several seconds before each coffin.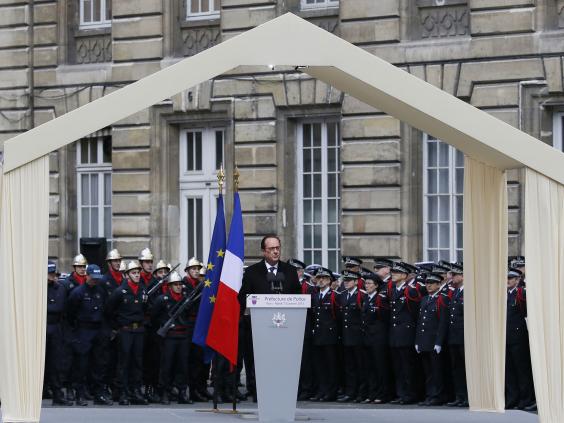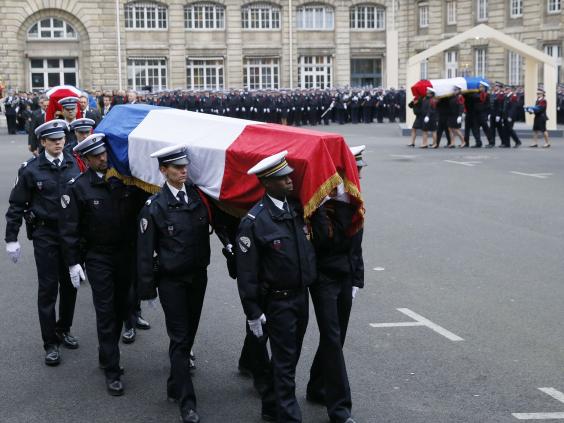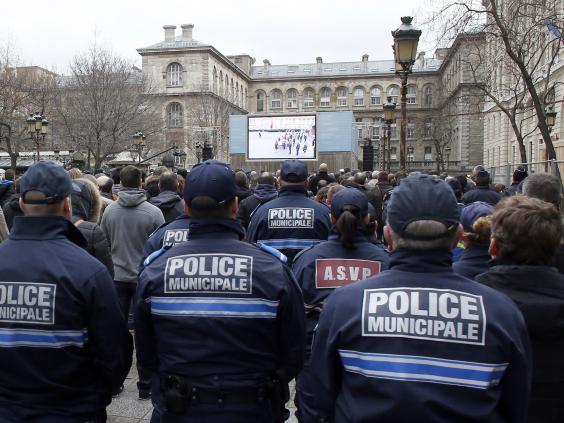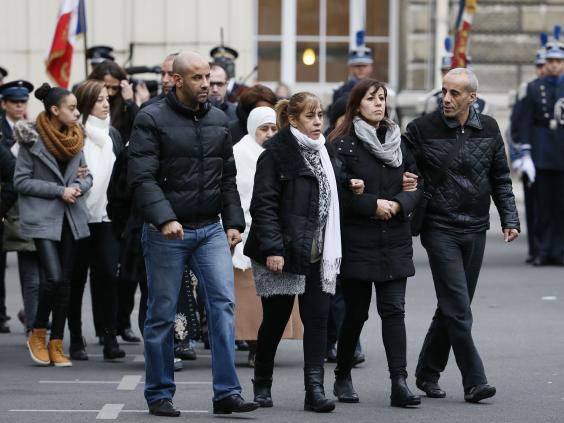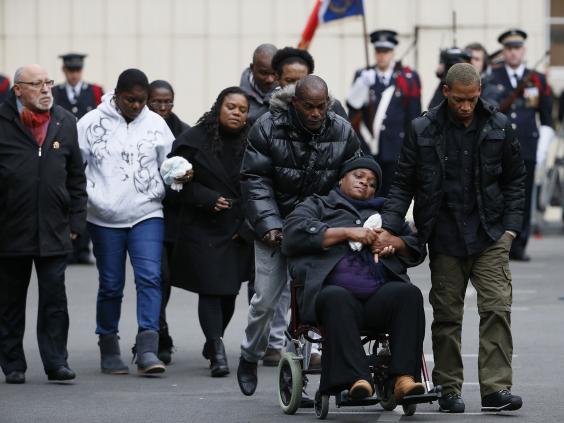 After a minute's silence, a military band played La Marseillaise.
President Hollande said the three officers were killed by terrorists while fulfilling their "wish to protect" citizens of France.
"Clarissa, Ahmed, Franck… they represented the diversity of origins… of the forces of order in our country."
He added: "Madness has no religion, it has the face of hate, a hatred for all that France represents."
In Israel, The bodies of Yoav Hattab, Franois-Michel Saada, Yohan Cohen and Phillipe Braham were brought to Ben Guiron airport near Tel Aviv this morning.
The four were killed in the siege at the Hyper Cachet supermarket on the eastern edge of Paris near the Porte de Vincennes last Friday.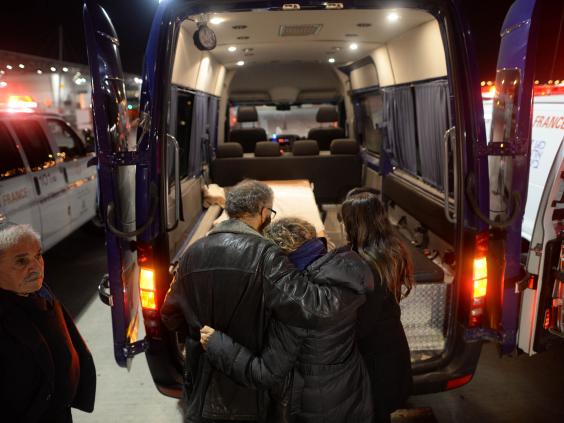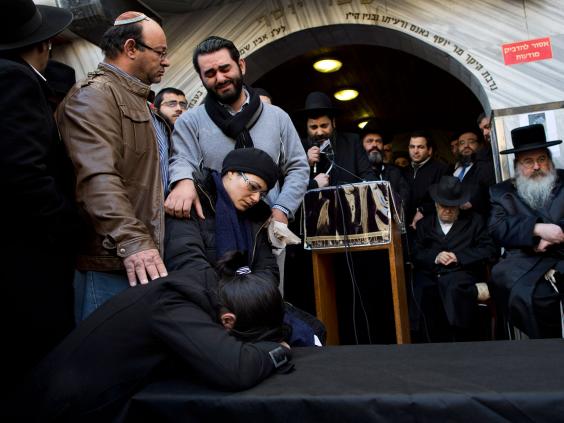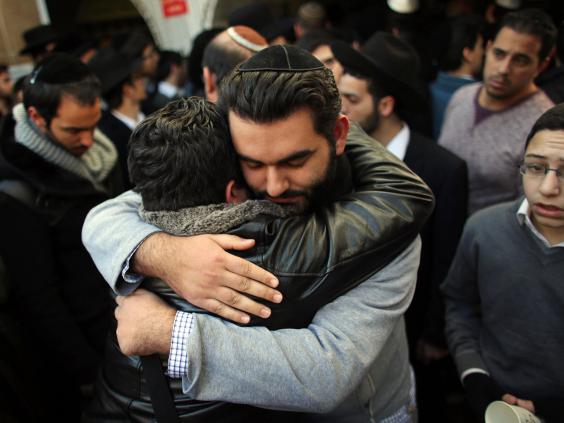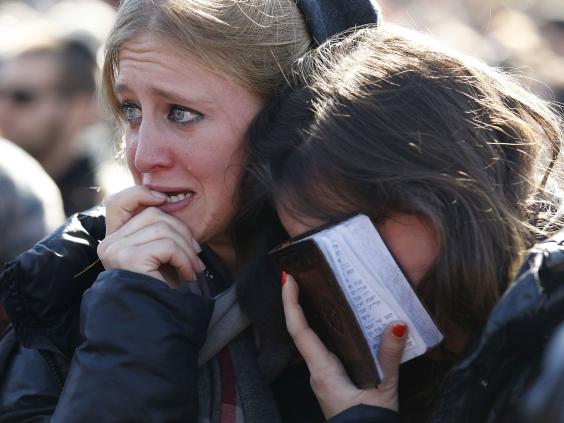 Eric Atale, Mr Saada's cousin, arrived with 13 other family members from France ahead of the funeral in Jerusalem.
"It's very hard," he told MailOnline. "This is what happens when one sick, mentally ill individual is able to bring such atrocity onto a whole nation.
"There is a time for tears, there is a time for questions and there is a time for a response. Now is the time for tears - but the time for a response will come."
Mr Atale added: "France must find the right way to respond to this so that it doesn't happen again."
In a moving tribute on Saturday in Paris, the brother of Ahmed Merabet – the police officer gunned down in the attack at Charlie Hebdo – said that his brother was killed by "two false muslims".
Charlie Hebdo: Mourning in Paris
Charlie Hebdo: Mourning in Paris
1/6 Mourning in Paris

Fraternité: people take part in a unity rally on Sunday at the Place de la Nation (Nation Square) in Paris

AFP/Getty

2/6 Mourning in Paris

The growing floral trobute near the Charlie Hebdo offices

PA

3/6 Mourning in Paris

Police guard a Jewish school in Paris

Getty

4/6 Mourning in Paris

Marie-Pierre

5/6 Mourning in Paris

Emmanuel

6/6 Mourning in Paris

Us tous: Parisien couple show off their Tricolour and support for Je Suis Charlie movement

PA
Speaking for a group of relatives gathered in Paris, Malek Merabet said the terrorists who ignored his brother's plea for mercy as he lay wounded on the street may have shared his Algerian roots, but nothing else.
"One must not confuse extremists with Muslims," he said.
"Mad people have neither colour or religion."
A national ceremony for all victims of the attacks will be held at Les Invalides next week.
Reuse content