The mystery of the drones spotted illegally flying over French landmarks deepened last night when the unmanned aircraft returned to Paris.
They performed "fly-pasts" over the capital at least five times between 11pm on Tuesday and 2am today, Europe 1 reported, travelling from north to south.
Drones were spotted hovering around the Eiffel Tower, Gare de l'Est, Palais Garnier opera house, Tour Montparnasse skyscraper, along the Seine and at several city gates.
At least two or three aircraft are believed to be involved but police have not confirmed the number as they continue investigate who is operating them and for what purpose.
Security forces have been on high alert since the Charlie Hebdo massacre and flying drones over Paris at night is banned.
Investigators are poring over footage of the drones taken by the public overnight in the hope of gaining clues, Le Parisien reported.
On Monday night, a similar pattern saw drones above the US, Embassy, Eiffel Tower, Louvre Museum and Bastille monument, flying in three stages.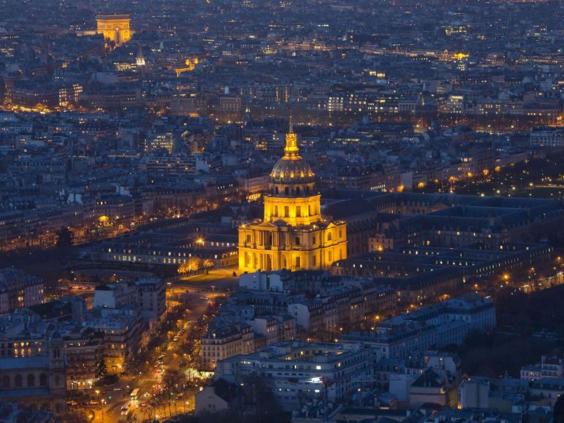 A Paris police official said at least five drones were involved in that incident and authorities stressed that they currently presented no threat.
Officers have not confirmed whether Monday and Tuesday's appearances are linked.
Even if there is no security threat, people fear they may be used to gather intelligence, spy or go out of control and injure passers-by in a crash.
French authorities have been rattled by numerous mystery drone flights around sensitive sites including military installations and the presidential palace in recent months.
Drones were spotted over at least 13 nuclear power plants between October last year and January in flights thought to be the work of environmental activists.
No group claimed responsibility, the BBC reported.
Launching a drone at night is illegal in Paris and daytime flights must be given permission by city authorities to adhere to a ban on low flying aircraft imposed for security reasons.
In October last year, a 24-year-old tourist from Israel was fined €400 (£295) for flying a drone over Paris' historic Hotel Dieu hospital and a police station but in most cases the perpetrators have not been caught.
The most amazing drone pictures
The most amazing drone pictures
Jean-Marc Tanguy, a military expert, said last night's drones did not appear to be carrying projectiles.
"These drones are being used by people who know how to operate them, although we can't decipher if we're talking about professionals or geeks," he added.
"It could just be teenagers who are capable of operating these little machines, which can be found in many shops."
Reuse content