Paris police have made three arrests in the mystery of unmanned drones buzzing over landmarks in the French capital - yet seem no closer to finding those to blame.
It has now been confirmed that three people detained by officers on Wednesday afternoon were actually al-Jazeera journalists using their own drone to cover the story.
In a statement, the Qatar-based media organisation confirmed that three employees for its English-language outlet had been arrested "while filming a report on the city's recent mystery drones".
Police identified the three only as foreign nationals aged 70, 54 and 36, and it is believed that one was operating the drone, one was filming and the other was watching on when they were confronted by officers in the Bois de Boulogne woods in western Paris.
Unlicensed flights of any kind over Paris are illegal, and the offence carries a maximum one-year prison sentence and a €75,000 (£55,000) fine. Under French law the journalists can be detained for a maximum of 24 hours, and al-Jazeera said it would provide further comment when it had more information.
It seems to leave police no closer to solving the mystery of a spate of unmanned drone sightings over the capital on Monday and Tuesday nights.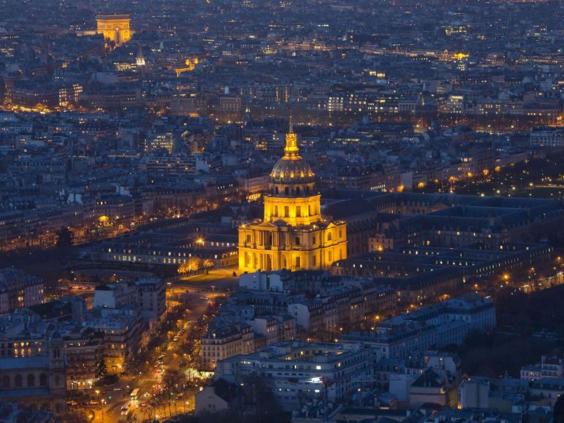 Paris prosecutors' spokeswoman Agnes Thibault-Lecuivre said authorities had confirmed five sightings in the small hours of Wednesday morning, with one or more drones seen first near the Gare de l'Est train station, then over the Paris Opera, the Tuileries gardens, past the Eiffel Tower and then south past Paris' Montparnasse Tower.
Last month a drone sparked security concerns after it was seen flying over the Elysee Palace, and in the past year there have been dozens of sightings over nuclear plants and military installations.
The most amazing drone pictures
The most amazing drone pictures
Despite that - and the heightened threat level in the wake of shootings at the offices of the Charlie Hebdo magazine in early January - police insisted that the drones should not be a cause for alarm.
While an inquiry has been opened, French government spokesman Stephane Le Foll told reporters: "There is nothing to worry about."
Reuse content