Countries have lit up their most iconic monuments in solidarity with France following multiple terror attacks in Paris.
The global show of respect and grief from Mexico, Brazil, London, US cities and more follows shootings in the French capital which have killed 128 people and injured another 200.
Radical Islamist terrorist group, Isis, have claimed responsibility for the attack.
The colours of the French flag were spread across Christ the Redeemer in Rio de Janeiro.
Tonight #Brazil's "Christ the Redeemer" statue shows support for #France #Paris #Prayers4Paris pic.twitter.com/QCBTgDkoD0

— Deke Bridges (@dekebridges) November 14, 2015
And they have been lit across the Wembley Stadium in London:
Wembley Stadium is illuminated with the colours of the French Flag. #Prayforparis #ParisAttack pic.twitter.com/s4s880SG66

— Danny Colligan (@dgregas1) November 14, 2015
Joining in was the Kuala Lumpur Tower in Malaysia's capital.
And the CN Tower in Toronto made its message clear too.
Photo: The CN Tower in Toronto lit in blue, white and red to show solidarity with France in wake of #ParisAttacks pic.twitter.com/J2avwOTDR0

— ST Foreign Desk (@STForeignDesk) November 14, 2015
Standing tall over Shanghai, the Oriental Pearl Tower saw the Chinese express their solidarity with the French from afar.
#OrientalPearlTower in #Shanghai is lit in red-white-blue as the Chinese express their solidarity with #ParisAttacks pic.twitter.com/dI8wU9oj7S

— Svarta (@Svarta_) November 14, 2015
Mexico City lit up both its Angel de la Independencia monument, and the Senate building, to send a message across the ocean to Europe.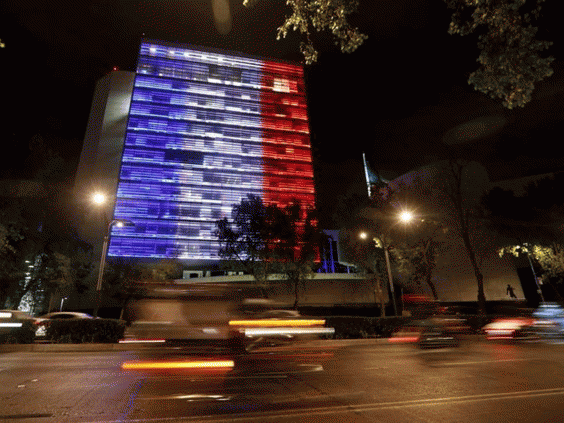 Further north, meanwhile, the same colours were projected on the One World Trade Center in Manhattan in New York, which was built following the radical Islamist terrorist attack on the original buildings 14 years ago on September 11th.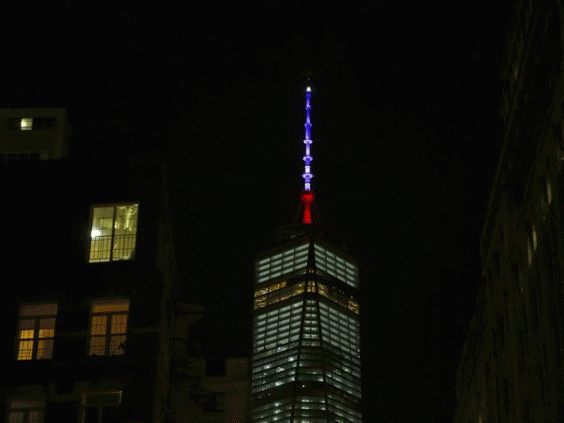 World's monuments show solidarity with Paris
World's monuments show solidarity with Paris
1/30

National Portrait Gallery, London, UK

2/30

London Eye, UK

3/30

Sydney Opera House, Australia

4/30

The Christ the Redeemer statue, Rio de Janeiro, Brazil

5/30

The Great Pyramid of Giza, Egypt

6/30

The HSBC building, Hong Kong, China

7/30

California State University, Long Beach, USA

8/30

US Embassy, Paris

9/30

The Swiss Parliament, Bern, Switzerland

10/30

Chhatrapati Shivaji train station building, Mumbai, India

11/30

The Eiffel Tower, Paris

12/30

Wembley Stadium, London

13/30

The fortress 'Tsarevets', Veliko Tarnovo, Bulgaria

14/30

The SSE Hydro arena, Glasgow, Scotland

15/30

The Story Bridge, Brisbane, Queensland, Australia

16/30

The Perth Council house, Perth, Australia

17/30

Plaza Francia (France's Square), Caracas, Venezuela

18/30

Sarajevo city hall, Bosnia and Herzegovina

19/30

Penshaw Monument, Sunderland, UK

20/30

St Mary's Cathedral, Sydney, Australia

21/30

Chile's presidential palace La Moneda, Santiago, Chile

22/30

The Australian Parliament House, Canberra, Australia

23/30

The monument of Brotherhood and Unity, Pristina, Kosovo

24/30

The Planalto Presidential Palace, Brasilia, Brazil

25/30

De La Salle university, Manila, Philippines

26/30

The Greenland Centre, Jinan city, China

27/30

Calagary Tower, Alberta, Canada

28/30

The Senate building, Mexico City

Reuters/Tomas Bravo

29/30

One World Trade Centre, New York, USA

30/30

The Angel de la Independencia monument, Mexico City
New York, Boston and other cities in the United States also bolstered security on Friday night after deadly gun and bomb attacks on civilians in Paris - although law enforcement officials said the beefed-up police presence was precautionary rather than a response to any specific threats.
Las Vegas also paid its respects to victims of the Paris shooting, with the replica Eiffel Tower left darkened in the entertainment city as a sign of mourning.
Tonight, our Eiffel Tower will remain dark in memory of the lives lost in the attacks in Paris. pic.twitter.com/FFr55bRnHE

— Paris Las Vegas (@ParisVegas) November 14, 2015
The Beira-Rio stadium in Porto Alegre in Brazil, home of SC Internacional, also illuminated its walls with the tricoloure.
Inter presta solidariedade às vítimas de ataques terroristas à capital francesa Paris. #PrayForParis pic.twitter.com/y6Qc8Ch0ub

— S. C. Internacional (@SCInternacional) November 14, 2015
San Francisco's City Hall has paid tribute to its sister city once more in red, blue and white.
S.F. stands with Paris pic.twitter.com/KmC6k3NnxR

— SFGate (@SFGate) November 14, 2015
President Holland has declared a state of emergency across France and closed all its borders.
Reuse content