France's broadcasting watchdog is meeting with TV stations today to discuss "failures" in the coverage of last week's Paris terror attacks, which may have put hostages at greater risk.
Elsewhere in Paris, loved-ones and well-wishers gather at funerals for the victims of the tragic Charlie Hebdo attack.
Last Wednesday, Brothers Said and Cherif Kouachi killed 12 people in a massacre that started at the satirical weekly Charlie Hebdo. The following day, Amedy Coulibaly shot a policewoman, and murdered four others in an attack against a kosher grocery store on 9 January.
The fast pace of France's bloodiest and most dramatic terror attacks in decades saw millions across France using TV news reports to stay up to date.
But TV news stations now face accusations that they put hostages at risk by revealing too much information on their whereabouts. Others have also claimed they interfered with police operations. 
Charlie Hebdo: Mourning in Paris
Charlie Hebdo: Mourning in Paris
1/6 Mourning in Paris

Fraternité: people take part in a unity rally on Sunday at the Place de la Nation (Nation Square) in Paris

AFP/Getty

2/6 Mourning in Paris

The growing floral trobute near the Charlie Hebdo offices

PA

3/6 Mourning in Paris

Police guard a Jewish school in Paris

Getty

4/6 Mourning in Paris

Marie-Pierre

5/6 Mourning in Paris

Emmanuel

6/6 Mourning in Paris

Us tous: Parisien couple show off their Tricolour and support for Je Suis Charlie movement

PA
Staff at the Higher Broadcasting Council (CSA) have re-watched hundreds of hours of footage, and will decide whether French TV stations are liable to incur penalties or sanctions for their reporting.
They will also consider whether rules should be put in place for the coverage of future emergency events.
The meeting took place as some of the victims of the Charlie Hebdo massacre were laid to rest.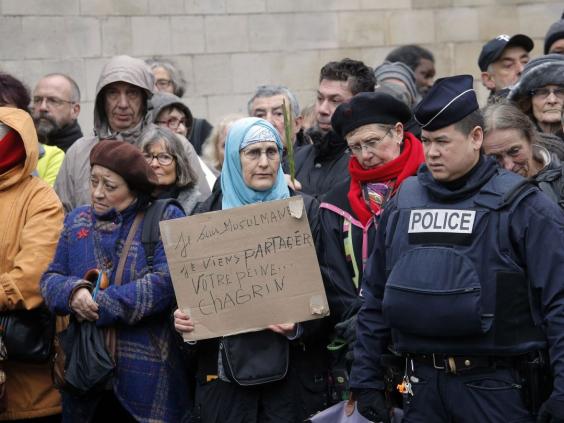 The funerals for cartoonists Bernard Verlhac, known as Tignous, and Georges Wolinski, as well as columnist Elsa Cayat and policeman Franck Brinsolaro were all held today, BBC News reported.  
Tignous was remembered at a private service in the suburb of Montreuil, ahead of his burial in Pere Lachaise – a cemetery home to the bodies of many writers, artists and composers, including Irish playwright Oscar Wilde.
The cartoonist's body arrived at Montreuil town hall in a coffin covered in drawings and messages from well-wishers, and was greeted by applause from crowds.
Corinne Rey, a colleague of Tignous, described him as the "king of jokes" and was "never afraid" during a heartfelt tribute, adding that Charlie Hebdo will live on and its staff "won't be afraid either."
Meanwhile, Cayat was buried in Montparnasse cemetery. A ceremony for Brinsolaro, a policeman assigned to guard Charlie Hebdo editor Stephane Charbonnier, will take place in Sainte-Croix de Bernay.
A ceremony was also held at Pere Lachaise for Wolinski, who is to be cremated.
Mirroing Rey's sentiments, Wolinski's daughter Elsa said her father's ideals would live on.
"I'm beginning to realise that he is gone," she said. "But as I said before, they've killed a man and not his ideas. So here we are. We stand here and will continue to defend the principles of Charlie Hebdo."
Additional reporting by AP
Reuse content