It hardly seems an auspicious omen. As Pompeii, the new Hollywood blockbuster on the destruction of the ancient city, enjoyed high-profile openings in 30 countries this weekend, there were two new collapses at the celebrated archaeological site.
First, masonry fell from the Temple of Venus; then a tomb in the Porta Nocera cemetery caved in, prompting Italy's new Heritage and Culture Minister, Dario Franceschini, to convene the umpteenth emergency meeting between ministers and site officials.
Bad weather has been blamed for the latest collapses, but it is thought that decades of neglect and mismanagement are the real culprits. Perhaps then, a big-budget Hollywood take on the eruption of Mount Vesuvius and subsequent destruction of the city in 79AD might serve the useful purpose of raising the site's international profile. Could it even succeed in doing for Pompeii what Dan Brown did for Leonardo's Last Supper in Milan?
"This film will bring in many American tourists, I'm sure," said Mattia Buondonno, an official Pompeii guide who helped the British director, Paul WS Anderson, to understand the excavations for his $100m-film. "They have done a good job."
Antonio Varone, an archaeologist, told the Ansa news agency that he was "amused" with certain historical inaccuracies, including a chariot race, but added that if the film helped to "stimulate curiosity" about Pompeii, it would be a good thing.
When you see the word "3D" in front of a Hollywood title, you expect a little artistic licence to have been taken. But Mr Varone's comments on the historical accuracy of the film were not the only negative notes sounded, even leaving aside the reviews – Variety dismissed it as a camp "sword-and-sandals saga", that would probably appeal to teenage girls and gay men.
This is because some experts believe the last thing the fragile site needs is more tourists grinding it to dust. According to Clementina Panella, an archaeologist at Rome's La Sapienza university: "Having millions of visitors just stamping around Pompeii or Venice each year causes its own destruction.
"Tourists need to be directed to other less-known places," she added.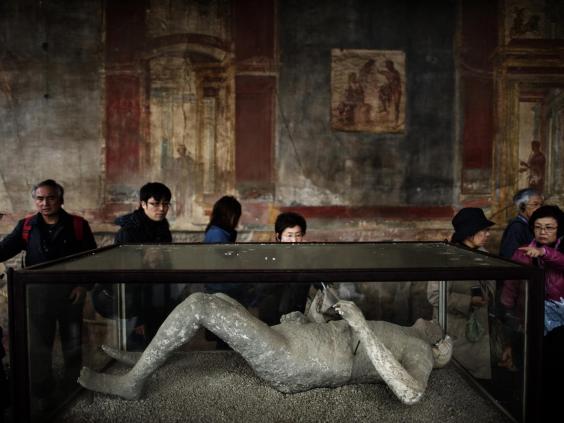 In 2012, a Unesco report warned that the number of visitors and their careless behaviour was causing considerable damage. It noted that: "Visitors in groups rub against the decorated walls, all too often with their rucksacks, or lean against them to take the best possible photographs."
For decades Pompeii has withstood the trampling feet of 2.3 million visitors every year. And it is expected to welcome more visitors, with recent restoration work and the reopening of some parts of the site due to boost visits by 300,000 to 2.6 million a year by 2017. What Pompeii needs, said Professor Panella, is intelligent management – in other words, fewer visitors generating the same amount of income.
In addition, the site has not only the weather, but poor management and chronic underfunding to contend with. Observers in the Campania region say the local Camorra mafia is also ready to cream off as much of Pompeii's financial investments as possible.
In April last year investigators announced a probe into suspected Camorra involvement in Pompeii restoration works undertaken as part of a €105m (£90m) project funded by the Italian government and the European Union.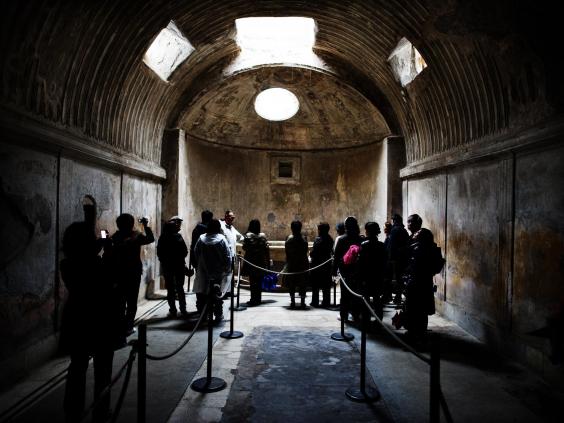 EU officials retorted the site's management had in place "a very strong, anti-mafia infiltration system".
But other pundits, including Antonio Irlando, the president of the Observatory for Protection of Cultural Heritage in Areas of Crisis campaign group, say concerns about corruption shouldn't distract attention away from Pompeii's main problem: a lack of state funds.
Realistically, after decades of neglect, and in a time of economic crisis, there will never be enough government funding. Private sources are the other alternative.
Il Sole 24 Ore, Italy's respected business newspaper, famously declared in 2010 that the only solution for Pompeii was a private sponsor, which would be allowed to place its logos at the entrance. "Precisely because it belongs to all humanity, its management should be taken away from a state that has shown itself incapable of protecting it," the newspaper said.
This strategy appears to be working for Rome's Colosseum, where businessman Diego Della Valle, the man behind the Tod's footwear brand, is providing £20m to fund a major clean-up and restoration. Commercial Hollywood probably won't save Italy's priceless cultural heritage, but bog standard advertising might.
Reuse content