The Italian press presented it as a political St Valentine's Day Massacre. But the ruthless ousting of premier Enrico Letta by his ambitious rival and rising centre-left star Matteo Renzi had an air of inevitability about it.
For weeks the talk has been that Mr Renzi, the Mayor of Florence, would "whack" the mild-mannered Mr Letta. He achieved the objective by effectively calling a Democratic Party (PD) confidence vote on Mr Letta on Thursday evening. Mr Letta had no choice but to quit today.
The head of state, President Giorgio Napolitano, went through the motion of holding talks with senior parliamentary figures to pick a nominee to replace Letta. Mr Napolitano's office said the talks would conclude today.
No one is in doubt, however, that as leader of the biggest grouping in the lower house, Mr Renzi will be asked to form a government. He will then be sworn in and pick a new cabinet, which will have to pass confidence votes in both houses of parliament.
The question now is whether the dynamic Mr Renzi, dubbed "Italy's Tony Blair" , can do any better than Mr Letta, who led a left-right coalition that achieved very little in its 10-month life span.
If some pundits are to be believed, Italy's political system could be about to see its biggest shake-up in decades, with a concerted move towards the formation of a modern two-party state.
Mr Renzi has promised to make a radical overhaul of Italy's flawed electoral and political system his top priority, to prevent such electoral fiascos in the future. He will seek to downgrade the power of the Senate, which currently has parity with the Chamber of Deputies, and to introduce a new electoral system – measures aimed at cutting the likelihood of hung parliaments.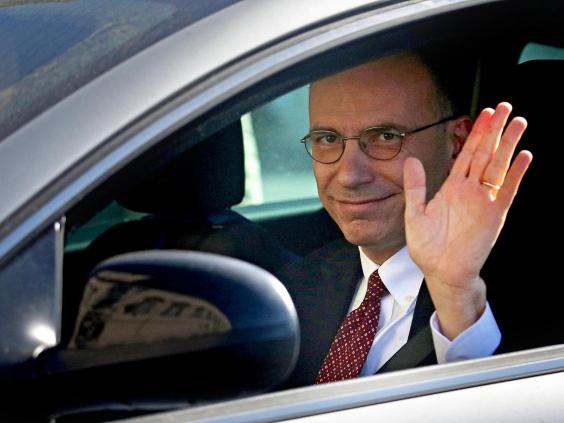 One eminent political scientist, Roberto D'Alimonte of Rome's LUISS University, says that Mr Renzi's "ultimate ambition" is to turn Italy into a modern two-party state with stable government and himself at the helm, and that is something worth fighting – or even scheming – for.
Professor D'Alimonte, who is close to Renzi circles, said that Mr Renzi's proposal to prevent smaller political parties, ie, those that win less than 4.5 per cent of the vote, from entering parliament, was designed with this in mind.
However, to the horror of many in his centre-left party, to win vital consensus on these reforms, Mr Renzi has already been in talks with disgraced centre-right leader Silvio Berlusconi. Despite his tax fraud conviction, Mr Berlusconi as leader of the big Forza Italia group, will also be consulted by President Napolitano on the new administration.
"Renzi will schmooze Berlusconi in a way the others won't," Professor James Walston, a politics professor at the American University of Rome, told The Independent, "which is a pity, because it doesn't seem appropriate having a convicted criminal leading a delegation to the Presidential Palace."
Several PD figures have voiced concerns that these developments could strengthen Mr Berlusconi.
And some analysts said Mr Renzi was now tainted with the image of a cloak-and-dagger politician who overthrew Mr Letta – a leading member of his own party – despite an earlier agreement to work with him until 2015.
But to realise his ambitions, Mr Renzi must take risks. As such, he might succeed in overhauling the voting system within the next year or so. Vital – but controversial – economic reforms, particularly new flexibility for Italy's labour markets, look less achievable.
No one doubts their importance, though. "The problem is this: can he help get the country moving again?" said Carlo De Benedetti, a prominent Italian businessmen.
Already, the knives are out for Mr Renzi in many quarters, as the Italian public is forced to stomach another leader it did not vote for.
Thanks to Italy's fractured party politics and the proportional representation system that he's vowed to dismantle, Mr Renzi will be the third successive premier selected by President Napolitano rather than the electorate.