A bronze bust of Russian president Vladimir Putin – in the style of a Roman emperor – will be unveiled next month to honour his supposed ability "to bring order and end wars".
The statue will be unveiled as part of Russia's anniversary celebrations of the allied victory over the Nazis. 
Andrey Polyakov, the leader of the St Petersburg Cossack group Irbis – which champions traditional Slavic values – said that the sculpture, for which the clay mold has been completed, will be installed near Parnas station in north St Petersburg.
9 controversial Putin quotes
9 controversial Putin quotes
1/9 2004

"Anyone who doesn't regret the passing of the Soviet Union has no heart. Anyone who wants it restored has no brains."

Getty images

2/9 December 2005

"There is no such thing as a former KGB man."

Getty images

3/9 G8 Summit press conference 2008

"If you want to become an Islamic fundamentalist and be circumcised, come to Moscow. We are multiconfessional. We have very good specialists. I can recommend one for the operation. He'll make sure nothing grows back."

Getty images

4/9 2010

"Russia doesn't negotiate with terrorists. It destroys them." After the Moscow Metro bomb

Getty images

5/9 September 2013

"They say that Pyotr Ilyich Tchaikovsky was a homosexual. Truth be told, we don't love him because of that, but he was a great musician, and we all love his music. So what?" Interview with Associated Press

Getty images

6/9 March 2014

"The West's leaders seem, from what they say, entirely to have forgotten that there are some leaders in the world who want to conquer other countries."

Getty images

7/9 2014

Amazingly elaborate metaphor regarding the West and Russia "[Sometimes I think] our bear should probably just sit quietly and just eat honey instead of hunting animals, maybe then they will leave the bear in peace, but, no, they will not. What they are trying to do is chain the bear, and when they chain the bear they will take out his fangs and claws. This is how nuclear deterrence is working at the moment. If they take out the bear's fangs and claws, then the bear will not be able to do anything. It will just be a stuffed animal." Russian President's annual press conference

Getty images

8/9 2014

After Ksenia Sobchack, a well-known anti-Kremlin activist and journalist, was allowed to ask a question about Putin's government suppressing opposing political viewpoints: "Why did you give her the floor?" Russian President's annual press conference

Getty images

9/9 January 2014

"You can feel relaxed and calm [in Russia], but leave children alone, please." Directed at gay people in January 2014, before the Sochi Winter Olympics

Getty images
"Such a remarkable event in the history of Russia such as the accession of Crimea has to be immortalised," Polyakov told news agency Nevskye Novosti yesterday.
"I believe that Putin is one of our brightest, positive heads of state we have had in the last hundred years or so. This is a man who is worthy to have a monument in his lifetime."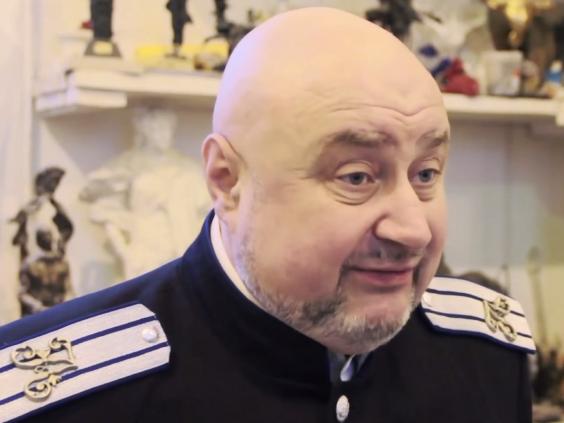 "This is the man who brought order and to stop wars in the Caucasus, South Ossetia, Abkhazia, Transnistria," he added.
The listed territories in neighbouring nations Georgia and Moldova were home to separatist wars that were reportedly backed by Russia.
Putin signed a deal last week calling for almost complete integration of South Ossetia into Russia on the anniversary of the Crimea annexation.
Putin was accused last month of funding separatist fighters in east Ukraine – which he denies – despite seeming to back the rebels in the battle for Debaltseve.