Royal Air Force jets have intercepted two Russian aircraft flying over the North Sea, the Ministry of Defence has said.
The two "Blackjack" jets were international airspace but were described as being in a "UK area of interest".
Typhoon aircraft were scrambled from RAF Lossiemouth in Scotland and escorted the Russian planes away.
A statement from the MoD read: "RAF Quick Reaction Alert fighter aircraft scrambled from RAF Lossiemouth in Scotland yesterday to meet two Russian aircraft.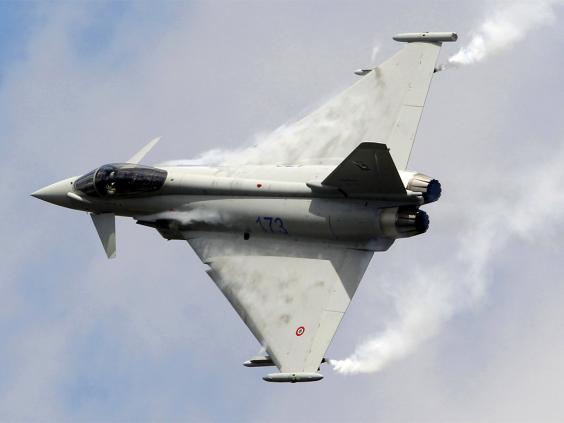 "The Typhoon pilots visually identified the two Russian aircraft and escorted them whilst in the UK area of interest."
In recent months Russian and Nato jets have stepped up patrols over the North Sea and Baltic. It is increasingly common for aircraft to fly close to the airspace of other nations in order to test defence response times.
Squadron Leader Jim Calvert of II(AC) Squadron, who flew one of the RAF Typhoons involved in the mission, said:
"Given the Royal Air Force's enduring commitment to secure the UK's skies, yesterday's sortie once again proved Typhoon's capability to successfully scramble and intercept Russian long-range aviation.
In pictures: EU politicians banned from entering Russia by the Kremlin
In pictures: EU politicians banned from entering Russia by the Kremlin
1/6 Nick Clegg

Nick Clegg appears on a confidential Russian 'stop list' handed to the EU's ambassador by the authorities in Moscow

PA

2/6 Malcolm Rifkind

A Conservative former Foreign Secretary, who has been strongly in favour of sanctions against Moscow since the Russian annexation of Crimea. He says he is 'rather proud' to be on the Kremlin's blacklist

Getty

3/6 Daniel Cohn Bendit

The former German Green Party MEP and leader of the French 1968 student protest movement has strongly criticised Russia's actions in Ukraine. He has suggested a boycott of the 2018 World Cup, which is to be hosted by Russia

AFP/Getty

4/6 Edward Mcmillan Scott

A leading German conservative MP who earlier this year called Russia a 'warmonger'. He was due to discuss the Ukraine with Russian officials but was refused entry at Moscow airport last week. He said he suspected he was on a list of EU 'undesirables'

5/6 Karel Schwarzenberg

A former Czech Foreign Minister. He said: 'When I saw the other names on the list, I found out I was in a very decent club'

AFP/Getty

6/6 Bernard-Henri Levy

French philosopher who backed Ukraine's anti-Russian protest movement and has staged a play in Kiev criticising Moscow. He has said: 'Most people are disgusted by Putin's mischief'

AFP/Getty
"Protecting our skies is especially poignant in this 75th anniversary year of the Battle of Britain.
"Working together with ground-based radar and air-to-air refuelling aircraft today's RAF continues to come together as a team to protect our country."
Additional reporting by PA