More than 4,000 migrants have arrived in Austria, arriving at the border on a fleet of busses provided by the Hungarian government.
Austrian Red Cross workers provided hot tea and blankets to the migrants in hastily assembled shelters.
Many collapsed in exhaustion on the floor, but all appeared jubilant at their arrival.
The migrants arrival in Austria eases pressure on Hungary, which has struggled to manage the flow of thousands of people across its own border.
The move was made possible after Austria, on Hungary's western border, announced it would follow Germany in taking responsibility for the migrants.
Werner Faymann, the Austrian chancellor, announced the decision after speaking with German chancellor Angela Merkel.
Hungary had demanded that migrants crossing through its territory report to government-run asylum centres, leading to a tense stand-off with migrants for several days.
The government eventually relented on that demand in the face of resistance from the migrants, largely from Syria, Iraq and Afghanistan.
The migrants, blocked by the authorities from boarding international trains in Budapest, began the 135km journey on foot, leading to a half-mile-long line of humanity streaming from Keleti station onto the main road.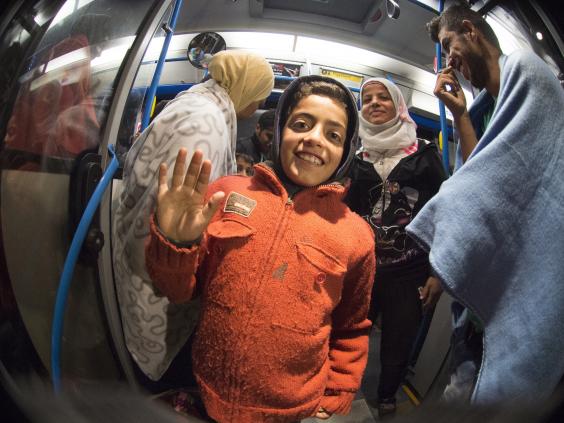 Some where in wheelchairs and others were on crutches.
Hundreds more people broke through police lines at a train station in the western town of Bicske, where police were trying to take them to a refugee camp.
On Friday the Hungarian authorities dispatched busses to pick up the migrants and transport them to the border with Austria.
Zoltan Kovacs, a spokesman for the Hungarian government, told The Associated Press the buses had been provided as an exceptional measure.
He said Hungary would continue to abide by EU rules, which include an obligation to register all asylum seekers at the first EU point of entry.
Austrian Federal Railways said the arriving migrants would be placed on trains to the capital, Vienna, and the city of Salzburg.
Although Austria says it will offer the newcomers asylum opportunities, most say they want to settle in Germany.
Reuse content