Hundreds of refugees are protesting at the main international train station in the Hungarian capital, as officials stopped them from passing over the border into other EU countries for a second day.
The asylum seekers, who have been barred from boarding international trains at Keleti station in Budeapest since Tuesday, waved train tickets and chanted "freedom, freedom", BBC News reported.
Scores of police officers responded by pushing back the crowd at the station, where an estimated 3,000-strong-group is camped outside.
Images from Keleti showed a young boy holding up a sign reading "SOS help me", while parents attempted to occupy their children with toys and colouring books on make-shift beds.
Meanwhile on Hungarian trains, officers from the nation's police force were joined by their counterparts from Austria, Germany and Slovakia in searching for refugees.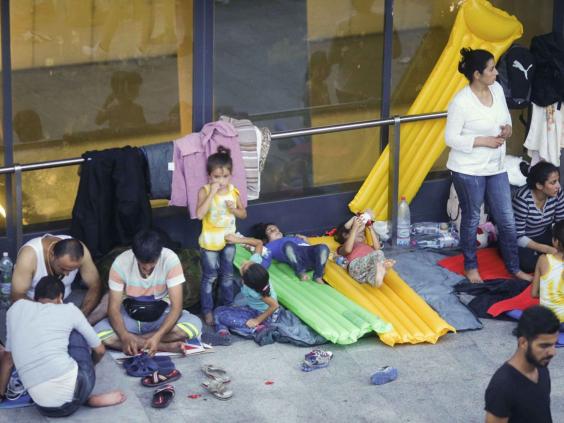 Read more:
Sign The Independent's petition to welcome refugees
David Cameron says Britain can't take 'more and more' refugees
Charts show where Europe's refugees are coming from
5 practical ways you can help refugees
If these images of a dead child don't change attitude to refugees, what will?
Elsewhere, on the Hungarian border with Serbia, police officers former protective circles around refugees at a train track which has been used as an entrance point into country, as some 300 right-wring nationalists from the Jobbik party held a protest and hurled abuse.
Aniko Cserep, 57, a Hungarian protester told reporters: "I am a mother, I am Hungarian, this is Hungary, and they have to go home."
In an unprecedented move symbolic of the chaotic nature of the crisis, police officers permitted more than 50 people who had followed the rail track into the country to run free into a field, rather than start the process of claiming asylum.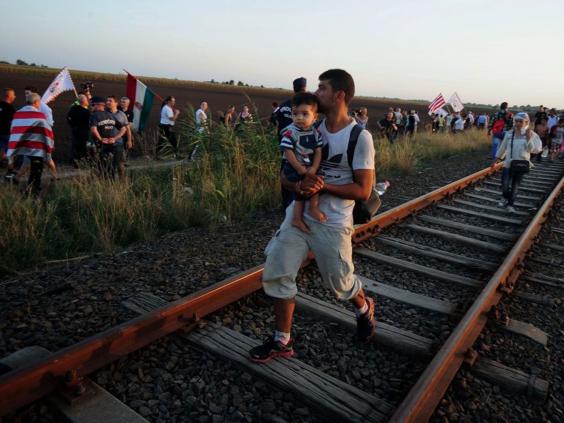 Hundreds of others waited on the Serb side of the border until the protesters dispersed to scale the rail line. 
As desperate people fleeing war, poverty and oppressive regimes have fled through Hungary towards Western Europe, the government has responded by deploying thousands of extra police and erecting a controversial razor wire fence.
In pictures: Hundreds of migrants stranded in Budapest
In pictures: Hundreds of migrants stranded in Budapest
1/10 Hungary

Budapest's main international railway station ordered an evacuation as hundreds of migrants tried to board trains to Austria and Germany

2/10 Hungary

Migrants protest in front of the Keleti Railway Station after police closed the station in Budapest

3/10 Hungary

Migrants wait behind a fence guarded by police as the Keleti train terminal in Budapest

4/10 Hungary

Syrian migrants show their train tickets to Germany and demand being let on the train but Keleti train terminal in Budapest

5/10 Hungary

Migrants protest in front of the Keleti Railway Station after police closed the station in Budapest

6/10 Hungary

Riot police stand on the train track as they monitor migrants and refugees at the Keleti (eastern) railway station in Budapest

7/10 Hungary

Refugee children sleep in the surrounding green area of the Keleti railway station in Budapest

8/10 Hungary

Migrants wave their train tickets and lift up children outside the main Eastern Railway station in Budapest

9/10 Hungary

Migrants protest at the Eastern (Keleti) railway station of Budapest

10/10 Hungary

Migrants gesture as they stand in the main Eastern Railway station in Budapest
Zoltan Kovacs, a spokesman for the Hungarian government, said on Wednesday: "We have to reinstate law and order at the borders of the European Union, including the border with Serbia."
"Without re-establishing law and order, it will be impossible to handle the influx of migrants."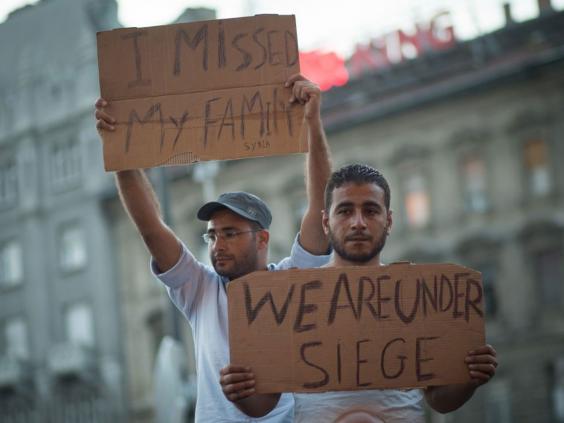 Hungary's Prime Minister, Viktor Orban, will take a "clear and obvious message" to a meeting Thursday with EU chiefs in Brussels about refugees, Kovacs said.
As more than 332,000 refugees have entered the European Union this year, leaders have scrapped over how to deal with the situation.
Frontline nations including Greece, Italy and Hungary have pleaded for more help, while Germany has called on other EU nations to follow its lead after it received 800,000 asylum seekers this year.
Additional reporting by AP
Reuse content