As their country's coastguards continue to pluck hundreds of men, women and children from the sea, Italians are looking for new ways to handle the latest influx of refugees.
The Archbishop of Milan, Cardinal Angelo Scola, has urged 1,100 parishes in the surrounding region of Lombardy to find space to host immigrants, while offering 130 places in six church buildings.
 "I invite parishes in the diocese to look at making temporary, even small, spaces available to welcome the migrants that have already reached and are still arriving in Italy and in particular Milan," Cardinal Scola said.
The non-profit organisation Amici dei Bambini, or Children's Friends, said 300 families had responded to its appeal by offering to host refugees in their homes. Diego Moretti, who heads its Children on the High Seas project, said it was a sign of how things were changing.
"Imagine a new system that is no longer concentrated on big numbers or large migrant welcome centres, but the qualities offered by individual families and their resources," Mr Moretti said in a radio interview.
Italian authorities have rescued more than 115,544 people from the Mediterranean this year and there is no sign of a slowdown. Across Italy, convents, schools, hotels and even police barracks are being used to house refugees.
The Italian church has been mobilised by the Catholic charity Caritas, which has provided beds for thousands of people; its staff work closely with the authorities whenever a boatload of migrants lands in Sicily or elsewhere.
Anna Cullotta, a psychologist with Caritas in Palermo, Sicily,  where many of those rescued are taken, works with refugees and migrants traumatised by the loss of a loved one. She said too little was being done to support refugees. "The government is not doing enough – there is no concrete response," Ms Cullotta said. "This is not an Italian problem; it is an international problem."
Once refugees are identified and given medical checks they can be moved around the country. Casa Suraya, a reception centre in Milan, is full. Since it opened in May last year, 13,000 refugees from Syria, Iraq and other countries have passed through its doors. Most of them have left for Germany, Denmark and Sweden; nearly half were children under the age of 10.
Run by the social co-operative Farsi Prossimo, the centre is in a building made available by nuns from the Sisters of Reparation order and named after a Syrian baby born in Milan.
"Many of [the refugees] have had a tragic journey, " said Annamaria Lodi, president of Farsi Prossimo. "One family lost four children under eight years old. Another lost a 10-year-old child after five terrible days at sea. I have never seen anything like this in my life."
Ms Lodi said it was a very difficult period for Italy, and that Sicily had borne too much of the burden compared with other areas of the country. "They are dealing with emergency rescues and arrivals; they cannot do more," she said.
Care for refugees and migrants has been estimated to cost the government up to €800m (£590m) a year, as it offers private individuals, companies and non-profit organisations up to €35 a day per person to host them.
This newspaper has started a campaign for the UK to welcome a fair share of refugees.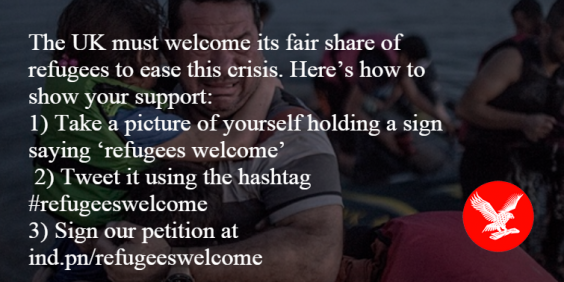 Click here to sign The Independent's petition
Reuse content