Eastern European countries are expected to vent their rage at a meeting of EU home affairs ministers in Brussels aimed at agreeing quotas to relocate 160,000 asylum-seekers across Europe.
EU officials have worked over the weekend to smooth over the differences that have erupted over how to handle this year's extraordinary stream of refugees. Hungary, Slovakia, Romania and the Czech Republic are furious that they are being asked to take in thousands of refugees from crisis zones including Syria, Iraq and Eritrea.
The hastily convened Brussels meeting will look at proposals put forward on 16 September by Commission President Jean-Claude Juncker for a mandatory quota system aimed at spreading the refugees across the EU, while also beefing up asylum procedures.
The latest commission proposals call on 22 EU member states to share 120,000 refugees from Greece, Italy and Hungary. It follows plans from last May to share 40,000 refugees from just Greece and Italy, although these led to only about 32,000 places being allocated.
The divisions between nations surfaced again, with Austrian Chancellor Werner Faymann criticising Hungary's response to the crisis by making an implicit reference to the ordeal the Jews faced under the Nazis.
In graphics: Refugees in the EU
"Sticking refugees in trains and sending them somewhere completely different to where they think they're going reminds us of the darkest chapter of our continent's history," he told Germany's Der Spiegel. Earlier this month, refugees and migrants boarded a train in Budapest expecting to head to the border with Austria, but were stopped about 20 miles away in the town of Bicske, where Hungary has a camp for asylum-seekers.
Hungarian Prime Minister Viktor Orban has taken a hardline stance over the crisis and is against an EU-wide refugee quota system, as the build-up of people trying to leave Hungary for other European nations has prompted Austria and Germany to say they would allow thousands of them across their borders.
Hungary dismissed Mr Faymann's comments as "utterly unworthy of a 21st-century European leader" and summoned Austria's ambassador to explain. Hungary's Foreign Minister Peter Szijjarto said Mr Faymann had been pursuing a "campaign of lies" against Hungary for weeks that made it harder to find a common European solution to the crisis.
More than 378,000 people have entered Europe this year, including at least 256,000 crossing the sea to Greece and nearly 120,000 braving the Mediterranean to reach Italy, according to the International Organisation for Migration. Hungary says that more than 170,000 have crossed its borders this year alone. Germany expects 800,000 asylum-seekers in 2015, and Foreign Minister Frank-Walter Steinmeier has said 40,000 refugees could come into the country this weekend alone. Officials in Munich say that 3,600 refugees and migrants had arrived in the city by early on 12 September and a total of 10,000 or more were expected in the course of the day.
Hungary has built a heavily guarded fence along its border with Serbia, and has said that from next week, people who enter the country illegally will be arrested. Mr Orban also suggested that EU countries give €3bn (£2.2bn) in aid to Syria's neighbours to help to stem the flow of refugees from camps there.
Polish Prime Minister Ewa Kopacz says permanent binding quotas would go against the EU spirit of compromise, while the Czech government has also opposed binding quotas.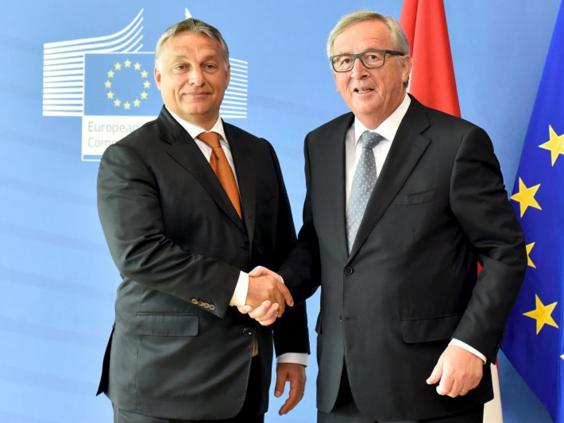 The Slovakian Prime Minister Robert Fico claims that the mainly Muslim  refugees would be a bad fit for his country,  saying he would want only Christians. However, the former Slovak foreign minister Eduard Kukan said the country could pay a price for Mr Fico's hostile rhetoric. "It was a gross political mistake and it put Slovakia in a very bad political light," he told The Independent. Mr Kukan, who was foreign minister for eight years until 2006, insisted that Slovakia was an open and friendly country. "Slovakia is ready to help, ready to take its responsibilities. This is a European issue, and as member of the EU, Slovakia has to take part."
NGOs say it is untenable to try policies of deterrence such as building walls, using dogs to guard borders or deliberately failing to provide facilities for refugees. "Such policies have failed to deter desperate people and just increase their suffering, turning a foreseeable and manageable influx of people fleeing for survival into a policy-made human tragedy," says Vickie Hawkins, UK director of Médecins sans Frontières.
The UK, Ireland and Denmark, who are not obliged to join such measures, are not included in the EU relocation plans, although Ireland has said it will house 3,500 refugees under the scheme.
Mr Juncker's proposal also aims to set up a permanent relocation mechanism, and a common EU list of safe countries whose citizens would be sent back to if they fail to meet asylum criteria. Governments will also be asked to back an extension of Frontex, the EU's naval search and rescue mission in the Mediterranean to target people-smugglers on the high seas.
Although the Eastern European opponents of the plan could be outvoted, officials say they would prefer a consensus. European Council President Donald Tusk has warned that he will convene a special meeting later this month if ministers cannot agree the relocation plan.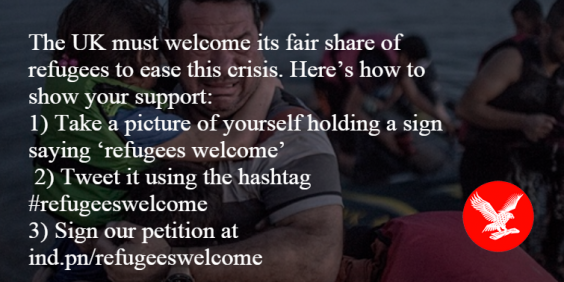 Click here to sign The Independent's Change.org petition
Reuse content