Standing face to face with an elderly former Auschwitz SS guard, 95-year-old Holocaust survivor Leon Schwarzbaum held back tears as he pleaded with the man to "tell the truth" about the mass murder committed at the infamous Nazi death camp.
A former Auschwitz inmate, Mr Schwarzbaum was giving evidence at the opening of the trial in Detmold of Reinhold Hanning, 94. Hanning faces charges of complicity in the murder of 170,000 Holocaust victims during the Second World War, having worked as an Auschwitz guard in the camp's "Death's Head" SS division from January 1943 until June 1944.
Standing up and looking straight at Hanning, Mr Schwarzbaum visibly shook with emotion as he told the him across a hushed courtroom: " You and I are almost the same age and we will soon be meeting our maker. Why don't you tell the historical truth about what you and your comrades did – just as I do."
However 94-year-old Hanning, who appeared neatly dressed in a brown tweed jacket and bright yellow pullover, refused to respond. Instead the former guard, who worked as a small company director after the war, simply stared at the courtroom floor, his head under a mop of thick grey hair, his eyes partially concealed behind the thick glass of his spectacles.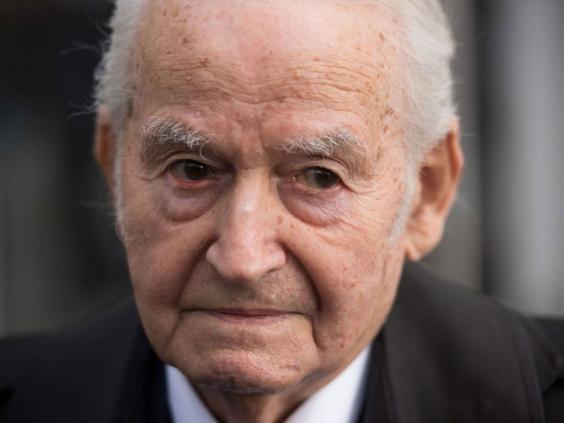 Mr Schwarzbaum, one of more than 40 Holocaust survivors who are co-plaintiffs in the case against Hanning gave a harrowing account of how he saw a 17-year-old Jewish girl being shot at point blank range in the head at Auschwitz. He also recalled seeing a lorry packed with "screaming naked Jews who were all waving their arms in the air" as they were driven towards the Auschwitz gas chambers.
"It was Dante's Inferno," he told the court.
Hanning, has admitted serving in the SS at Auschwitz. However, he denies any involvement in mass murder. Prosecutors argue that by serving as a guard at the death camp, he facilitated the murder of thousands Holocaust victims.
Doctors have ruled that Hanning is psychologically capable of spending only two hours a day in court. His lawyers said he had been "overwhelmed" by the charges and "did not understand" much of what he was accused of. They said he was still considering whether to speak during his trial.
Remembering the Holocaust
Remembering the Holocaust
1/16

80,000 shoes line a display case in Auschwitz I. The shoes of those who had been sent to their deaths were transported back to Germany for use of the Third Reich

Hannah Bills

2/16

Barracks for prisoners in the vast Auschwitz II (Birkenau) camp. Here slept as many as four per bunk, translating to around one thousand people per barracks. The barracks were never heated in winter, so the living space of inmates would have been the same temperature as outside.

Hannah Bills

3/16

Hannah Bills

4/16

Sign for the Auschwitz Museum on the snowy streets of Oswiecim, Poland

Hannah Bills

5/16

The Gateway to hell: The Nazi proclamation that work will set you free, displayed on the entrance gate of Auschwitz I

Hannah Bills

6/16

A disused watchtower, surveying a stark tree-lined street through Auschwitz I concentration camp

Hannah Bills

7/16

Stolen property of the Jews: Numerous spectacles, removed from the possession of their owners when they were selected to die in the gas chambers of Auschwitz

Hannah Bills

8/16

A sign bearing a skull and crossbones barks an order to a person to stop beside the once-electrified fences which reinforced the Auschwitz I camp

Hannah Bills

9/16

The peace and the evil: Flower tributes line a section of wall which was used for individual and group executions

Hannah Bills

10/16

Life behind bars: Nazi traps set to hold the Third Reich's 'enemies'. In Auschwitz's years of operation, there were around three hundred successful escapes. A common punishment for an escape attempt was death by starvation

Hannah Bills

11/16

Burying the evidence: Remains of one of the several Auschwitz-Birkenau gas chambers

Hannah Bills

12/16

Hannah Bills

13/16

The three-way railway track at the entrance to Auschwitz-Birkenau camp. This was the first sight the new camp arrivals saw upon completion of their journey. Just beside the tracks, husbands and wives, sons and daughters and brothers and sisters were torn from each other. Most never saw their relatives again

Hannah Bills

14/16

A group of visitors move through the Auschwitz-Birkenau camp. Viewed from the main entrance watchtower of Auschwitz-Birkenau

Hannah Bills

15/16

"The Final Solution": The scale of the extermination efforts of the Nazis at Auschwitz-Birkenau can be seen by comparing the scale of the two figures at the far left of the image to the size of the figure to the left of the railway tracks' three point split

Hannah Bills

16/16

Each cattle car would transport up to one hundred people, who could come from all over Europe, sometimes from as far away as Norway or Greece. Typically, people would have been loaded onto the trucks with around three days food supply. The journey to Auschwitz could sometimes take three weeks.

Hannah Bills
Like the vast majority of former SS guards, Hanning escaped prosecution when he was released from prisoner of war captivity after 1945. He married and lived an unassuming life as the director of a dairy goods company in the German region of Lippe until early last year when prosecutors identified him as one of the last living Auschwitz guards.
His case follows the prosecution of former Sobibor Nazi death camp guard John Demjanjuk in 2012 and former Auschwitz SS guard Oskar Gröning last year. Both were convicted on the basis that their mere presence at the death camps meant that they were complicit in mass murder. Both cases marked a sea change in the attitude of German prosecutors to Holocaust perpetrators. Until 2012, German judges had demanded specific eyewitness evidence directly implicating the accused which in most cases proved impossible to find.
Hanning is one of three other elderly former death camp guards German prosecutors want to put on trial this year. If convicted, he faces a maximum 15 year jail term.
Justin Sonder, a 90-year-old Auschwitz survivor and co-plaintiff insisted: "It is never too late to put the perpetrators of the Holocaust on trial. What the German judiciary is doing is absolutely right."
Reuse content