Russia has agreed a $15bn (£9.2bn) bailout for Ukraine and slashed the price of gas exports under a deal that keeps the cash-strapped country in Moscow's power orbit but led to street protests in Kiev.
Vladimir Putin's agreement with Ukrainian President Viktor Yanukovich was a triumph for the Russian leader in a geopolitical battle with Europe. But he failed to lure Ukraine into a customs union with other ex-Soviet republics and the deal is a heavy financial burden for Russia.
Tens of thousands of protesters gathered within hours of the deal in Kiev and accused Yanukovich of selling his country to the highest bidder after walking away from a trade deal with Europe.
"He has given up Ukraine's national interests, given up independence and prospects for a better life for every Ukrainian," Vitaly Klitschko, a protest leader and heavyweight boxer, told crowds.
The two countries' leaders reached agreement at talks in the Kremlin that appeared to begin frostily but ended with them rubbing shoulders and laughing at a ceremony where documents were signed on reducing trade barriers for Ukraine.
Ukraine had been seeking help to cover an external funding gap of $17bn next year – almost the level of the central bank's depleted currency reserves. Ukraine, which had fears fuel supplies could be hit during the financial crisis, is caught between Western powers, keen to anchor the country in a friendly embrace on the EU's borders and its former Soviet masters in Moscow.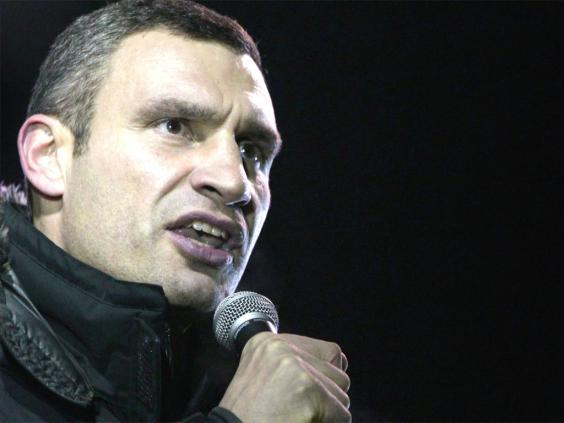 Yanukovich has been seeking the best possible deal for his country of 46 million but faces calls to resign at home and has been criticised in the West after police used force against the protests in the heart of Kiev.
The deal appears to preclude Ukraine looking West in the near future, though its leaders say they still see building ties with the European Union as a possible long-term goal.
Tuesday's agreement was Ukraine's reward from Moscow for ditching a trade and cooperation deal with Europe last month, Russian former economy minister Andrei Nechayev said.
Reuters