Russian opposition leader Alexei Navalny has been handed a prison sentence by a Moscow court for his involvement in anti-government protests at the weekend.
Thousands of anti-corruption protesters took to the streets of Moscow and other cities across Russia on Sunday, demanding the resignation of Prime Minister Dmitry Medvedev.
Mr Navalny was detained while walking to the protest from a nearby train station, and held overnight.
On Monday, he was jailed 15 days after the court ruled the political activist disobeyed instructions from a police officer during the demonstration.
He was also fined 20,000 roubles (£280) for a second offence, namely his role in organising the protest, which Russian authorities said was illegal, but avoided a further 15 days in prison – the maximum sentence for that crime. 
Mr Navalny is expected to the appeal the sentence, his lawyer said.
Speaking from the defendant's bench, Mr Navalny said: "Even the slightest illusion of fair justice is absent here.
"Yesterday's events have shown that quite a large number of voters in Russia support the programme of a candidate who stands for fighting corruption.
"These people demand political representation – and I strive to be their political representative."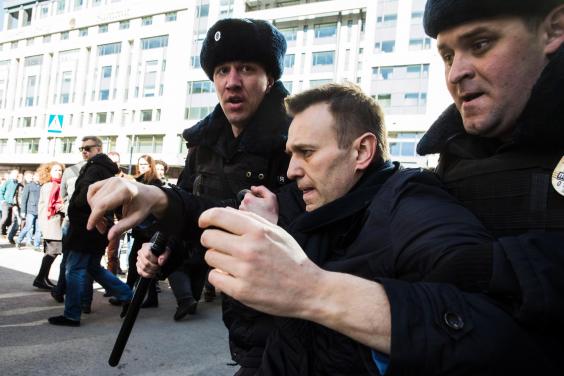 Reuters reported that a group of 20 of Mr Navalny's supporters were arrested after surrounding a police van the opposition leader was being held in after his court appearance. 
Russian state television completely ignored the protests in their broadcasts on Sunday, despite police having made around 1,000 arrests.
Among those detained were Mr Navalny's associates, who were at their office monitoring footage of the Moscow rally.
Thirteen of them spent the night at a police station while authorities raided their office.
They were taken to court on Monday afternoon, although it wasn't clear what charges they would face.
Kremlin spokesman Dmitry Peskov suggested some of those taking part in the demonstrations had been paid. Protesters had been "promised financial rewards in the event of their detention by law enforcement agencies", he said.
It was a claim reminiscent of assertions made by Donald Trump's press secretary Sean Spicer, who accused demonstrators angry at the Trump administration's policies of being paid.
The protests are thought to be the biggest in at least five years, and come amid growing pressure from the US and EU for the Kremlin to release political prisoners. 
A French foreign ministry spokesman said the crackdown on protests was of "deep concern" to the government.
Sunday's protests included demonstrations in the areas that typically produce a high vote for President Vladimir Putin, from the western city of Chita in Siberia to southern Dagestan's capital, Makhachkala. That contradicts claims made by the Kremlin that opposition to Mr Putin was limited to a Westernised urban elite.
Mr Navalny announced in December his intention to run for the Russian presidency in 2018.
The 40-year-old is arguably Russia's best known and most popular opposition leader. He is running on a campaign to clean up Russia's political system, tackling corruption in politics and the courts, as well as huge disparities in wealth and "lies" purveyed by the country's media.
However, opinion polls suggest he stands little chance of beating Mr Putin, who continues to enjoy favourable ratings.
Reuse content