The Italian island of Sardinia has been hit by a powerful cyclone, causing devastating flooding that has left at least 18 dead and many others missing.
Click here or on 'view gallery' to see more images
On Monday evening, Cyclone Cleopatra caused rivers to burst their banks, sweeping away cars and flooding homes. Over 450mm of rain fell in just an hour and a half during Monday night. 
Italian Premier Enrico Letta declared a state of emergency and set aside 20 million euros (£17 million) for emergency relief, saying the priority was reaching remote area, saving the lives of those still unaccounted-for and providing for those left homeless.
He described the event as "a national tragedy".
Regional governor Ugo Cappellacci told SkyTG24 television that the town of Olbia in the northeast had been flooded with several bridges down, and added there was a similar situation near the central town of Nuoro.
He said the city had been destroyed by the "apocalyptic" storm, with bridges felled by gushing, muddy rivers and water levels reaching 10ft (3m) high in some places.
The Sardinia Governor Ugo Cappellacci said a family of four living in a ground floor flat in an area of Olbia were the latest victims of the storm, apparently after being surprised by the sudden explosion of water.
"The situation is tragic," he said. "The hotels in Olbia are full of people who have had to escape but there are thousands who have damage to their homes."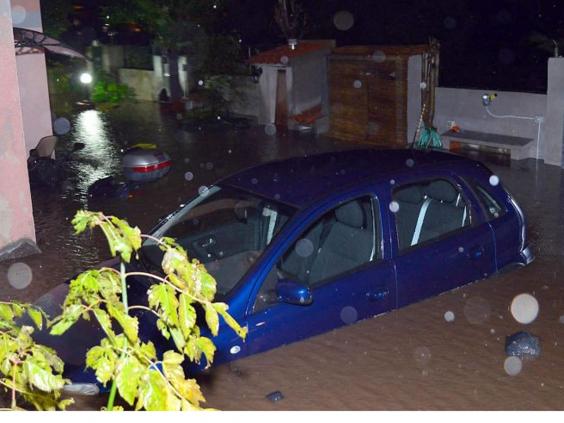 In a separate incident, a policeman trying to escort an ambulance also died when the car he was travelling in became involved in a bridge collapse in Dorgali, according to local newspaper L'Unione Sarda. Three others died when their car was swept away in the collapse of another bridge, it said.
A mother and her daughter were also found dead in their car, which had been swept away by the floods.
The Red Cross said hundreds of people had been forced out of their homes and into temporary shelters set up in sports halls and other centres. Several bridges were swept away in Olbia and in the region near the central town of Nuoro.
Unstable conditions are expected to move across Italy, bringing with it more heavy rain and the threat of flooding across the further east.
Additional reporting by agencies
Video: Bridge collapses in Sardinia
Reuse content