The far-right Front National (FN) party made sweeping gains in the French local elections last night but was beaten into third place nationwide by the centre-right and ruling centre-left.
The result was not quite the calamity predicted for the Socialist party of President François Hollande, which – with allies included – took 28 per cent of votes cast. The former President Nicolas Sarkozy's centre-right Union pour un Mouvement Populaire (UMP) topped the poll with about 36 per cent.
Marine Le Pen's "de-demonised" FN was secured about 26 per cent of the votes cast. This was less than expected but probably enough to give the FN a dense network of elected local politicians for the first time in its history. It was uncertain last night whether the FN would capture any of France's 96 départements (counties) in next Sunday's second round, but Ms Le Pen seems likely to increase her nationwide tally of county councillors from a single seat to at least 100.
After similar results in municipal and European elections last year, Ms Le Pen's deodorised version of the far right can now claim to have overturned the domination of centre-left and centre-right in France and established the FN as the most powerful, extreme nationalist movement in Europe.
In pictures: Extremists in the EU
In pictures: Extremists in the EU
1/6 France: Marine le Pen

Marine Le Pen, 45, took over the Front National (FN), the party that her father founded, in 2011. He himself described her as "a big, healthy, blonde girl, an ideal physical specimen." She claims to have cleaned up the FN and succeeded in pushing her anti-European, anti-euro and anti-immigration agenda into the EU political mainstream

AFP

2/6 Germany: Udo Voigt

He will be the first German neo-Nazi to enter the European Parliament. The former army officer, born in 1952, was jailed in 1995 for inciting racial hatred. Formerly the leader of the far right National Democratic Party (NPD), Voigt was convicted in 2009 after he was caught handing out flyers at the World Cup which argued that a black player was not entitled to play for Germany, whose national team – the literature argued – should be made up only of white players.

AFP

3/6 Denmark: Morten Messerschmidt

Leader of the Danish People's Party, which won 27 per cent of the vote. His party has rammed 20 laws relating to immigrants and asylum-seekers through the Danish parliament, giving it the most anti-foreigner legislation in Europe. His party calls Islam "a fascist ideology" and rails against "East European criminal gangs". One party strategist said "blood ties" to Denmark should be required for citizenship, though the statement was quickly retracted.

EPA

4/6 Hungary: Krisztina Morvai

A senior member of Jobbik, the anti-Semitic and anti-Roma party on Hungary's far right wing. In 2009, she attracted international publicity after declaring: "So-called proud Hungarian Jews should go back to playing with their little circumcised dicks." In 2009, she cancelled an interview with a British newspaper, declaring in tones of outrage: "I am a decent politician and the mother of three children, yet you in the west keep portraying me as a Nazi and a Fascist."

AP

5/6 Italy: Mario Borghezio

MEP for Italy's notoriously racist Northern League, he has relentlessly attacked the nation's first black cabinet minister, Cecile Kyenge, minister for integration, claiming she would import 'tribal traditions' into the Italian government. Other elected members in the party called her "an orang-utan" and suggested that someone should rape her, so she would understand how the victims of Somali rapists felt. He attracted attention by lobbying for the creation of an EU archive of UFO sightings.

Getty

6/6 Greece: Eleftherios Synadinos

Fabulously mustachioed retired lieutenant-general in the Greek army, he was one of Golden Dawn's top candidates in the European elections, at which the overtly neo-Nazi party obtained more than 9 per cent of the vote. With its black-shirted assault squads, the Hitler photos and the party's swastika-inspired logo, it has been accused of being a criminal organisation. Its website declares: "We aren't the quiet birds of peace time, we are birds of the storm and the hurricane."
The big winner last night was the UMP and its allies, which seem well-placed to win two-thirds of counties next weekend. Last night, Mr Sarkozy said the result proved that France was on course to return to the centre-right in the 2017 presidential elections and reject the "far right which offers no solution to the country's problems".
However, the presence of FN politicians in many of the new councils will present an explosive problem for the UMP and its president, Mr Sarkozy. Centre-right politicians in many areas may be tempted to defy the party's ban on deals with Ms Le Pen's party and make local pacts with the FN to capture councils from the left.
The reverse for the Socialists was much less severe than forecast by opinion polls – partly, it seemed, because of a last minute surge of left-wing voters into the polling booths to counter the FN. The party scored just over 20 per cent of the vote – but about 28 per cent when allied parties and candidates were included.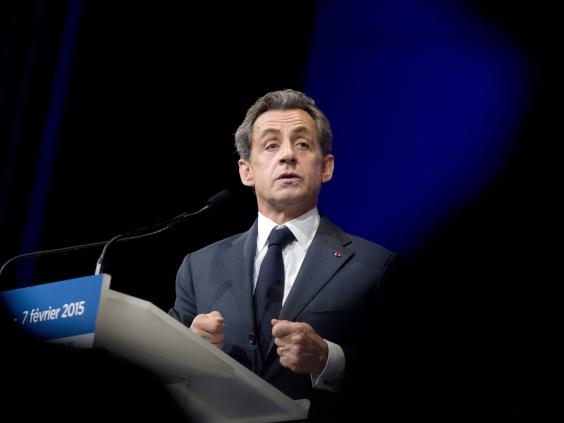 The result was, therefore, a qualified triumph for the Prime Minister, Manuel Valls. He took the risky decision to throw himself personally into the campaign and exhort left-wing voters to block the "dangerous" advance of the FN.
All the same, Socialist candidates failed to make the second round in a quarter of the 2,000 constitiuencies and will lose control of scores of councils next week. The results suggests that any centre-left politician, whether it be President Hollande or Mr Valls or another contender, could struggle to reach the two-candidate second round of the next presidential election in two years' time.
The 46-year-old Ms Le Pen, riding high in the opinion polls, decided to invest all the FN's energy and limited resources in this month's county council elections. Although these authorities are not powerful in themselves – and could be emasculated or scrapped under reforms still under discussion – her strategists saw the ballot as an important stepping stone towards success in the presidential ballot in 2017.
A "victory" in the nationwide vote would, Ms Le Pen calculated, support her claim to have made the FN the country's most popular party. Based on first estimates, that gamble appears to have failed. She also wanted to create a reservoir of elected politicians from which the Front National would be able to select parliamentary candidates for the next legislative election, also in 2017. That aim seems almost certainly be fulfilled after next Sunday's second round.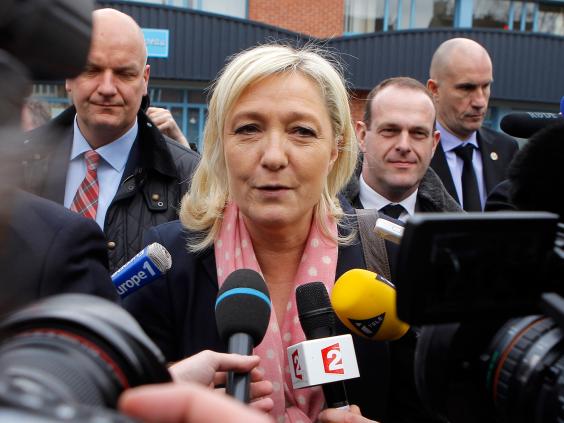 Ms Le Pen put a brave face on her relative disappointment last night and called the FN result "an exploit" and a "proof that our ideas are taking root in the country".
The need to find candidates in 2,054 constituencies, or cantons, was complicated by the bizarre new rules. Instead of individual candidates, there were two-person, man-woman "tickets". Both candidates on a winning ticket will serve, forcing the instant feminisation of a male-dominated local political scene in France. Even the mainsteam parties have found it difficult to recruit enough credible candidates, especially female ones. The FN managed to field people in almost every constitiuency – but at a cost. Many FN candidates proved to be disastrous standard-bearers for Ms Le Pen's claim to have cleaned up and professionalised her father Jean-Marie Le Pen's xenophoboic party. Reports of their unreconstructed anti-Semitic or islamophobic views may have played a part in limiting the FN's breakthrough.
One FN candidate at Aveyron, in south-central France, had called on his Facebook page for the "destruction of the Jews once and for all". The party also ran several nonagenarian candidates, one centenarian and several people who claimed they had never agreed to run. Party leaders dismissed all these as isolated cases which had evaded their "filters".
In the last few days of campaigning, however, came a flurry of new revelations. Pascal Wojtalik, a FN candidate in Roanne, west of Lyon, shared on his Facebook page a text entitled "Why I have chosen Russia rather than  the Socialist, Jewish and masonic West".
Antoine Elkik, the FN candidate in Val-de-Marne, east of Paris, described the Education Minister, Najat Vallaud-Belkacem, as a "cockroach" and wrote: "With your North African face, Marine's shoes are cleaner than you are."
Reuse content